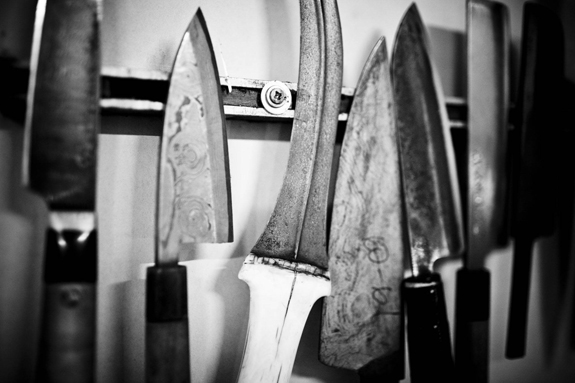 Chef Charlie Palmer has a Michelin star, a few James Beard Awards, and a Kramer Knife. Chef Thomas Keller has three Michelin stars, several James Beard Awards, and a Kramer Knife.
What's a Kramer Knife? It may fall in the J.P. Morgan category of "if you have to ask, you can't afford it." The hand-crafted Kramer Knives sell for $300 an inch. So figure for a basic 8-inch chef knife, you'll have to pony up $2400. On top of that, there is a waiting list of well over a year.
Why? Bob Kramer is one of only a hundred and three people in the world, and the only former chef, to be certified as a Master Bladesmith. He makes each knife by hand, using a multi-step process which encompasses as many as 200 layers of steel. The outcome is a stunning Damascus steel blade with a swirling pattern resembling wood grain and is harder, thinner, sharper, and slices and dices with ease and perfection..
Bob Kramer has been a circus clown, a magician, a chef, a waiter, and a traveling knife sharpener. But it's his ability to slice through a one inch thick rope with one swing and hack through a 2X4 that's helped him achieve rock star status with chefs all over the globe.
If you don't feel like waiting for your own custom blade, Williams-Sonoma currently sell more affordable and ready made versions of the Kramer Knives.
Flip through the slides below to see what 6 chefs name as their favorite knives, and for more on Kramer's renowned knives.
Related