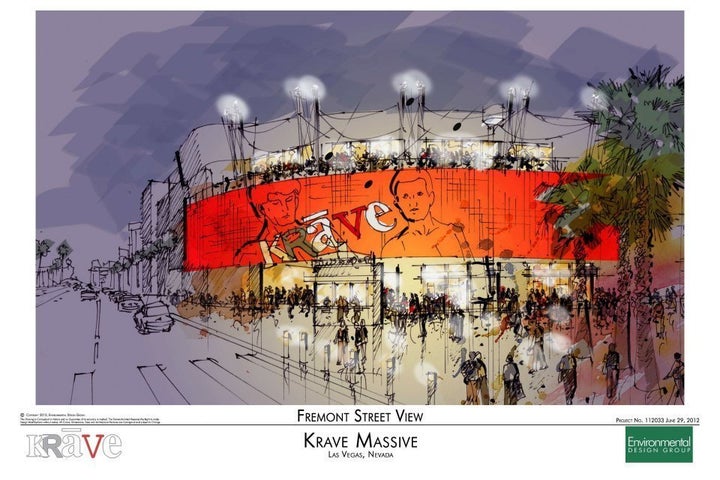 If Las Vegas club owner Kelly Murphy gets his way, Sin City could usurp the crown from New York as the number one gay tourism destination in the United States.
Murphy, who owns Las Vegas's largest gay club, Krave, as well as the recently-opened drag queen bowling alley, Drink and Drag, announced plans to open the world's largest gay club, called Krave Massive, in downtown Las Vegas in December.
The current Krave club, located on the Vegas Strip, will relocate to Las Vegas's historic Fremont Street, residing in a space in the commercial complex Neonopolis, formerly occupied by an 80,000-square foot, 14-screen Galaxy 11 multiplex. A press release, posted to the to the Krave Las Vegas Facebook page, explains the plans for the club:
Krave Massive will present five uniquely themed dance rooms, each featuring a distinct musical flavor...

Each room will also be marked by its own individual design and ambient entertainment, including a state of the art sound system, LED lighting, high-tech lasers, high output CO2 blasts, and huge video walls.

The mammoth club will also include three separate bars, staffed by an enormous crew of 24 bartenders; as well as a martini lounge; a members-only VIP lounge, Indulge Private Lounge; a comedy club, Tickled Pink; a performing arts theater; an LGBT movie theater; a retail merchandise store; a multi-purpose or conference room; a lesbians only dance lounge; and even an outdoor pool with cabanas.
If this sounds expensive, it's only because it is. Murphy told Huffington Post Gay Voices that the "initial cost of renovation is approximately $1.5 million. Another $750,000 will be invested for the pool and cabana addition in the summer of 2013."
The Las Vegas Sun reports that the club will be a welcome addition to Neonopolis, which has struggled keeping businesses since opening in the early 2000s.
Murphy notes that it might be difficult to draw tourists away from the strip and into the downtown. He tells Huffington Post Gay Voices, "The biggest challenge will be in educating the public that downtown Vegas has been revitalized -- it's cool and hip now! It's an easy 10 minute drive from the strip (although we have purchased 4 shuttles that will run throughout the night)... We have created a tagline to help get the message out: 'Making downtown Vegas fabulous, one GAY at a time!'" Murphy will partner with other downtown businesses, such as a new hotel project called The Grand to make the area even more appealing.
In spite of Murphy's enthusiasm, it's possible that he might be dreaming too big. When the original Krave filed for bankruptcy in 2010, Former Krave emcee J.Son Dinant, from nakedboynews.com, commented on the state of affairs for Las Vegas nightclubs in Las Vegas Weekly, saying, "It's almost to the point in Vegas where we need to rethink clubs and entertainment... It's almost time to get rid of these high-priced door covers and ticket prices and realize that we're in a 2010 economy and that's not going to cut it anymore." Rater than tone things down, Murphy will go over-the-top to stand out.
Should Krave Massive be successful in, "[giving] gays and lesbians a place for them that rivals (or betters) any mega straight club," as Murphy hopes, the owner will be a very happy man. He tells Huffington Post Gay Voices, "I'd love to make Las Vegas the number one vacation destination in the U.S. for gay men. Currently New York holds that title. Although I truly LOVE New York, I just like to be number one."
Check out a slideshow of artist renderings of Krave Massive that were posted to the Krave Las Vegas Facebook page below and let us know what you think about the club in the comments section.
REAL LIFE. REAL NEWS. REAL VOICES.
Help us tell more of the stories that matter from voices that too often remain unheard.
BEFORE YOU GO
PHOTO GALLERY
Krave Massive Artist Renderings