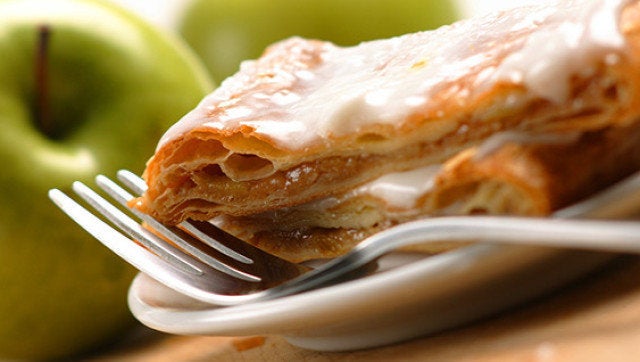 By now, you guys know how we are. We're very proud of America's regional foods. We've talked your ear off about green chile and introduced you to the bubbliest ginger ale we've ever met. You won't be surprised when we say that sometimes we get disproportionately excited about new foods. Which is why, when a friend from Wisconsin asked if she could bring a Kringle to a dinner party, our eyes really lit up.
Brought to Racine, Wisconsin by Danish immigrants, Kringle is a danish-like pastry, filled with fruits, nuts, cheeses, etc., then drizzled with icing. Think of it as a giant Toaster Strudel, that is sometimes wreath-shaped and sometimes a rectangle. We asked our friend if this sweet-tooth-satisfying treat was a holiday tradition and she replied, "Well, yes. In that it is an every day tradition and holidays are days." Along with cheese curds and Usinger's sausages, we'll call this further proof that Wisconsin is awesome.
Kringle is so ubiquitous on grocery store shelves in the area our friend grew up in, her mother actually balked at her attempts to make one from scratch. "Why would you make a Kringle?" she asked, incredulously. "Just buy one."
If home baking regional specialties isn't your bag, you can do just that from Racine Danish Kringles, the crème de la crème of Kringle bakeries. But, because we love to try our hand at making just about everything from scratch, this seemed right up our alley.
The dough, which is essentially a very, very buttery strudel dough gets made, then chilled for at least two hours, but ideally overnight. After being rolled out on a floured surface into a rectangle-ish shape, whatever filling you choose goes in the middle (we used storebought sour cherry preserves and a bit of tangerine zest). Then, you gently fold the dough around the filling like an envelope, score it, brush it with a sweetened egg wash and pop it into a hot oven for a rewardingly short amount of time. Then, you're one icing drizzle away from enjoying a delicious taste of Wisconsin.
Here's how ours ended up: