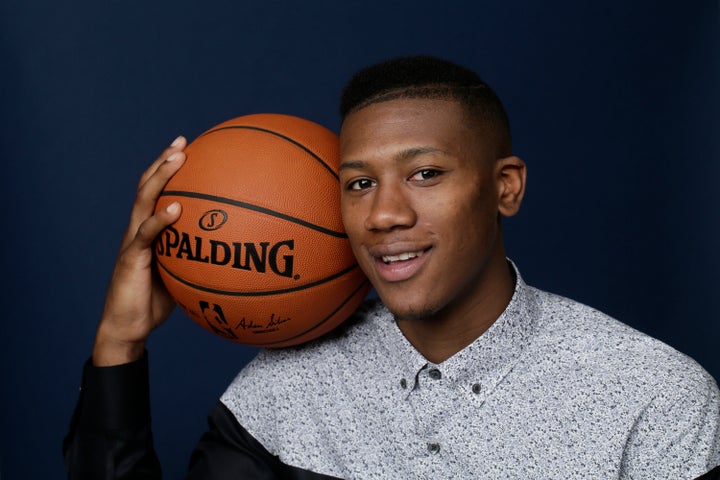 Reaching the NBA is the ultimate goal for most basketball hopefuls, but it was like a pipe-dream for Kris Dunn. Nicknamed "Peanut," he was still just 5-foot-7 as a scrawny high school sophomore. His father was not around and his mother -- who has since died -- was constantly in and out of jail. Food was scarce in their Alexandria, Virginia home. Dunn and his brother, John, had to eat Hot Pockets for dinner and scavenge for food throughout the day.
The brothers even spent five months home alone. They stopped attending school because they feared they could be separated by the foster care system. Kris Dunn was nine years old, fighting teenage drug dealers and playing games of one-on-one for cash against older kids. 
Eventually, he and his older brother reconnected with their father and began to turn their lives around.
The 22-year-old Dunn has since blossomed into a rangy 6-foot-4, 220 lb. point guard and potential top-three pick in Thursday night's NBA Draft. He earned back-to-back Big East Player and Defensive Player of the Year honors and was named a consensus second-team All-American during his junior campaign (fourth year) at Providence.
Amid the biggest week of his life, Dunn -- who averaged 23 points on 52 percent shooting in two NCAA Tournament games, including Providence's first tournament win since 1997 -- caught up with The Huffington Post to discuss his remarkably unlikely journey to hoops stardom.
Also, click here to read about the five safest draft prospects and here to read about the five riskiest. And here for our Q&A with Duke's Brandon Ingram, the likely second pick in the draft.
This interview has been condensed and edited for clarity.
How did enduring such incessant hardship as a child shape you?
That's a big factor, my upbringing, I tell people that all the time. I've been through so much at a young age that it helps me get through things that I'm going through today. In my perspective, nothing can bring me down because I had to deal with real life stuff at an early age. My mom going in and out of jail, hardly getting to meet my dad -- those are real life things I had to deal with at a young age.
It made me a better kid because at a young age I was very emotional. I was mad all the time because of the situation. I'm in a great space. My dad is in my life, we've built a relationship. I don't want to say I'm impenetrable because that's just not the word I'm looking for but I almost feel like anything that comes at me, I'm mature enough and I can handle it the best way I know I can. 
Your relationship with your dad was forged on long drives to Amateur Athletic Union (AAU) tournaments during your teenage years. 
What's crazy is my dad would drive me everywhere -- he had to work the night shifts [as a poker room supervisor at Mohegan Sun Casino], so sometimes he would work from two in the morning and get out at 11. He would have to drive me from Connecticut to New York with no rest -- so the things he does for me I'm very appreciative. And those long rides you have no choice but to build with each other. People always ask me what do you think about your dad: Well he's still my best friend. We know each other in and out like a book and that's special to me. I think every kid has that bond with their father and I'm lucky to have a father that's there for me, who loves me.
You had scant interest from college recruiters and coaches at high school. When did the NBA start to become a reality for you?
Probably midway through my junior year [of college]. Coming out of high school, I knew that I had a lot to improve in order to get to that stage. I felt like my first two years I wasn't ready and it just happens that I had two shoulder injuries and I wanted to showcase my talents right away. I had to overcome that. I had a good [junior] year. I think everybody knows, when you've got that buzz, people talking about you all the time -- I think you know that you've got the chance to go to the NBA.
So even during the McDonald's All-American and Jordan Brand games -- when you had blossomed into the mega-recruit -- you weren't thinking of the NBA?
No, not at all: Not me or my family. We understood the process and I was kind of a short and a skinny kid. I knew I had to work on my body and I knew I had to fix some things in my game to try and be at that level. My dad is the type of person for me to not to get too high, stay humble.
That's the type of guy he was. He didn't want me to start to think about the NBA because once you start thinking about the NBA too early, you start to lose the love and the competitiveness of the game. You start to become a selfish player, you start thinking about your self more and not your team and the accolades that you want as a whole. 
You admirably honored your commitment to Providence and didn't switch last-minute to a traditional blue-blood power like Kentucky, Florida, UConn, Louisville or Kansas -- schools that recruited you, but not until much later.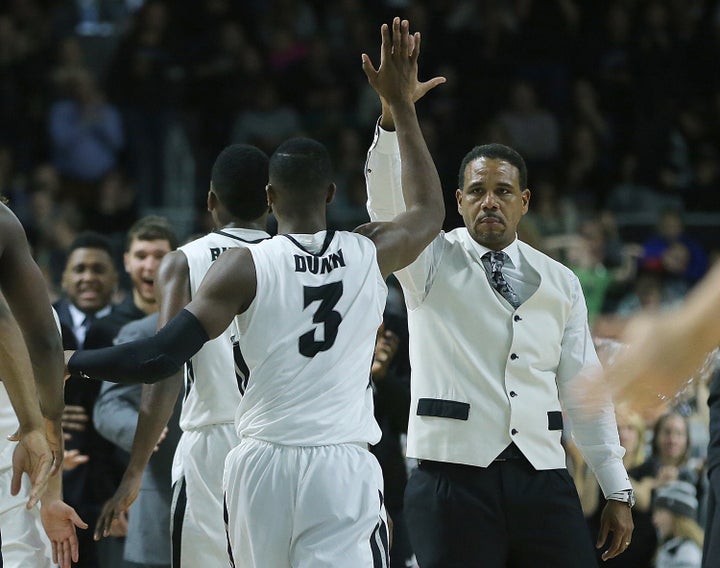 Well my upbringing, I don't just trust anyone, I'm a very loyal person. Coach [Ed] Cooley had shown that -- AAU games, he was always there. And he definitely showed it to me my sophomore year. There was no one in the gym -- one at night we would have games -- and he would be the only coach there -- that's when he was at Fairfield.
Someone who shows that commitment and determination, it shows that he's loyal, that he really wants me. There's no better feeling than when a coach believes in you so much. And Providence was right up the road from my family and friends [he moved to New London, Connecticut with his father]. So if anything went wrong I could go home, and I knew my family would have my back. I have somewhere, where I could just rest my mind and figure everything out. Everything worked out perfectly and I'm glad I'm a Friar.
How specifically will the spacing and overall pace of the NBA game benefit you, along with the pick-and-roll?
Pick-and-roll, space on the floor, is going to be a factor and the tempo of the game. People always tell me it's a fast-paced game and if you watch my game, that's the type of player I am. I love getting up and down and getting out in transition so that should be fun. I think I have all the attributes to have an impact right away.
Is there one point guard you cannot wait to match up against?
No. I mean there are so many great point guards. I want to go against Kyrie [Irving], [Russell] Westbrook, Stephen Curry and to go against some of the rookies, or a couple second year players, Emmanuel Mudiay, D'Angelo Russell those guys that are in the league. I can't pick one.
Correction: A previous edition of this article stated that Dunn was a senior. It's since been fixed to state he was a fourth-year junior.
REAL LIFE. REAL NEWS. REAL VOICES.
Help us tell more of the stories that matter from voices that too often remain unheard.
BEFORE YOU GO
PHOTO GALLERY
The 5 Safest Players In The 2016 NBA Draft