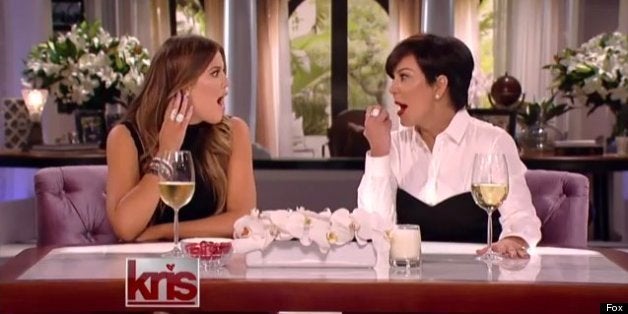 We aren't sure how we missed this: Last week, Kris Jenner and Khloe Kardashian actually admitted to faking it. Faking orgasms, that is.
Kardashian joined her mom as a guest host on Jenner's daytime talk show, "Kris," Friday, July 19. The two opted to play the drinking game of "I Never." The way it works is someone calls out an act, such as "I never went skinny dipping," and those who have done it must take a sip of their drinks.
The next audience member said, "I've never joined The Mile High Club," to which Jenner laughed and sipped her wine, much to Kardashian's disgust. The famous momager apparently did the naughty deed with husband Bruce Jenner on an American Airlines flight before either Kendall or Kylie was born.
"I go to the bathroom... We were so sneaky, 007," she explained. "I go, then he goes. The door closes... So we come back to our seats and we were like two Cheshire cats; we thought we got away with something."
"We were sitting in our seats, [the] plane lands," she continued. "We thought, 'That was really fun.' As the plane is going down the runway, to the tarmac getting to the gate, the guy picks up the PA and says, 'Thank you for flying with American Airlines today, ladies and gentleman. And we'd just like to give a big congratulations to Kris and Bruce Jenner... for joining The Mile High Club. And we'd like to give them a bottle of champagne.'"
Kendall, 17, and Kylie, 15, were both sitting in the front row while all this was going on. Jenner told her teen daughters to put on "earmuffs" and not listen to the sex talk. Kardashian insisted neither even knows what "The Big O" is.
Jenner's show is currently in the midst of a six-week test run on select Fox stations. It is one of multiple daytime talk shows in the running for 2014 syndication.
Watch Kris and Khloe play "I Never" in the video below. The segment starts around the 8:19 mark.
REAL LIFE. REAL NEWS. REAL VOICES.
Help us tell more of the stories that matter from voices that too often remain unheard.
BEFORE YOU GO
PHOTO GALLERY
Celebrity News & Photos