Ethics experts and watchdog groups say Kansas Secretary of State Kris Kobach (R) may have run afoul of federal conflict of interest statutes by getting paid to write columns for Breitbart News while also acting in his official capacity as the vice chair of the Presidential Advisory Commission on Election Integrity.
Kobach told the Kansas City Star last week that he gets paid for his columns for Breitbart, many of which have focused on immigration. Two of his columns in July focused on the work of the commission. He's also given radio interviews on Breitbart News Daily discussing the commission.
Kobach's office did not respond to multiple requests for comment on his compensation arrangement with Breitbart.
Richard Painter, a former ethics lawyer in the George W. Bush White House, said Kobach could be in trouble under federal law if he gave interviews or wrote about the commission's work while also getting paid by Breitbart.
"If you're getting paid by somebody to write about your official duties, that seems to me a clear problem under the conflict of interest statute," he told HuffPost.
On July 3, Kobach wrote a column for Breitbart defending the commission's work and criticizing state officials who were rebuffing its request for state voter data. On July 19, he wrote another column defending the commission after a federal judge declined to step in to block the panel from meeting.
Painter said it wouldn't be a problem if Kobach were paid to write about issues unrelated to his work on the commission, like immigration. But it could be problematic to write about the commission's work for Breitbart, even if Kobach was only negotiating compensation for future work from the outlet.
It's unclear when Breitbart began paying Kobach, and a spokesman for the outlet did not return a request for comment.
The White House did not respond to an inquiry asking if Kobach had disclosed his compensation with Breitbart.
Kobach faces criticism as leader of the election commission because of his history of exaggerating voter fraud and pushing one of the country's most restrictive voting measures in his state. Kansas is currently being sued by the ACLU over a law requiring residents to show proof of citizenship when they go to vote, and a federal court stepped in to block the measure in the 2016 election. An email made public as part of that litigation showed Kobach working on a draft amendment to federal voting law that would make it permissible for states to impose a proof of citizenship requirement.
Jordan Libowitz, a spokesman for the watchdog group Citizens for Responsibility and Ethics in Washington, or CREW, said it could be problematic if Kobach was paid by Breitbart while also granting interviews about the commission's work.
"Kobach's situation with Breitbart raises some ethical questions, namely was he granting them interviews in his official capacity while on their payroll? If so, then there are potential violations that may have occurred," Libowitz wrote in an email.
Painter, who is the vice chair of the CREW board, said the situation is murky but there's a case to be made that it was illegal for Kobach to get paid by Breitbart while also giving interviews about the commission's work.
"If he has an arrangement to get paid in the future, if he has an ongoing relationship when he's getting paid, or he's negotiating, then he shouldn't be giving them official capacity interviews," Painter said.
The far-right Breitbart News, which has provided a platform for white nationalist views, has been an ally of President Donald Trump's White House. Steve Bannon, the site's chairman, ran Trump's campaign last year and served as one of Trump's top aides before resigning and returning to the site last month.
Norm Eisen, a former ethics czar in the Obama White House and chair of the CREW board, said Kobach's compensation from Breitbart raised red flags.
"I agree that it is questionable ethically and legally for him to in effect be getting paid by Breitbart to do the work of the commission," Eisen wrote in an email. "Whether this actually amounts to a violation depends upon knowing the relevant facts concerning the commission and its functioning, a matter which the Trump administration has not exactly been forthcoming about. The legal landscape is also intricate."
Kobach is already facing a conflict of interest complaint over his work on the commission. In July, the Lawyers' Committee for Civil Rights Under Law accused him of violating the Hatch Act and using his position on the commission to bolster his campaign for Kansas governor.
Regardless of whether he was doing something illegal, Kobach had a conflict of interest, said Aaron Scherb, director of legislative affairs for Common Cause, another watchdog group suing the commission.
"While it's unclear if Kobach is doing anything illegal, he certainly has a conflict of interest serving simultaneously as a paid contributor to a 'news organization' sitting on a federal commission while serving as an elected official and running for higher office," he wrote in an email.
The next meeting of the Presidential Advisory Commission on Election Integrity is scheduled for Sept. 12 in Manchester, New Hampshire.
Before You Go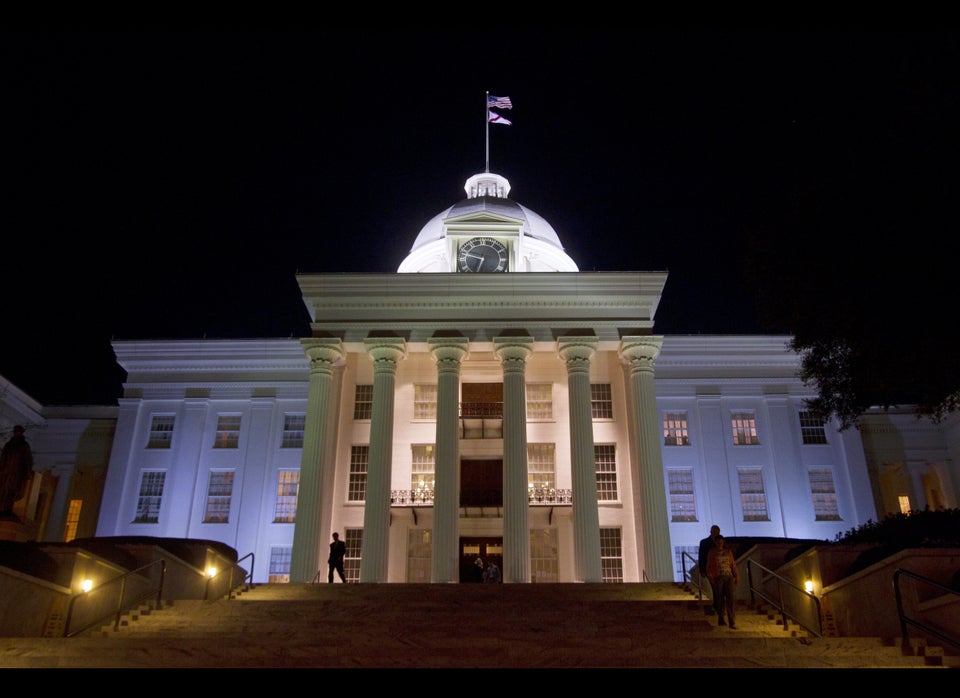 U.S. State Capitol Buildings
Popular in the Community