Kansas Secretary of State Kris Kobach (R) was found in contempt of court on Wednesday for not following a court order to fully inform thousands of Kansans that they were eligible to vote.
U.S. District Judge Julie Robinson, a George W. Bush appointee, rebuked Kobach ― who is running for Kansas governor and was in charge of President Donald Trump's voter fraud commission ― in her finding and demanded he pay attorneys fees associated with the motion to hold him in contempt. The finding also underscores how Kobach wrought confusion in the state and neglected to make sure that thousands of eligible voters knew they were allowed to cast a ballot. 
This confusion affected people like Tad Stricker, who wanted to make sure his Kansas voter registration was valid ahead of the 2016 presidential election. He had registered in the state two years earlier but was humiliated when he went to vote in the 2014 elections and was told he needed to cast a provisional ballot because he wasn't on the voter rolls. Kansas law in 2014 required people to bring proof of citizenship when they registered to vote, and state officials said Stricker failed to do so when he registered at the Department of Motor Vehicles that year.
Robinson blocked that law in 2016. She ordered Kobach to make sure that the approximately 18,000 people whose registration status was uncertain were fully registered and allowed to vote. Robinson also told Kobach that affected voters should be sent postcards confirming their eligibility to vote and telling them their polling places. 
But Kobach also didn't update the state's election manual to reflect that people didn't have to prove their citizenship to register to vote, leaving state election officials without clear guidance to inform confused constituents.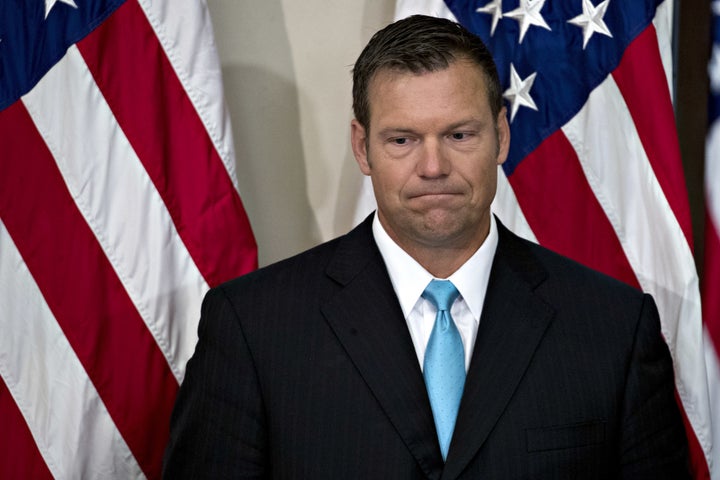 Stricker says he called his local election office in Sedgwick County before the 2016 election and asked to confirm that he was fully registered, but that the person on the other end of the phone told him his status was unclear. Stricker says he was told there were a lot of legal issues up in the air.
Stricker and his fellow plaintiffs, who are represented by the American Civil Liberties Union, say the Kansas law that was put on hold in 2016 violates the National Voter Registration Act. The law says state motor vehicle agencies must offer people a chance to register to vote and can only ask them for the minimum amount of information necessary to do so.
Plaintiffs argued that Kobach could have assuaged confusion after the 2016 order by updating the state elections manual to reflect that people did not need to prove their citizenship when they went to register at the DMV. Instead, he took down the document altogether, saying that Robinson's order did not amount to final law and that the manual was continuously informally updated. Bryan Caskey, the state's election director and a Kobach staffer, also testified that he was "too busy" to update the document.
Robinson fired back at that rationale, noting that Kobach had amended the document in 2012 to reflect the proof of citizenship law.
"This publication is the policy and training Bible for the 105 county election officials," she wrote. "Given that the Court's preliminary injunction was issued almost two years ago in May 2016, four years after the last revision, the Court does not find credible Defendant's rationale for not amending the document."
Local Kansas election officials are responsible for sending out the postcards to registered voters, and different counties have different practices for how they send them out. But Kobach is responsible for making sure that all the officials are complying with the law.
Kansans rely on these postcards to confirm they're registered to vote and to tell them where they're registered.
"The postcard is considered by traditional in Kansas to be the way you know you're fully registered to vote," Margaret Ahrens, the former president of the Kansas League of Women Voters, testified during the trial. "It's because it's traditional. ... That is the way we think about being fully registered in Kansas. The postcard is significant."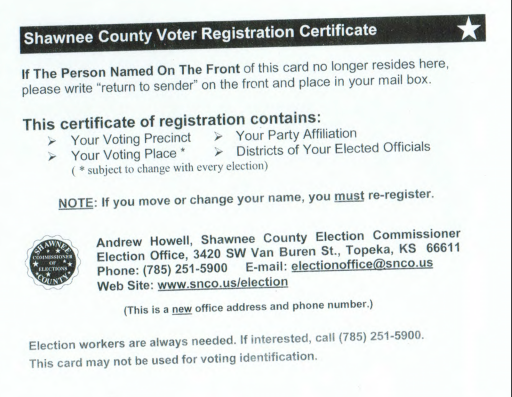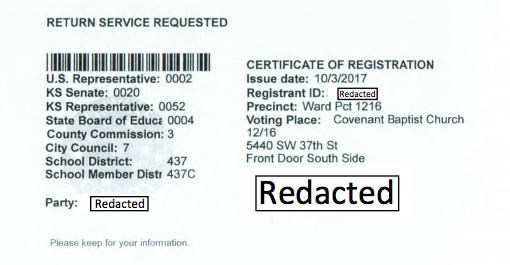 Kansas had previously sent letters to anyone who failed to prove their citizenship when registering to vote, informing them that their registration was incomplete. But after the order, Kobach was required to send affected voters a new notice to let them know they could disregard any previous notices telling them they weren't fully registered and that they could look up their polling place online.
This meant that thousands of voters who thought they had registered in the state received two official letters telling them completely contradictory information. The postcards could have helped get rid of confusion by telling Kansans once again that they were registered to vote. 
Kobach and his lawyers initially said in court documents that they were only obligated to send affected voters the court notice, not the postcards. But when Robinson reminded Kobach in court last month that he had previously assured her in court that he would send the postcards, Kobach changed course, saying his office had orally instructed county officials to send the postcards and could not force them to do so.
Robinson said she did not find it credible that Kobach's office had orally instructed officials to send out the postcards. Kobach's office said after the trial that it had given written orders to the county officials to send the postcards, but Robinson said on Wednesday that was "too little, too late." 
Robinson appeared to be similarly unimpressed by Kobach's claim that the court's order on postcards was unclear.
"The term 'register' is not ambiguous, nor should there have been any question that these voters were to be treated just like any other registered voter prior to the 2016 election," she wrote.