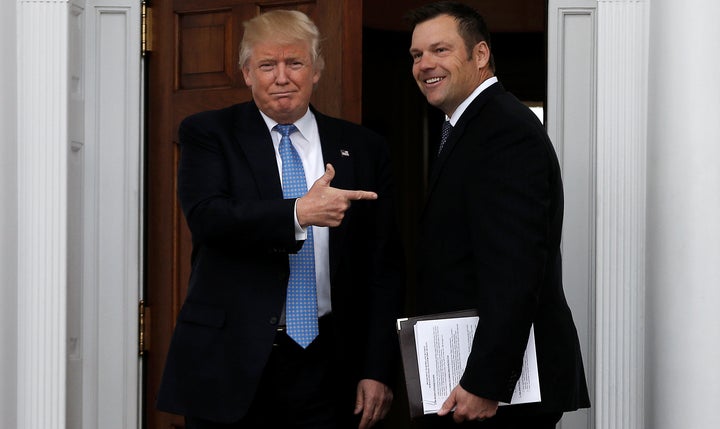 If there was any doubt that Kansas Secretary of State Kris Kobach (R) wants to reinstate a Muslim registry if he gets into the Trump administration, Monday offered photographic proof that he wants to do so.
Kobach met with Donald Trump Monday in Bedminster, New Jersey, where the president-elect has been having a series of meetings as he works to put together his Cabinet. Although Kobach was talked about as a potential attorney general, it seems like he may now be in the running to be Homeland Security secretary, based on the meeting notes that he failed to hide in a folder before getting his photo taken by the press.
The Topeka Capital-Journal zoomed in on the papers Kobach carried into his meeting with Trump, which was his "strategic plan" for the department in the first year of a Trump administration.
At the very top of his agenda were these items:
1. Update and reintroduce the NSEERS screening and tracking system (National Security Entry-Exit Registration System) that was in place from 2002-2005. All aliens from high-risk areas are tracked.

2. Add extreme vetting questions for high-risk aliens: question them regarding support for Sharia law, jihad, equality of men and women, the United States Constitution.
When Kobach served in the Justice Department during President George W. Bush's administration, he was the architect of NSEERS. The program, instituted in 2002, required that men 16 and older from 25 countries register in person ― with fingerprinting and questioning ― with the Immigration and Naturalization Service when coming into the country. But NSEERS also said that men on visas from certain countries who were already in the United States also had to go to INS offices and register.
The vast majority of the countries covered under the program were predominantly Muslim nations, and the program was widely referred to in the press at the time as "Muslim registry."
The program was considered a failure, both within the Bush administration and by outside experts. By the time the Bush administration ended the domestic registration portion of the program in December 2003, it had registered nearly 100,000 men and led to the deportation of nearly 14,000 ― many of them for overstaying visas or ignoring previous deportation orders. It did not lead to a single terrorism charge against any individuals.
"Any kind of generalized search is ineffective when who you're looking for are a very small number of people. NSEERS fails that task," Michael German, who spent 16 years working for the FBI and is now a fellow with the Brennan Center for Justice, told The Huffington Post recently. "It looks at tremendous numbers of people who are not suspected of any wrongdoing. So the likelihood of that type of system somehow tripping upon somebody who is otherwise unknown is pretty small."
The program was also counterproductive because it alienated the very communities and countries that the United States needs in its fight against terrorism.
During his campaign, Trump promised to ban all Muslims from entering the United States to deal with terrorism. He later tried to amend his comments as a plan to "suspend immigration from any nation that has been compromised by terrorism until such time it's proven that vetting mechanisms have been put in place."
If Kobach's plan is similar to NSEERS, the registry would be based on country of origin but it would in fact focus on targeting Muslims.
Popular in the Community