Kris Kobach, the staunchly conservative Kansas secretary of state who has built his career on a crusade against illegal immigration, is the Republican nominee in Kansas' gubernatorial race.
Kansas Gov. Jeff Colyer conceded defeat on Tuesday, one week after the state's primary. He said he would endorse Kobach in the general election.
Kobach defeated Colyer and two other candidates ― insurance commissioner Ken Selzer and former state Sen. Jim Barnett ― to win the nomination.
Kobach's lead over Colyer was too close to call last Tuesday and shrunk to just 91 votes on Thursday after Kobach's office said it had improperly recorded vote counts from a county in northwestern Kansas. Kobach had said he would recuse himself from the duties of his office until the conclusion of his state's 2018 primary season so as not to interfere with any review of the votes.
Kobach's views on immigration and voter fraud have already placed him in the national spotlight, and his victory sets up a charged showdown in November with Democrats who will likely try to make the race into a referendum on Kobach's controversial views. A July poll showed Kobach trailing a state Sen. Laura Kelly, the Democrat Kobach will face in the November election. Greg Orman, a wealthy businessman, is also running as an independent.
Kobach's victory is a blow to the Republican Governors Association, which favored Colyer amid concerns about how Kobach would fare in the general election. The RGA and White House aides had urged President Donald Trump, who is close with Kobach, not to endorse Kobach in the race, but Trump did so anyway on Monday.
Kobach and Colyer are both very conservative, but had different campaign styles. Colyer was elevated to the governor's office in January after former Gov. Sam Brownback (R) took a job in the Trump administration, and it seemed to take him more time to find his footing on the campaign trail, said Burdett Loomis, a political science professor at the University of Kansas. Kobach, by contrast, seemed more comfortable on the campaign trail and used controversies ― like his decision to ride in a Jeep with a machine gun replica on the back ― to gin up media attention.
Kansas is still recovering from the impact of drastic tax cuts that Brownback signed in 2012. Despite Brownback's promises of economic prosperity, growth has been sluggish and Kansas lawmakers moved to get rid of the tax cuts last year. Kobach has said he would again implement the tax cuts.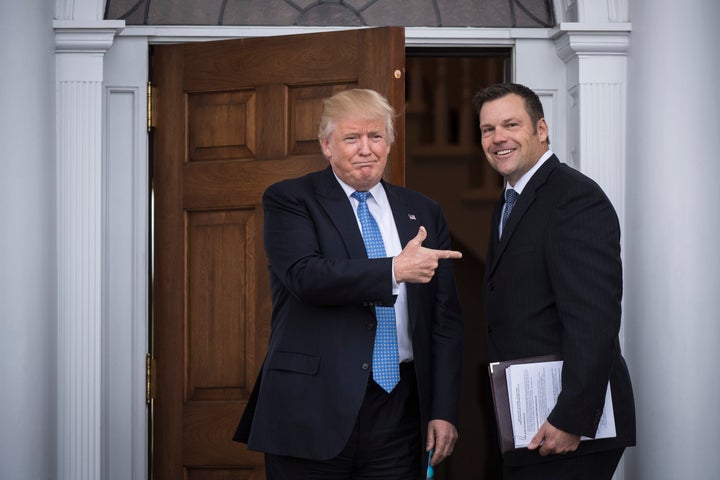 Since becoming Kansas' chief election official in 2011, Kobach has used his relatively obscure office to become the most well-known state secretary of state in the country. He has been one of the strongest backers of the discredited idea that voter fraud is a widespread problem, and pushed a law that required Kansans to prove their citizenship when they register to vote. He is also the only state secretary of state with the authority to prosecute election crimes.
Before he was Kansas' secretary of state, Kobach built his profile by going around the country and helping different places pass anti-immigration ordinances that punished employers and landlords for hiring and housing people who came to the United States illegally. He also helped write SB 1070, the controversial Arizona immigration law that required police officers to check the immigration status of people they stopped who they believed were in the United States illegally. Key portions of the law were struck down by the Supreme Court, and it has since been watered down.
Kobach's victory comes on the heels of a few public stumbles. Last year, Trump picked Kobach to lead a high-profile commission to investigate voter fraud, but the president disbanded the panel in January before it really did anything. In March, Kobach went to court to personally defend Kansas' proof-of-citizenship law in a suit brought by the American Civil Liberties Union. Kobach not only lost the case ― failing to convince the judge there were thousands of non-citizens getting registered to vote in Kansas ― but was held in contempt of court for failing to follow a court order, and sanctioned for failing to follow basic procedural rules for introducing evidence.
Calling all HuffPost superfans!
Sign up for membership to become a founding member and help shape HuffPost's next chapter