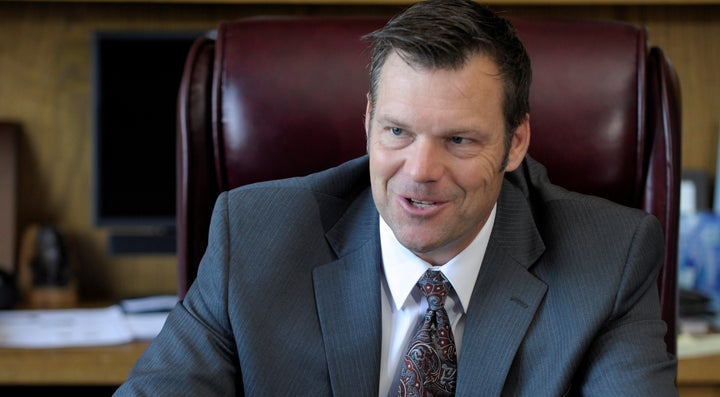 WASHINGTON ― One of Donald Trump's most eye-popping campaign promises was a proposal to ban Muslims from entering the United States. He later tried to amend his comments as a plan to "suspend immigration from any nation that has been compromised by terrorism until such time it's proven that vetting mechanisms have been put in place."
Trump adviser Kris Kobach is ready to help Trump implement this proposal. Kobach is currently the secretary of state of Kansas and is reportedly under consideration to be the next U.S. attorney general. Kobach told Reuters this week that he is already looking at putting together a proposal to create a registry of immigrants from Muslim countries for Trump's review.
Although he's best-known for his hard-line stances on immigration and voting rights, Kobach's previous and less-noticed experience makes him uniquely suited for this job: He was the man who designed and implemented a Muslim registry while working in President George W. Bush's administration.
The program was widely viewed as a failure, and the Bush administration ended it after a year and a half. Critics said not only did it violate civil liberties and create unnecessary fear in Arab and Muslim communities, but it was also wholly ineffective as a counterterrorism tool.
Kobach's office declined to comment for this piece, and a request to the Trump team was not answered.
'A Complete Waste Of Resources'
In the aftermath of 9/11, Congress mandated the federal government create a system tracking foreign visitors. John Ashcroft, who was then attorney general, took it even further. He was aided by Kobach, who was then working under Ashcroft and was the architect of the program.
In June 2002, Ashcroft and Kobach rolled out the National Security Entry-Exit Registration System. The program required that men 16 and older from certain countries register in person ― with fingerprinting and questioning ― with the Immigration and Naturalization Service when coming into the country. But NSEERS also said that men on visas from certain countries who were already in the United States also had to go to INS offices and register.
The program covered 25 countries. The vast majority of them were predominantly Muslim nations.
"Even folks within the Bush administration we worked with at the time knew that it was a waste of time and a waste of resources. ... It's clearly profiling. It's clearly singling out Arabs and Muslims. It's a very problematic program," said Abed Ayoub, legal and policy director for the American-Arab Anti-Discrimination Committee. The organization filed a lawsuit against the federal government over the program in 2002.
"Any kind of generalized search is ineffective when who you're looking for are a very small number of people. NSEERS fails that task," said Michael German, who spent 16 years working for the FBI and is now a fellow with the Brennan Center for Justice. "It looks at tremendous numbers of people who are not suspected of any wrongdoing. So the likelihood of that type of system somehow tripping upon somebody who is otherwise unknown is pretty small."
By the time the Bush administration ended the domestic registration portion of the program in December 2003, it had registered nearly 100,000 men and led to the deportation of nearly 14,000 ― many of them for overstaying visas or ignoring previous deportation orders. It did not lead to a single terrorism charge against any individuals.
German said programs like NSEERS are counterproductive in a number of ways. First, they reinforce terrorist groups' messaging that America and the West have an anti-Muslim bias.
"It's hard to argue that this program was not directed at impeding the rights and privileges of Muslims more than anyone else," he said. "So reinforcing a terrorist group's themes is never a good idea."
Second, NSEERS undermined U.S. relations with countries who were on the registration list, making it harder to get them to cooperate in the fight against terrorism. It also bred mistrust in the U.S. government by citizens who felt NSEERS was discriminatory, and it took resources away from programs that could have more effectively fought terrorism.
In January 2003, Kobach defended the program, saying it's "gone very well."
"We think it's been a worthwhile investment of our resources," he said.
But other Bush administration officials disagreed. The State Department took issue with the Justice Department's approach, and then-Secretary of State Colin Powell acknowledged the program had problems during a visit to Indonesia ― a country on the registration list ― in November 2003.
"We understand the difficulty that it has presented to people wanting to visit," he said, according to a Dec. 2, 2003, report from the New York Daily News. "We want you to come. We are working on a better long-term solution."
Asa Hutchinson, then the undersecretary for border and transportation security at the Department of Homeland Security ― which took over the program from the Justice Department ― admitted there were no counterterrorism benefits.
He said any leads "were largely, if not all, from the port-of-entry inspection. ... We looked at what kind of benefit, what kind of leads were being generated by the domestic registration, and it was minimal in number."
Fear And Resentment Over The Registry
NSEERS also created a significant amount of resentment in Muslim, Arab and immigrant communities in the United States ― exactly the groups the federal government needed to help fight terrorism.
Ayoub said he and his group heard from plenty of people who were studying in the United States who simply said they no longer wanted to come back; they'd just take their money and go study in Europe instead.
"People were ― and I don't use the word often ― not only were they ... concerned, but there was fear," he said. "There was fear that if my husband goes and registers for this program, is he coming back out? What do they need the data for? ... For foreigners, they don't expect this coming into the U.S. You've gone through the visa process, you've gone through customs, you've been vetted. Why are they putting them through additional registration?"
Failure to register risked deportation or criminal prosecution.
"Once you start floating and proposing these ideas, they're normalizing these types of actions, which single out and target minority groups in this country."
Raj Goyle was working on the front lines as a staff attorney at the Maryland American Civil Liberties Union at the time, helping people who had to register under NSEERS and also assisting the local INS office to better communicate the goals of the program.
He said there was a significant amount of confusion on what the goals of the program were, with it being alternately presented as a counterterrorism measure and also just a check-in for visa-holders, with nothing for them to worry about.
"From the accounts we received at the time, it was simply a massive bureaucracy where people would go into the office, be asked some questions and nothing came of it," Goyle said. "And in the process, it caused an incredible amount of fear and also almost certainly it inhibited the efforts to gain actionable information from communities that we need to work with to actually combat important threats."
And, obviously, people who went in to register had plenty to worry about. In 2003, the Chicago Tribune did a series on NSEERS, concluding that the campaign "ruptured families, separating men from their U.S.-citizen wives and children," and that the government "effectively put a premium on catching scofflaws from mostly Muslim nations while allowing hundreds of thousands of violators from other countries, including convicted criminals, to wander free."
On Dec. 23, 2002, then-Sens. Russ Feingold (D-Wis.) and Ted Kennedy (D-Mass.), along with Rep. John Conyers (D-Mich.), wrote to Ashcroft and expressed concerns with NSEERS, saying it appeared to be "a second wave of roundups and detentions of Arab and Muslim males disguised as a perfunctory registration requirement."
They also said they were concerned with the interview stage of the process, because INS officials were asking for information on the men's credit cards, bank accounts, video rentals and affiliations with campus political and religious groups ― questions that raised "serious privacy and constitutional concerns."
There were plenty of errors in NSEERS that had serious consequences for individuals who got caught up in the program. The federal government went after Abdulameer Yousef Habeeb, a refugee from Iraq who was legally allowed in the United States after being tortured by Saddam Hussein. Here's what happened to him, according to the ACLU:
Habeeb was on a train from Seattle to Washington, D.C., to start a new life when Border Patrol agents singled him out for questioning without any individualized suspicion. As a refugee, Habeeb was not required to register with NSEERS, but when he showed the border agents his refugee documentation, the agents insisted—incorrectly—that he was in violation of NSEERS' registration requirements. Detained for a week, Habeeb lost his job. Habeeb was terrified of being returned to Iraq, yet the government stubbornly continued deportation proceedings for six weeks. Ultimately, after the ACLU filed suit, Habeeb won an apology from the government stating: "[T]he United States of America acknowledges that, by not registering under NSEERS, you did nothing wrong [and] regrets the mistake."
A Muslim Registry Under Trump
Goyle, who later became a Democratic state legislator in Kansas and interacted with Kobach, said there was never any doubt that NSEERS was Kobach's program.
"It was very clear that it was Kris Kobach's baby," he said.
And the fact that Kobach is advising Trump and even being mentioned for attorney general is frightening to many activists who remember what he did at the Justice Department ― because with Trump, he could take it even further.
"Is there a possibility that this administration opens up registration for Muslim U.S. citizens? We'll be challenging that in court almost immediately. It'll hold no bearing, and it'll be a big waste of taxpayer resources if they try to defend it," Ayoub said.
"Once you start floating and proposing these ideas, they're normalizing these types of actions, which single out and target minority groups in this country. And I never thought in a million years we would be discussing this issue again," he added. "I thought we learned our lessons about ... these policing methods and how they're ineffective. But there is concern that the Trump administration may take this a step further than what NSEERS actually was post-9/11."
German added, however, that even if Trump doesn't take a registry beyond NSEERS, the damage will be significant.
"Even if you just reinstated NSEERS as it existed, it would create a greater harm because there's already a record," he said. "There's a record of the discriminatory effect. There's a record of the ineffectiveness and the counterproductiveness of the method as an effort to stop terrorism. So it would be seen as entirely antagonistic to the Muslim world, and nonsensical to any legitimate government purpose."
Before You Go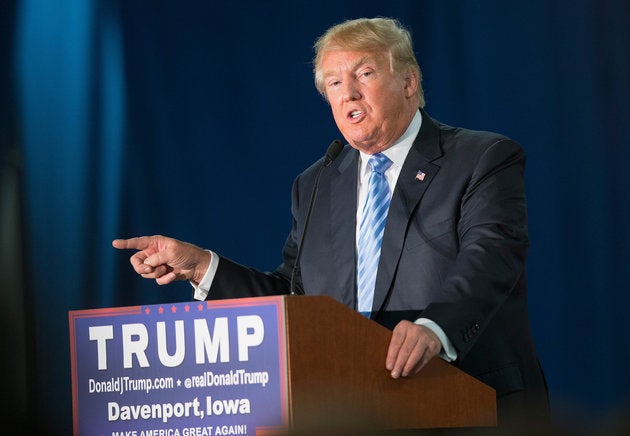 Evolution Of Trump's Muslim Ban
Popular in the Community