Kansas Secretary of State Kris Kobach (R) brought a memo proposing to weaken voter protections in a major federal voting law to a meeting with President Donald Trump last year.
Kobach presented Trump with the proposal to amend the 1993 National Voter Registration Act, which requires state motor vehicle and other public assistance agencies to offer registration opportunities. Last year, the U.S. Court of Appeals for the 10th Circuit stepped in to block Kansas' proof-of-citizenship requirement ahead of the election, saying it violated the NVRA.
The proposal was at the bottom of a document Kobach was photographed holding during a meeting with Trump in November of last year. The document outlined Kobach's plan for the first 365 days for the Department of Homeland Security in the Trump administration. In section 5 of the document, titled "Stop Aliens From Voting," Kobach proposed: "Draft Amendments to National Voter Registration Act to promote proof-of-citizenship requirements."

In another document, a memo sent to the head of the elections division in his office, Kobach outlined more details about how he proposed to amend the law. He wanted to eliminate a provision that doesn't allow officials at motor vehicles agencies to ask for any information on a voter registration application beyond what is required on a driver's license application. The memo suggested adding a provision in the law clarifying that it didn't prevent states from asking about a proof of citizenship requirement.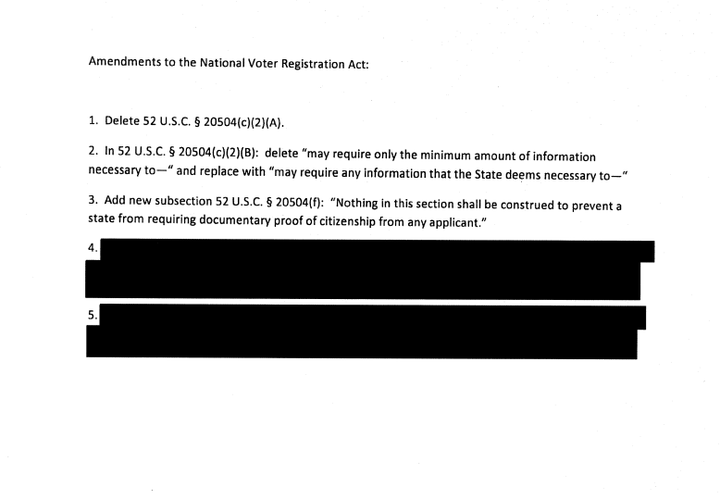 The document was made public Thursday when it was unsealed in ongoing litigation with the American Civil Liberties Union over a law in Kansas that requires Kansans to prove their citizenship in order to vote. Kobach has vigorously fought to block the documents from becoming public, and was sanctioned with a $1,000 fine and ordered to sit for a deposition after misleading the court about the contents of the documents.
The disclosure is significant because Kobach is leading a probe convened by Trump to investigate voter fraud. Despite Kobach's history of exaggerating the pervasiveness of voter fraud and pushing restrictive voting policies in Kansas, the panel has pledged to be neutral. A document detailing Kobach's intention to amend federal voting law will lend fuel to critics who say the probe is the beginning of an effort to implement more restrictive voting policies.
"We are grateful that the Court ultimately rejected Mr. Kobach's months-long efforts to hide this information from the public," Orion Danjuma, an attorney for the ACLU, said in a statement. "The public has a right to know the truth about Mr. Kobach's lobbying efforts and the truth behind his claims,"
Kobach denied the email would compromise the integrity of Trump's voter fraud probe.
"The document was written long before the commission existed and reflects the opinion of only one member ― which is that the federal government should not stand in the way of a state that wants to stop noncitizens from voting," he told The Kansas City Star.
Samantha Poetter, a Kobach spokeswoman, said, "No comment."
"Kris Kobach is public enemy number one when it comes to voter suppression in the country, which is why courts have repeatedly ruled against him," Dale Ho, director of the ACLU's voting rights project, said in a statement. "The documents unveiled today show that he wants to dismantle the motor-voter law and replicate his voter suppression practices ― which have disenfranchised thousands of Kansans ― around the country."
UPDATE: Oct. 6 ― Democrats and voting rights groups on Friday called the unsealed documents a smoking gun, and said they show that Kobach's true goal at the helm of the commission is to make it more difficult to vote.
"These newly released documents ― which Kris Kobach fought tooth and nail to conceal from the American people ― completely contradict the claims of the President and the Vice President that the voting commission did not have a preconceived agenda," Rep. Elijah Cummings (D-Md.) said Friday in a statement to HuffPost. "Mr. Kobach has always wanted to impose abusive new voter suppression laws, and he and the White House are using this commission to manufacture a false political narrative to support their dangerous campaign."
Sen. Sheldon Whitehouse (D-R.I.), who has pressed the commission for more information about its relationship with the Department of Justice, said Kobach's plan did not come as a shock.
"It's deeply troubling that the Vice Chair of the President's 'election integrity' commission is out to dismantle important protections for American voters," Whitehouse told HuffPost in a statement. "But's it's no surprise. We've known Mr. Kobach's mission all along."
"Equally troubling is the mounting evidence of the Justice Department's complicity in that mission," he continued. "The American people deserve answers on this creepy commission, both from the White House and the Justice Department."
"Kris Kobach's record on voter suppression is well known and well documented," Vanita Gupta, the former head of DOJ's civil rights division and president and CEO of the Leadership Conference on Civil and Human Rights, said in a statement. "He is man with an agenda – an agenda that he shared with then president-elect Trump. Core to that agenda is erecting unnecessary barriers to voting, whether it be through legislation or through purging voter rolls."
"His sham commission is simply an attempt to put a government imprimatur on his radical agenda, is nothing but a vehicle for a precooked voter suppression agenda," Gupta continued. "We've known it all along and this latest revelation just further cements the nefarious agenda that must be rejected."
View the document from Kobach's meeting with Trump below:
This story has been updated to include Kobach's remarks to the Kansas City Star, and the ACLU's comment.
Support HuffPost
The Stakes Have Never Been Higher
Before You Go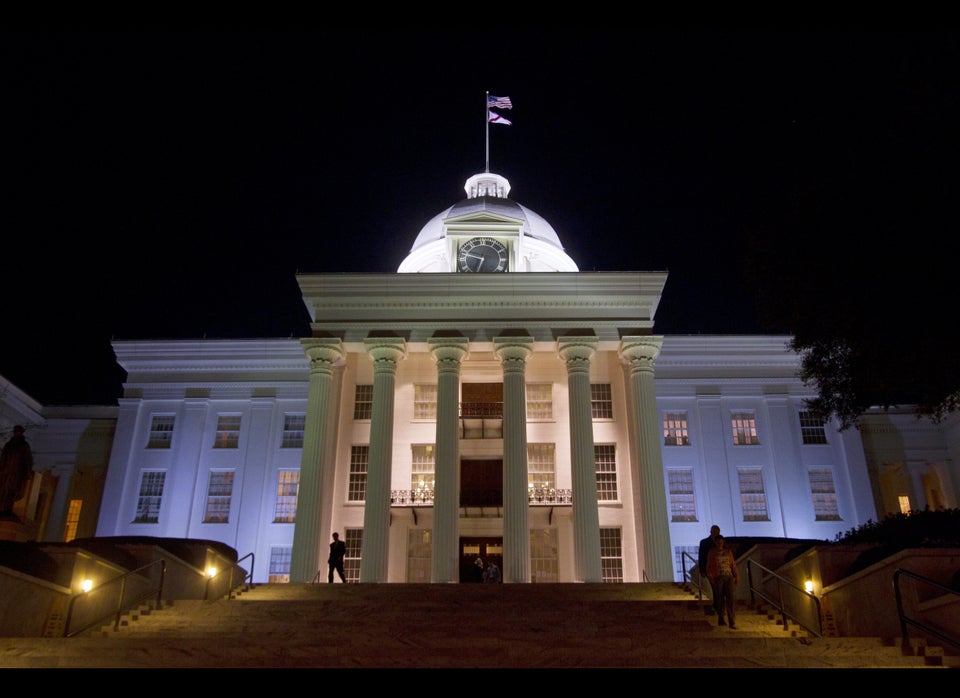 U.S. State Capitol Buildings
Popular in the Community