KANSAS CITY, Kan. ― A few years ago, the League of Women Voters held a three-week voter registration drive at Washburn University in Topeka, Kansas. Some 400 people stopped by during the drive, but only about 75 followed through and became registered voters.
The low follow-through rate fit into an alarming pattern observed by the League of Women Voters ever since Kansas began requiring people to prove their citizenship when they registered to vote. After that state law was implemented in 2013, registration efforts at high schools and on college campuses became remarkably less effective, according to the league. Students, after all, tend to lack easy access to proof-of-citizenship documents like a birth certificate or a passport.
Margaret Ahrens, the former president of the Kansas League of Women Voters, told a federal court on Wednesday that it was like nothing her group had ever seen before. She called the law a "dead hit" on voter registration drives.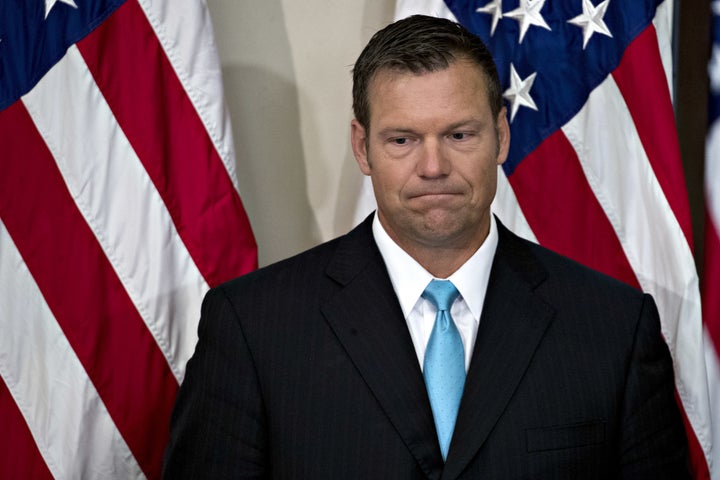 Ahrens was one of three people who testified about the negative impact of the Kansas law during the second day of a federal lawsuit challenging the statute as needlessly restrictive.
On Wednesday, Parker Bednasek, a senior at the University of Kansas, testified that when he went to register at the local election office in Lawrence in 2015, he didn't have his birth certificate because it was at his parents' home in Texas. He couldn't get on the rolls. Steven Wayne Fish testified that he couldn't register in 2014 at the driver's licensing office because he also didn't have his birth certificate. Fish, who was born on a now-closed Air Force base, said he had no idea where his birth certificate was.
Bednasek and Fish are among a group of Kansas residents bringing suit with the help of the American Civil Liberties Union. They've taken on Kansas Secretary of State Kris Kobach (R), whose office enforces the state law and who is himself a vigorous proponent of stricter voting requirements. Kobach is leading his own defense in court, although he has other attorneys to back him up.
Those attorneys questioned how much of a burden the law really was on Bednasek, Fish or anybody who tried to register with the aid of the League of Women Voters. They noted that Fish found his birth certificate in 2016 and said that Kobach's office had offered to help him complete his voter registration. They said Bednasek could have obtained a copy of his birth certificate from his parents. And they asked Ahrens how she could say the law had hurt the League of Women Voters when membership had risen and voter registration increased between 2010 and 2014.
Kobach's lawyers argued that anyone who lacked the required proof of citizenship could request a hearing with the state election board to explain their circumstances. But Ahrens said on the stand Wednesday that she didn't know anyone with the "patience and gumption" to wade through that process.
The lawsuit contends that the Kansas law violates a federal statute, the National Voter Registration Act, that says officials can only ask people for the minimum information necessary to demonstrate that they are eligible to vote. A federal judge blocked the state law in 2016. According to the ACLU, the law has still affected more than 35,000 people. To preserve it, Kobach will have to show that there is substantial evidence of noncitizens getting on the voter rolls in Kansas and nothing short of asking people to prove their citizenship can prevent noncitizens from registering.
Beyond the merits of the Kansas law, procedural disputes took up a big chunk of the trial on Wednesday.
The defense lawyers opened the day by arguing that a video deposition of Kobach should not be played in court, but instead the transcript should be read out loud. Attorney Sue Becker accused Dale Ho, the ACLU's lead lawyer, of tweeting Tuesday that the video would show what Becker called a "grand conspiracy" to make it harder to vote. She appeared to be referring to a tweet posted by the ACLU account in which Ho said the video deposition would "shine a light on, really, what is a nationwide plan here to make voting harder."
U.S. District Judge Julie Robinson said she would allow the video to be played in court, but delayed that by a day to give Kobach's team time to review it. The deposition contains information about discussions with President Donald Trump in which Kobach suggested amending federal law so that states could clearly impose a proof-of-citizenship requirement.
There were also some theatrics in the courtroom.
When Bednasek was on the stand as a witness, Becker accused his lawyer of improperly coaching him as he testified. The accusation prompted that lawyer, Mark Johnson, to stand up and yell "For crying out loud!" and "I take offense to that!" The judge did not agree that coaching had occurred.
For the second day in a row, Robinson spent time admonishing members of Kobach's defense team on how they brought in evidence during cross-examination. And toward the end of the day, the judge temporarily blocked Kobach from introducing a spreadsheet of 38 noncitizens who had allegedly tried to register in Sedgwick County, Kansas. She said he had not given the ACLU attorneys enough time to review the documents it was based on.
Between the extensive disputes and the long cross-examinations, the case is moving slowly and looks likely to spill over into next week. While the courtroom was packed Tuesday morning for the start of the trial, it was mostly empty on Wednesday. During an afternoon break, a member of Kobach's team could be heard saying, "Can I go home yet?"
Popular in the Community