KANSAS CITY, Kan. ― In mid-October, on the last day he could register to vote ahead of the Nov. 4, 2014, midterm elections, Charles Stricker went to the DMV in Wichita. When he checked in, Stricker, who had just moved to Kansas, was told he didn't have all the documents he needed to get a driver's license. So he went home, put all the documents together and rushed back to the DMV. He wanted to make sure he got there in time because at the DMV he could do both: get his license and register to vote in time.
He showed the DMV clerk the folder of documents he brought, including his birth certificate from Missouri, and thought he had successfully registered to vote. The officials at the DMV told him his permanent license and voter information would come in the mail in a few weeks.
Stricker, who is 37 and works as a hotel manager, went to vote with his wife when the polls opened on Nov. 4. By that time he had gotten his permanent driver's license, but when he went to sign in at the polls, they told him his name wasn't on the list. He thought it was a mistake, maybe because he had registered at the last minute, and he asked to speak with the person in charge to try and figure out what the problem was. Eventually he was given a provisional ballot, but instead of getting a private booth to fill out his ballot like everyone else, he was sent to a white plastic table, where everyone could see how he was marking his votes. He could see who the person next to him was voting for, and he was pretty sure she could see who he was voting for. He said he felt humiliated.
Since 2013, Kansas has required anyone who registers to vote to prove they are a U.S. citizen. Even though Stricker had brought his birth certificate to the DMV that day, election officials said they couldn't prove he was a citizen, so they blocked his registration.
On Tuesday, Stricker was one of three Kansans who testified in a closely watched federal lawsuit challenging the law. Stricker and a handful of other Kansas voters are the plaintiffs in the case and contend the law violates a federal requirement that state agencies can only ask people the minimum amount of information necessary to assess their eligibility to vote when they give them the opportunity to register. To justify the law, Kansas officials have to prove that such a restrictive registration policy is justified by a substantial number of noncitizens on the voting rolls. In many ways, that is the same question at the heart of the national debate over voter fraud, which several studies have shown is not a widespread problem.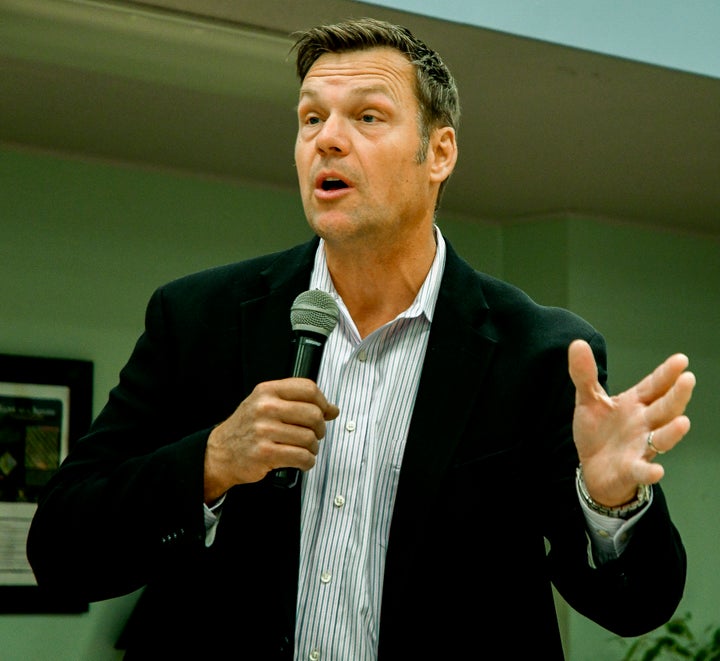 Kansas Secretary of State Kris Kobach (R), who is a defendant in the case and is serving as his own lawyer, questioned how much of a burden it would have been for Stricker to prove he was a citizen to election officials, noting that there was an election office near the hotel where he worked, so he could have taken his birth certificate there during his lunch hour. Stricker said he frequently works nearly 12-hour days and often eats lunch at his desk. Plus, in 2014 he had just started a new job and was wary about taking a lunch hour to go to the election office. He has since refused to register on principle, saying an average Kansan shouldn't have to take legal action to register. The Kansas law has also been blocked since 2016, when a federal judge stepped in and issued a temporary injunction, a decision that allowed 18,000 people who had tried to register at the DMV but failed to prove their citizenship to vote that year.
Sue Becker, an attorney for Kobach's office similarly pressed Donna Bucci, 59, about how difficult it would have been for her to prove she was a citizen. Bucci, who was born in Maryland, tried to register to vote in 2013, but her name was purged from the rolls because she didn't have a birth certificate or a passport and couldn't prove she was a citizen. Becker asked Bucci how difficult it would have been for her to call the secretary of state's office to explain her situation during a break at work.
Bucci explained that she works as a cook in a prison from 3 a.m. to noon and can't have her cellphone in the building.
A big part of the case will be whether Kobach can show that current federal law is not doing enough to combat voter fraud. The federal form to register to vote requires a person to swear under penalty of perjury that he or she is a citizen, a safeguard Kobach said Tuesday was too weak and "like nothing."
Since 2000, Kobach's office has identified only 129 noncitizens who registered to vote or attempted to register, but he cites a study by political scientist Jesse Richman that indicated as many as 18,000 noncitizens could be on the rolls in the state. As of October 2016, there were more than 1.8 million registered voters in Kansas.
Even though Kobach argued there could be substantial voter fraud in Kansas, he conceded that the court would have to define what substantial meant. The American Civil Liberities Union, which is representing the plaintiffs, said voter fraud was insignificant because it is such a small percentage of the overall voting population in Kansas.
Kobach said one could also take "substantial" to mean a small number of illegitimate voters who could end up swinging a close local election. He urged the court to evaluate the proof-of-citizenship law through a kind of intermediate standard and consider whether enough noncitizens were getting around the proof-of-citizenship requirement to render it insignificant.
He spent much of the afternoon questioning Michael McDonald, a political science professor at the University of Florida who is serving as an expert witness in the case about an analysis he prepared showing that over 35,000 people in the state had been affected by the proof-of-citizenship law and that it disproportionately affected first-time voters, who are usually young. But Kobach countered that McDonald had not analyzed how many noncitizens there were among those affected and had not fully examined all the possibilities for why people might be removed from the list.
Kobach is running for governor of Kansas and has drawn national attention for his staunch conservative views on immigration and voter fraud. The courtroom at the Robert J. Dole federal courthouse was packed with about 100 people for the opening statements in the case, which was filed in 2016. Joe Cheray said she woke up before 6 a.m. and drove from Topeka to make it in time for the opening statements at 9 a.m.
There were a few moments of befuddlement throughout Tuesday.
Within the first hour of the trial, lawyers for the ACLU complained Kobach had sent them a document at 10:45 p.m. Monday and they had not had time to review it. Judge Julie Robinson, a George W. Bush appointee, declined to let Kobach use the documents in court.
Robinson also rebuked Kobach and his team throughout the day for not following usual procedures for entering documents as evidence, at one point having to remind them that they should know something because it was "Evidence 101." At another point in the afternoon, lawyers and Robinson had to sort through the confusion of a reply-all email thread because the court had incorrect email addresses for Kobach and some of his team and ACLU lawyers had sent documents to those incorrect addresses.
Kobach also pointed to several of McDonald's tweets in an effort to discredit McDonald's expertise and show McDonald had a personal bias against him (McDonald said he did not). In one of the tweets Kobach pointed to, McDonald had referred to a CNN report in which someone in Vice President Mike Pence's office referred to working with Kobach as a "shit sandwich."
When Kobach asked him whether or not the tweets showed a personal bias, McDonald said they did not.
"They're tough, but they're just tweets," he said.
Before You Go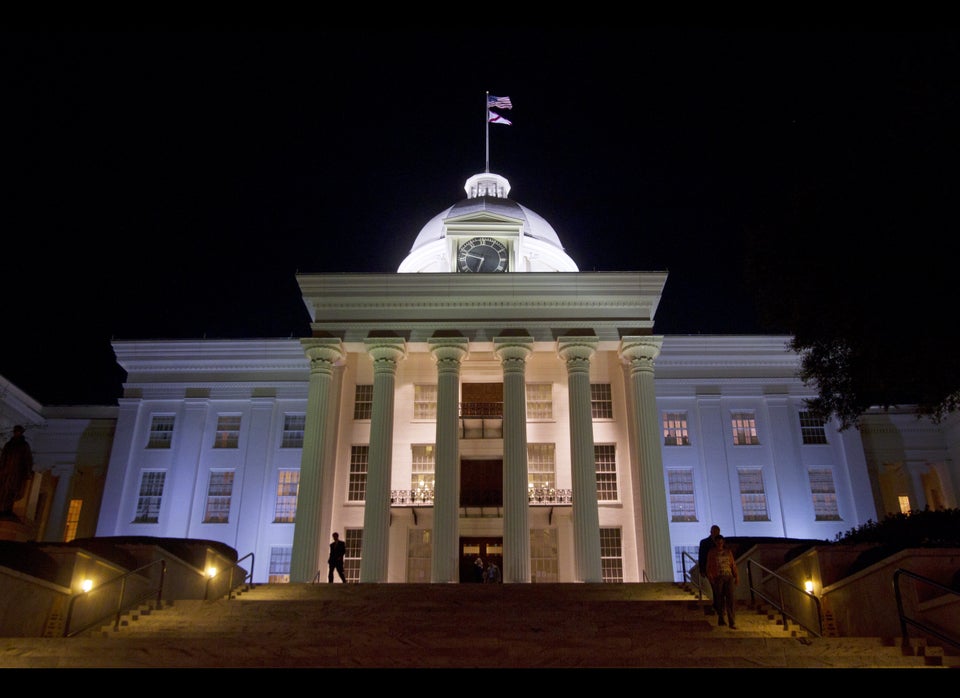 U.S. State Capitol Buildings
Popular in the Community