Shortly after he became Kansas' secretary of state in 2011, Kris Kobach wrote a Wall Street Journal commentary asserting that voter fraud was prevalent in his state and across the country.
Kansas had just passed one of the toughest voting laws in the country, requiring residents to both show a photo ID at the polls and prove their citizenship when they registered to vote. He wrote that his office had already identified 67 non-citizens registered to vote, and he estimated that it would likely identify hundreds more. To underscore his claim about rampant fraud, he alleged that 50 Somali citizens had voted for a state representative in a 2010 Kansas City, Missouri, race in which the margin of victory was just one vote.
But Kobach left out that a Missouri court had already looked at claims of voter fraud in that election and found they were not credible. "The credible evidence proves that there was no voter misconduct and there was no voter fraud with regard to this election," Judge Stephen Nixon, of the Missouri Court of Appeals, wrote.
This incident constitutes just one of a number of times in which Kobach has greatly exaggerated the occurrence of fraud in an attempt to justify making it harder for people to vote. Now he has been tapped as vice chair of President Donald Trump's new Advisory Commission on Election Integrity, and activists worry that he will use his position to stoke fears that voter fraud is widespread ― even though it is virtually nonexistent ― and to lay the groundwork for voting restrictions.
Kobach's appointment is "a clear signal that this effort [is] no more than a voter fraud witch-hunt like the one that took place in my home state at the behest of now-Texas Governor Greg Abbott," Rep. Marc Veasey (D-Texas), co-chair of the House Voting Rights Caucus, said in a statement Thursday. "During Secretary Kobach's term, the state of Kansas implemented a severely restrictive voter ID law designed to discourage and suppress voters rather than assure fair elections. We all have reason to be wary of his intentions in leading this commission."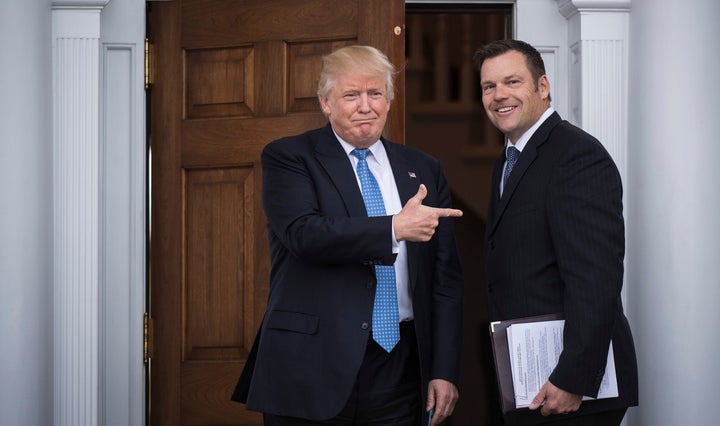 The Brennan Center for Justice described Kobach as having "little credibility as an impartial investigator of election integrity. He's a known promoter of efforts to restrict voting and one of the nation's primary peddlers of the myth of voter fraud."
On Feb. 12, the White House pointed the media to Kobach as someone who could provide evidence of voter fraud. But in multiple televised interviews, he struggled to actually do that.
Kobach appeared on CNN the next day and was asked about the promised evidence. But he said he was still collecting data. He noted that at the time, he had filed nine cases against people suspected of double voting and obtained six guilty pleas.
"Six cases does not rampant, widespread voter fraud make," CNN anchor Kate Bolduan replied.
Kobach didn't fare much better in an interview with Fox Business' Neil Cavuto. He initially said that an "expert" had told him that as many as 18,000 non-citizens could be on the voter rolls in Kansas, but eventually was forced to concede that only a fraction of that number might be voting. Although his office was granted the power to prosecute voter fraud nearly two years ago, Kobach only recently announced that he'd obtained his first guilty plea in a case of a non-citizen voting.
Last year, Kobach fought to uphold Kansas' proof-of-citizenship requirement in federal court, arguing that 25 incidents of non-citizens attempting or actually registering to vote in one county was just the "tip of the iceberg." But the U.S. Court of Appeals for the 10th Circuit upheld a temporary injunction against the requirement, finding Kobach's argument that there could be thousands of non-citizens on the voting rolls to be "pure speculation." Earlier this year, U.S. District Judge Julie Robinson, who was appointed to the federal bench by President George W. Bush, wrote that the burden imposed by Kansas' proof-of-citizenship law "cannot be justified by the scant evidence of noncitizen voter fraud that occurred in Kansas before the law was passed."
The U.S. Court of Appeals for the D.C. Circuit also highlighted the very small numbers in a separate voting rights case last year, noting that in Arizona and Kansas "only a tiny fraction of one percent of registered voters were non-citizens."
In Kansas, over 20,000 voters who did not provide proof of citizenship when they registered to vote were placed on a "suspense list" and could have been removed from the voter rolls if they failed to provide adequate documentation within 90 days. A February report by the Kansas Advisory Committee to the U.S. Commission on Civil Rights said the law "may have been written and implemented with improper, discriminatory intent."
Dale Ho, director of the American Civil Liberties Union's Voting Rights Project, suggested that Kobach might use his position on the presidential commission to sow doubt about the integrity of elections and then push to amend federal voting law to require proof of citizenship.
"We know he has plans for trying to amend the motor voter law, I would assume to conform it to the practice that he has in Kansas, which has been an absolute disaster. That's my best guess. I'm sure he has other bad ideas in mind as well. I mean, he's the king of voter suppression," Ho said.
Despite Kobach's history of exaggeration, the White House insisted on Thursday that the investigation would be impartial.
"The experts and officials on this commission will follow the facts where they lead," said White House Deputy Press Secretary Sarah Huckabee Sanders.
Before You Go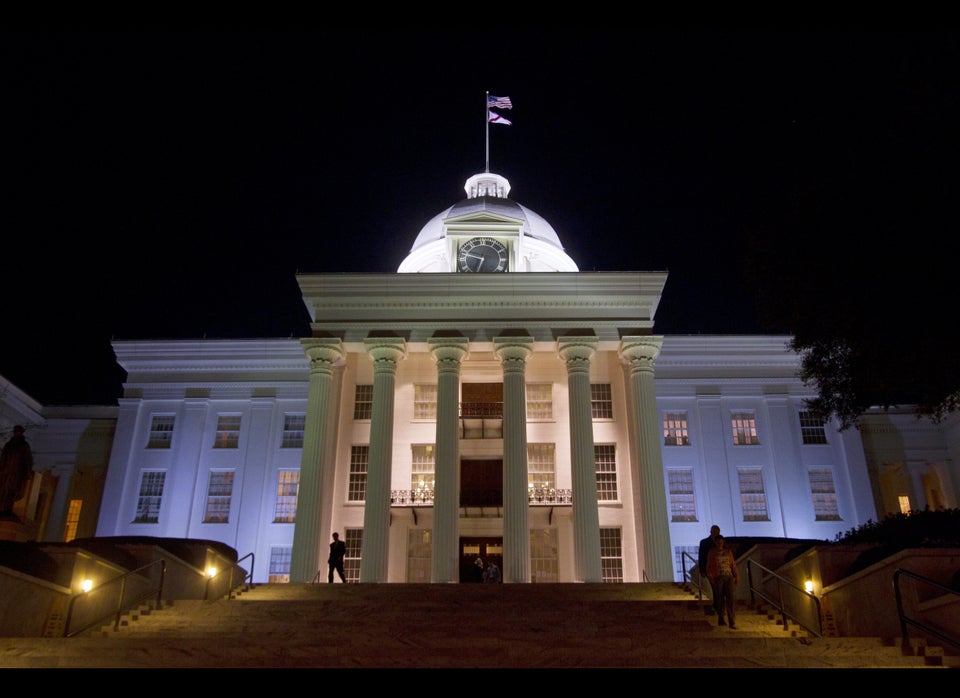 U.S. State Capitol Buildings
Popular in the Community