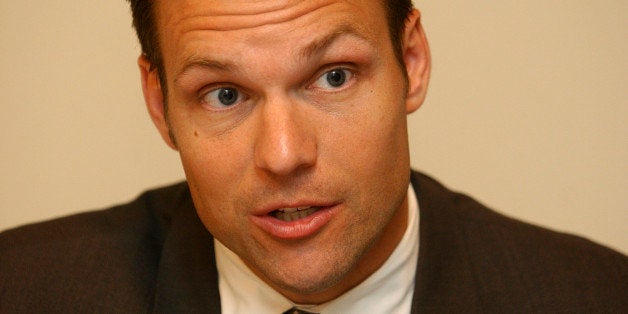 A few weeks ago, my organization, the Center for New Community, made a disturbing discovery -- a picture surfaced on Twitter of Kansas Secretary of State, Kris Kobach, speaking at an annual D.C. event called the "Writers' Workshop." This might not seem like such a big deal, until you learn that the event was hosted by a known white nationalist publisher, The Social Contract Press (TSCP).
A known white nationalist publisher.
The Social Contract Press, designated a hate group by the Southern Poverty Law Center (SPLC), publishes race-baiting articles from several noted white nationalists. The group attempts to use essays and writings to add a semblance of legitimacy to their arguments, but has a clear end goal of advancing policy that will maintain a white European majority in the United States.
The Press is also the most recent U.S. publisher of the racist French book, The Camp of the Saints. SPLC describes the book as a "racist fantasy about an invasion of France and the white Western world by a fleet of starving, dark-skinned refugees." The Social Contract Press, on the other hand, describes it as "a haunting and prophetic vision of Western Civilization overrun by a burgeoning Third World population."
The Social Contract Press is currently led by Wayne Lutton and KC McAlpin, both of whom have long histories in the white nationalist movement in the United States.
Lutton has held leadership positions in other noted white nationalist groups, including the Council of Concerned Citizens (the same group that Dylann Roof cited in his manifesto), and has publicly expressed his belief that the United States should be a country of white people, for white people.
McAlpin is the leader of the anti-immigrant foundation U.S., Inc. and a board member of ProEnglish, both of which demonize immigrants with the goal of preserving a European majority in the United States. He has equated immigration with a nuclear holocaust, describing a pathway to citizenship for undocumented people already in the country as a "demographic mushroom cloud."
Now Kobach, when called out by the Kansas City Star for attending the event, called the claim that it was a white nationalist event "outrageous." So let's take a closer look at the facts.
The "Writers Workshop" event has long been a place for white nationalists and anti-immigrant activists to come together to share their bigoted ideas. The invite list has included: Peter Brimelow, founding editor of the white nationalist VDARE.com, a website "dedicated to preserving our historical unity as Americans into the 21st Century;" conservative writer William J. Federer, who stated during a presentation at a previous Workshop that "multiculturalism is the AIDS virus of western civilization;" and Jared Taylor, editor of the racist American Renaissance magazine, who has said, "Blacks and whites are different. When blacks are left entirely to their own devices, Western civilization--any kind of civilization--disappears."
These are men who are wholly unapologetic about their belief in the superiority of the white race. So what was Kobach doing at an event so unabashedly supported and attended by white nationalists?
Over the years Kansans have had to endure Kobach's penchant for anti-immigrant activism, in Kansas and beyond. As the lead drafter of the anti-immigrant state legislations in Arizona and Alabama, and of a local anti-immigrant housing ordinance in Hazelton, Pennsylvania, Kobach has separated innumerable families and ended up costing taxpayers millions of dollars. His harsh voter suppression tactics have removed thousands of legitimate voters from Kansas' voting rolls. All of this has been in the misguided pursuit of demonizing immigrants and attempting to advance an agenda of bigotry and hate.
If anyone had a legitimate question about the racist underpinnings of Kobach's anti-immigrant activism, his association with white nationalists certainly clarifies things.
It's time for us to say enough is enough. Kobach's attendance at this event is wholly unacceptable and should cause all Kansans to be very concerned about who is representing them in statewide office. This country doesn't, or shouldn't, have room for an elected official who would use his own position of authority to support a group whose sole purpose is to ostracise segments of our communities based solely on the color of their skin or their country of origin.
REAL LIFE. REAL NEWS. REAL VOICES.
Help us tell more of the stories that matter from voices that too often remain unheard.