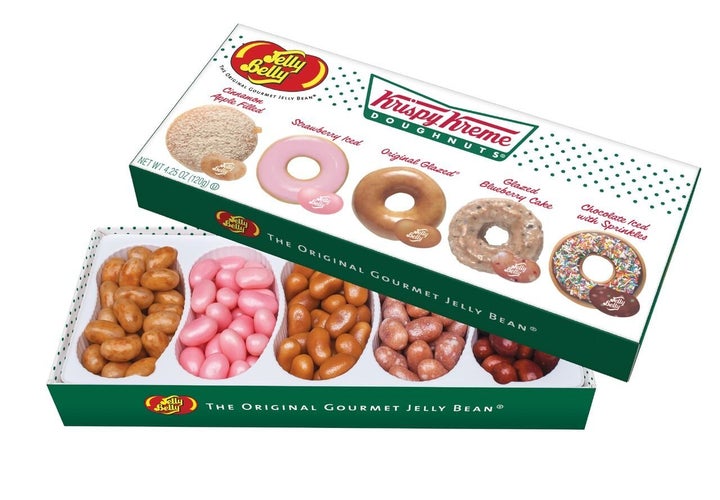 Jelly Belly recently announced a collaboration with Krispy Kreme on a new, donut-inspired jelly bean mix. We haven't seen a partnership this good since peanut butter and jelly got together.
The five new jelly bean flavors ― Original Glazed, Cinnamon Apple Filled, Strawberry Iced, Glazed Blueberry Cake and Chocolate Iced with Sprinkles ― will be available in stores in August, according to a press release.
HuffPost got an exclusive look at the five flavors and let's just say our newsroom had some thoughts on the taste (and how the candies stacked up to their corresponding donuts).
Check out our comments below: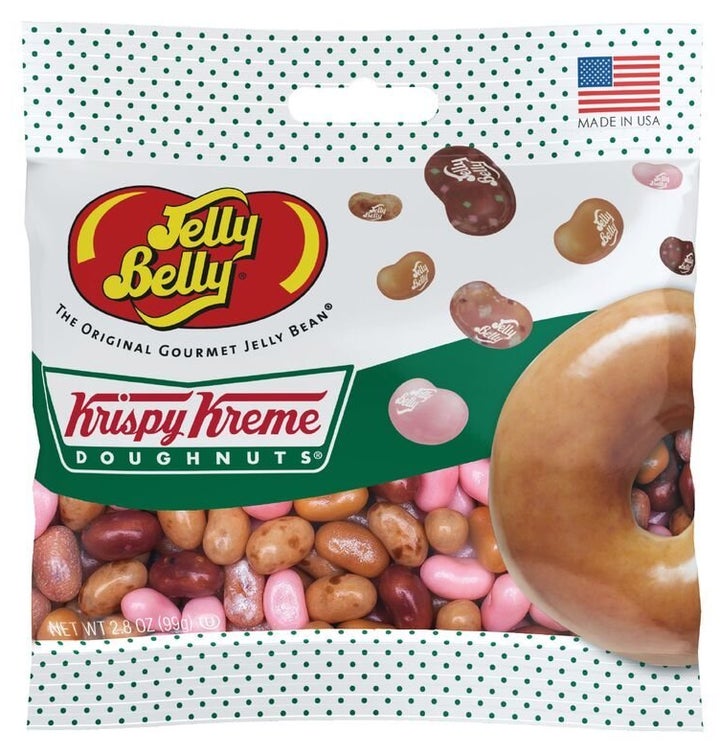 Cinnamon Apple Filled:
"Tastes very artificial. Least recognizable."
"I can taste the fritter."
"I like this one the most. The combination works well."
"Recognizable taste, but it's a bit like Play-Doh."
"Never tasted the donut, but this was well-balanced in sweetness."
Strawberry Iced:
"Accurate flavor ― not gross, but also not great. Should be sweeter I think."
"Would haven't guessed this was a donut flavor. It's fine, but I'm not loving it."
"Definitely tastes like the jelly on a strawberry donut, but could use a little more pop/zing."
"Like this one, true to the description."
"The 'strawberry' taste went away too fast."
Glazed Blueberry Cake:
"Never had this flavor donut, but yummy. BEST ONE!!!"
"Mmmm! Still a bit of fake sweet flavor."
"Loveeee ― and tastes pretty spot on!"
"Now I really like this. Not a fake sweet."
"Love this! Would eat these all day, every day."
Original Glazed:
"Not accurate. Should be able to taste more of the sweet glaze flavor."
"Would have never guessed it was 'Original Glazed.' Sweet and unoffensive, but not great."
"Would have guessed this flavor was 'Brown Sugar.' Hard to capture the donut part, but not a bad taste."
"A nothingburger ― much like Trump Jr.'s Russia meeting."
"No. Not a donut. Burnt sugar in a BAD way."
Chocolate Iced with Sprinkles:
"Shockingly accurate, but with a decidedly 'fake' sweet aftertaste."
"Super accurate and tastes just like the donut ― didn't think the aftertaste was that bad since I knew it was 'donut' going in."
"Not at all pleasant. In fact, I wanted to wash my mouth out afterwards."
"Donuts are all about texture. You don't need this in your life."
"This one is actually pretty delightful."
We donut know about you, but we think these are definitely worth trying. Head to Jelly Belly's website to learn more about pricing and availability.
The HuffPost Lifestyle newsletter will make you happier and healthier, one email at a time. Sign up here.