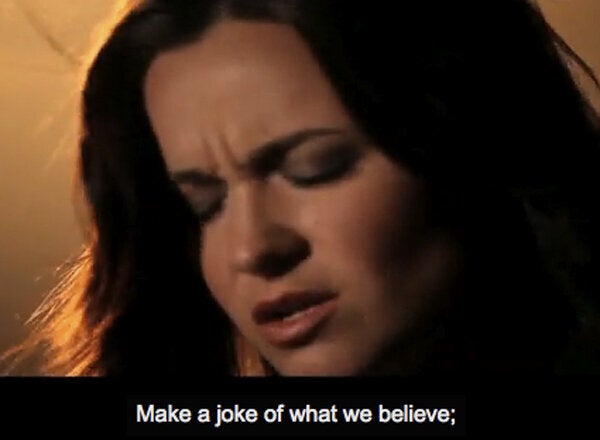 Krista Branch believes that she is America.
The Oklahoma mother of three and seventh season American Idol reject released a new single last month (for sale on iTunes), titled "I Am America." Branch's song is not related to the Stephen Colbert book by the same name, I Am America (And So Can You).
The single is a politically-charged ode to tea party values that strikes out at the movement's critics. Branch accuses them of looking down on a humble group of patriots:
Pay no attention to the people in the street Crying out for accountability Make a joke of what we believe Say we don't matter 'cause you disagree Pretend you're kings, sit on your throne Look down your nose at the peasants below
Branch, the wife of a children's pastor, incorporates her Baptist faith into the song and warns that those who deride the tea party will have consequences to face when "judgment day" -- not "election day" -- rolls around:
I've got some news, we're taking names We're waiting now for the judgment day
Branch's song, her fourth single, has won her the attention of Glenn Beck. The Fox News host played "I Am America" during his radio show on Wednesday morning.
Beck's decision to play Branch's song may be just what one very pleased iTunes customer had in mind :
WOW!! A must hear for any and all Americans!

★★★★★

by TruthB4U - Jun 15, 2010

This is what America is all about - and this is artistry I can get behind 100%!

A stellar song by an amazing artist. Time to take this song "Prime Time" as we stand up for what makes America great and reject those who are tearing it down!!
The music video for "I Am America" splices together footage of Branch on a soundstage with scenes from a tea party protest. Biblical references, the Gadsden flag, and handwritten protest signs are included in the video.
Branch's husband posted the video to his YouTube channel. In the description of the video, he urges viewers to "support the NEW Conservative version of youtube," WooTv.us
WATCH: "I Am America" music video
Krista poses with Glenn Beck in a photo from her Facebook page: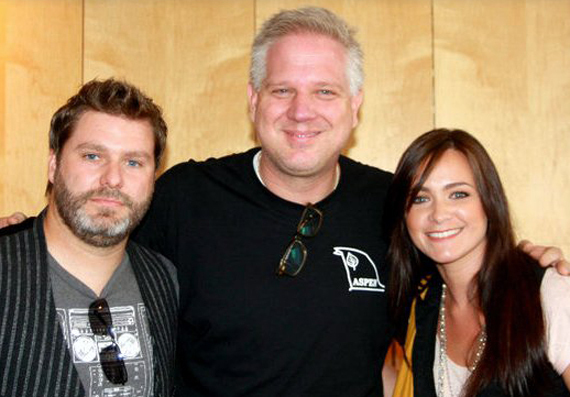 Pay no attention to the people in the street Crying out for accountability Make a joke of what we believe Say we don't matter 'cause you disagree Pretend you're kings, sit on your throne Look down your nose at the peasants below

I've got some news, we're taking names We're waiting now for the judgment day

I am America, one voice, united we stand I am America, one hope to heal our land

There is still work that must be done I will not rest until we've won

I am America

You preach your tolerance, but lecture me Is there no end to your own hypocrisy Your god is power, you have no shame Your only interest is political gain

You hide your eyes and refuse to listen You play your games and abuse the system You stuff your pockets while Rome is burning I've got a feeling that the tide is turning

I will not give up on this fight I will not fade into the light, I am America

You stuff your pockets while Rome is burning I've got a feeling that the tide is turning

I am America, one voice, united we stand I am America, one hope to heal our land

I will not give up on this fight I will not fade into the light, I am America