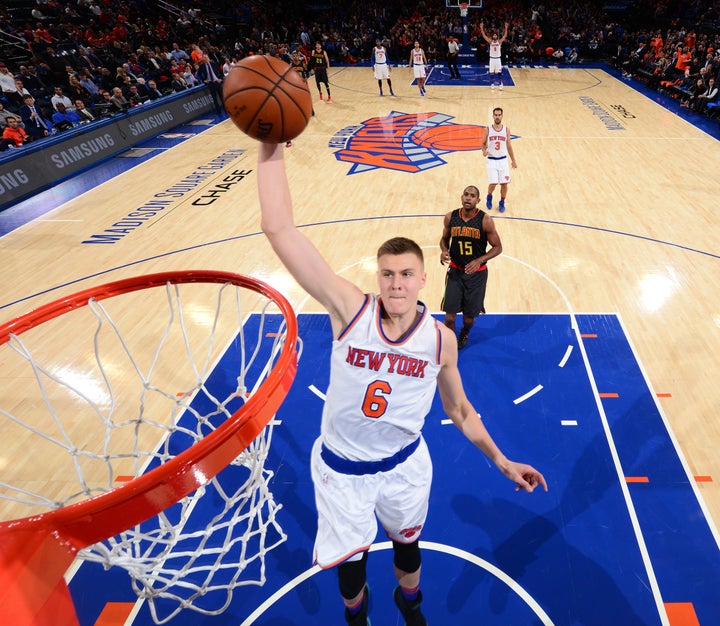 Kristaps Porzingis is a project. He needs time. He isn't strong enough. He isn't old enough. He's soft. He isn't ready.
Towns, whom Minnesota nabbed first overall, was named the Western Conference Rookie of the Month as he averaged over 14 points, 9 rebounds and 2 blocks. Okafor, despite Philadelphia's wretchedness, has dazzled as well, as he averaged a team-best 17 points and 8 rebounds. But it's been Porzingis, with his splendid two-way skill set, fluidity and overall toughness, whose caught the league by storm in New York City.
Style points may not matter to some, but what Knicks fans have long craved for is a hungry, physical presence in the middle to anchor what's been a defensive sieve for two decades. Despite his rail-thin, generously listed 240lbs frame, Porzingis plays with a certain grit -- anger almost -- that has instantly endeared him to the Madison Square Garden faithful. He never backs down from contact, and when veterans try and push him around, he pushes right back, as if to say: "What'd you expect?"
You can hardly blame GMs for questioning a gangly 20-year-old from northeastern Europe. Who really knew if this was simply a kid that played basketball because he was tall and because it would make him millions of dollars, or because he wanted to be great? Was he the next Darko Milicic-- a workout wonder who flat out could't play -- or was he more Marc Gasol? Was he cut from the Jan Vesely cloth, or was he more like Dirk Nowitzki, as everyone hoped? So, when Phil Jackson selected him fourth in the draft, Knicks fans predictably booed... a lot. Porzingis exasperated those boos in a slew of post-draft interviews.
"A lot of fans weren't happy that they drafted me, but I have to do everything that's in my hands to turn those booing fans into clapping fans," Porzingis said. "There's nothing I can do. I was happy about it. I want to be a part of this organization, and I know the fans are a little harsh sometimes, but that's how it is here in New York, and I'm ready for it."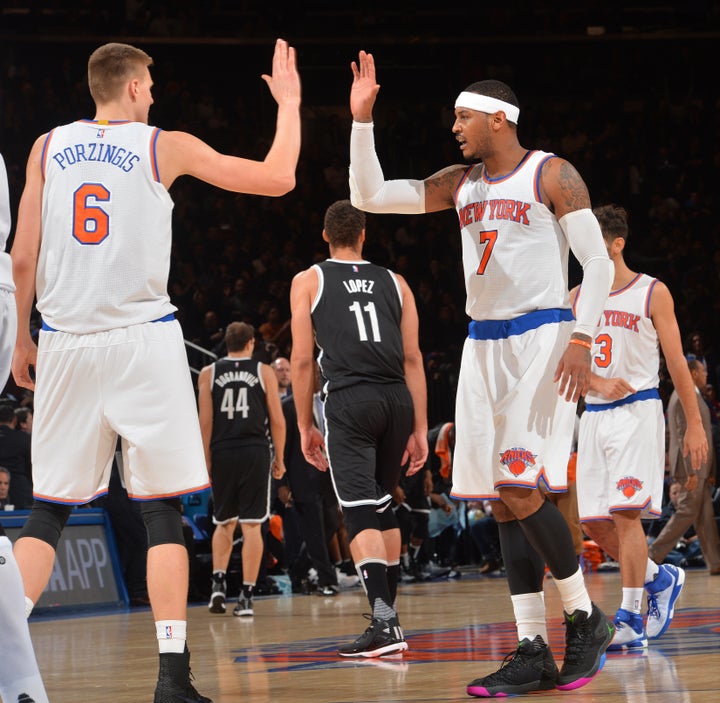 Porzingis, as he tends to be, was right. The long suffering Knicks have won just one playoff series since 2000. Their highest paid player, Carmelo Anthony, is known as a ball-stopping, volume shooter whose lack of postseason success is downright inexcusable. And their coach, Derek Fisher, is known more for an offseason scuffle with a former teammate's ex-wife than his actual coaching ability. Hope, as Morgan Freeman's character says in "The Shawshank Redemption", is a dangerous thing. But for Knicks fans, it is also well deserved.
The Latvia native, along with his rim rattling put-back dunks and fierce effort, naturally brings an added energy to a moribund franchise in desperate need. The 10-12 Knicks aren't much of a contender, but remember that this was a 17-win team just a year ago.
And Porzingis, who sees the floor at a prodigious level, has a real willingness to make the extra pass, a rarity for such an unseasoned 7-footer. Better yet, his advanced understanding of how to play the two-man game -- both with a super scorer like Anthony and with a lead guard -- has already become a legitimate issue for opposition defenses. Moreover, he converts 36 percent from long distance and has morphed into a dangerous pull-up jump shooter, a vital reason as to how he earned Eastern Conference Rookie of the Month honors.
When the Knicks employ him down low, he can go off either shoulder on the block despite an obvious lack of strength. We simply do not see that from young bigs at this level -- let alone rookies.
And then there is the grittiness. Porzingis chases down loose balls like he's trying to make a roster -- not like the future superstar he will become. He likes to get on the floor. And, while it was fair to wonder how his ability would translate to an 82-game slate against the best players in the world, Porzingis -- averaging nearly 15 points, 9 rebounds and 2 blocks per game -- has more than passed the early test. Best of all, in classic New York form, he's hardly bashful.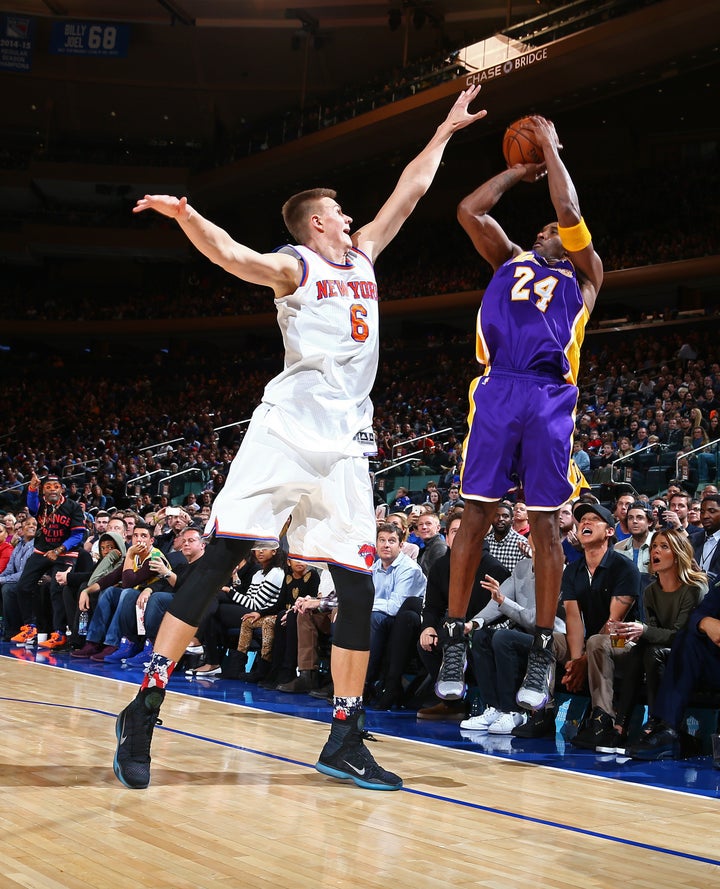 "I'm not surprising myself," Porzingis said. "I knew what I was capable of. A lot of people weren't expecting much from me right away, so maybe a lot of people are surprised. But I knew what I could do. ... I knew I was able to play right now."
Whether he becomes the next Nowitzki remains to be seen. The scary part is a seemingly unlimited dose of potential that isn't excluded to the offensive end. Unlike his fellow European import Nowitzki, a former MVP, world champ and future Hall of Famer, Porzingis -- because of his length and basketball acumen -- will have an opportunity to develop into a lockdown defender and premier shot-blocker. In his last 20 games, he has averaged a robust 3 blocks per game in just 31 minutes. Those are devastating numbers, even for an elite rim protector.
Porzingis -- or whatever you'd like to call him -- is an emerging megastar in a city that embraces entertainment almost as much as it loves a winner. Sure it's early, but this Latvian giant might just be the rare combination of both. And he's only going to get better. Think about what will happen when his body physically matures and his already vast assortment of skills follows suit.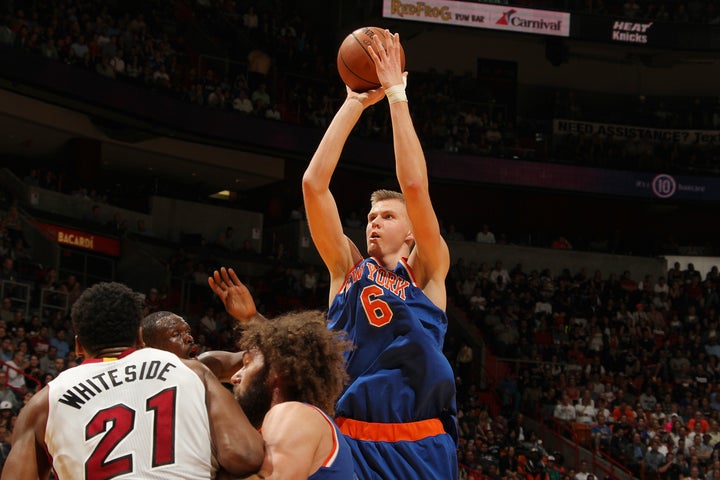 Jackson, who made all of this possible by making the gamble on Porzinigs and not on "safer" picks like Justise Winslow, Frank Kaminsky or even Emmanuel Mudiay, has coached more greatness -- think Jordan, Kobe, Shaq and Scottie Pippen -- than anyone. And Jackson's not one to mince words either.
"When we wound up with the fourth pick, I was hemming and hawing about how to choose," Jackson told ESPN.com last summer. Recently, Jackson -- like everyone else in New York -- has seen the light. "There's a magical element to this young man," he told Sirius XM NBA Radio. "He's obviously a lightning rod to our fan corps."
Maybe it's most fitting to close with Nowitzki, who after playing against Porzingis for the first time, gave the swift nod of approval when he told reporters: "He's for real."
Related