Think it's impossible to have a beautiful beach wedding on a budget? Miami-based couple Kristen Abele and James Schulman, both 28, will prove you wrong. After spending a total of $8,000 on their January 2012 nuptials ($20,000 less than what the average couple in Miami shells out for a wedding), Abele shares how she and her now-husband were able to pull it off. (As told to Natasha Burton)
Deciding to spend less on our wedding wasn't so much a big, conscious decision as it was a life necessity.
James and I had always wanted to own our own business together and the timing happened to just work out right before we got engaged for us to begin our endeavor: a content marketing and copywriting business based here in Miami, called The Found Gen. We started to test the waters with clients and quickly found ourselves in demand -- which is the best case scenario for any new business.
Given that we were in the first year of business when we started planning our wedding, our budget was a priority. We needed to be able to pay rent each month and buy groceries before we could worry about cake toppers and table settings. But regardless of our financial situation, our style didn't call for all the lavish luxuries that some weddings demand.
Still, my husband and I were both aware of the pressure to have an over-the-top wedding, especially from social media. For that reason, I stayed away from Pinterest entirely. At first, I followed a few blogs I liked but after a few months I realized I didn't need to see anyone else's wedding -- I needed to focus on my own. I stopped looking for more ideas and instead just turned to APW (A Practical Wedding) for advice on what I was going through daily, which included the little dramas that are inevitable with wedding planning, like budgeting and marrying into a new family.
Above all, my husband and I wanted our wedding to be fun, carefree and a hell of a good time. So, we focused on the necessities: food, booze and a few core decor elements -- you know, like tables. To crunch the numbers, I downloaded a program from Google Weddings. And we stuck to it.
We cut a lot of costs by avoiding many the formalities of weddings. We ditched the idea of having a bridal party. Instead of a cake, a family friend offered to bake outrageously delicious cupcakes. We bought local flowers, which were in season and cheaper to come by. And we limited our guest list to 100 people.
We also saved tons on our venue. Through a family connection we nailed a little-known beach space called The Key Biscayne Beach Club for -- I kid you not -- $300 for eight hours. It's a small low-key club for Key Biscayne residents and my stepfather's parents were members there for years. Even after his parents were no longer members, the people at the club remained close to the family.
They've had weddings there in the past -- $300 a night is the going rate to take charge of the space -- and for us, it was a perfect place to get married: It's a small piece of beach space with a concession stand, a tiny playground on the sand and an indoor space normally filled with plastic tables and chairs. Most beachside weddings in Miami are usually held on South Beach and are associated with four or five star hotels -- there's really no way you could rent the space for less than $10K. So, this was a dream come true.
To keep with the beach "theme," we had beach balls for our guests to throw after the ceremony rather than rice. Although, I admit I didn't think everyone was going to peg us with the balls -- I was more expecting them to toss them around like at a graduation!
My stepfather, who officiated our wedding, rocked a tux and flip-flops. Our tables were decorated with pieces of local coral. But we really tried to let the beach speak for itself. We wanted to incorporate simple design and coloring -– we paired blue glass vases with white flowers -- and not overdo it with the décor.
Of course there were issues -- what would wedding planning be without a dash of drama thrown in? We had some trouble fitting the rehearsal dinner into our budget. In the end, we ditched a sit-down dinner and invited all of our guests to a local pizza parlor instead. We ordered pies for everyone and had BYO booze. The total tally for 80 guests was $300. The bonus factor? It was such a casual affair that my aunt hired a mariachi band to serenade the whole restaurant as a surprise. People who weren't part of our party started to join in on the dancing -- it was a blast!
My ring was also a sticking point budget-wise, so we ended up turning to heirlooms to get us through. My mom gave me an old diamond cross necklace she received from her parents as a wedding present. Then, a local jeweler took the diamonds and the gold that held the cross together to forge me a band. It cost $100 for the labor -- that's it.
One of the things we did splurge on was my dress. I got it at David's Bridal and, at $800, it was one of our pricier items. I had tried on about six dresses when the woman helping us brought out this ball of white poofiness -– even though I had been adamant about not wanting a ball gown. My mom told me to humor her and, low and behold, it became the dress. One major factor for, ahem, saying yes to the dress, was that I could comfortably sit down in it. So, once I realized I could do that, I was sold.
Our dream wedding, if you take price out of it, would have been exactly what we delivered in the end: a good get together with friends and family. The whole night didn't feel like a wedding at all -- in a good way. It was just a fun excuse for all of us to get together again.
The best part of the night, at least for me, was during my first dance with my husband. I'm kind of a goofball and, while dancing to "At Last" by Etta James, I just naturally started to serenade my husband while making all sorts of silly faces. Picking out my best friends' laughter in that moment meant the world to me: I realized I was married, having a ball, and my friends and family from all over had come to share that experience with us.
Click through the slideshow below to see snapshots from Abele and Schulman's wedding.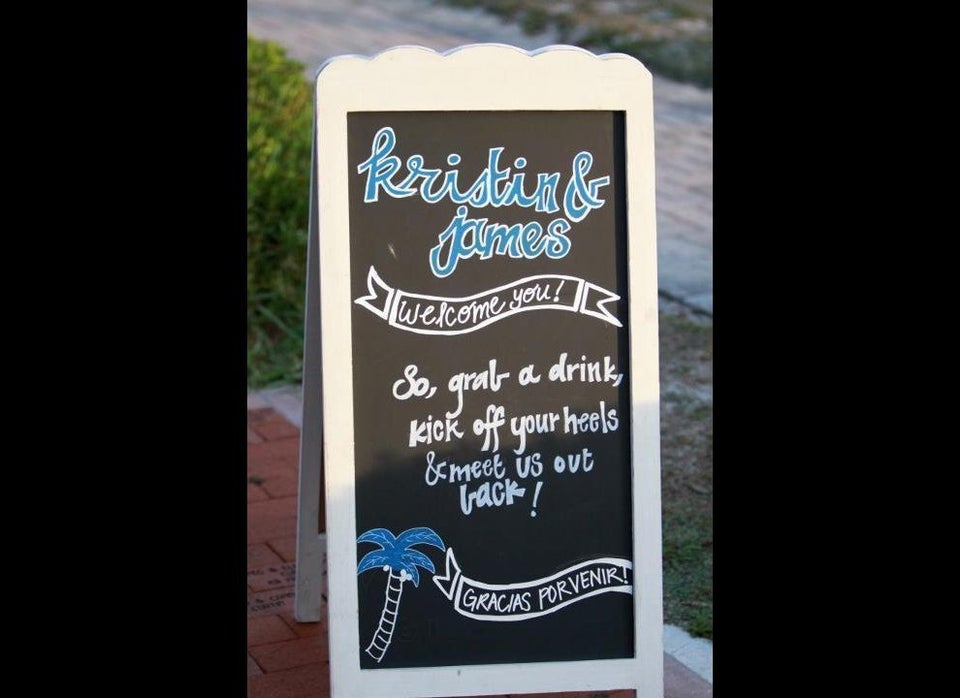 Budget Beach Wedding
Related