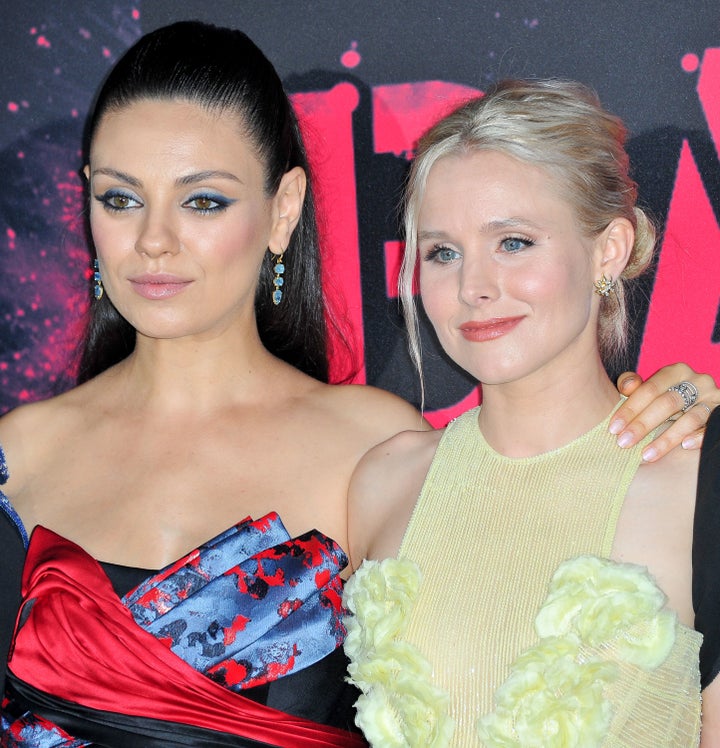 "What are we gonna do? Have a party and be like, 'Look at us celebrating this thing you can't do?' That's fucking putrid," she said. "Like, 90 percent of our friends are gay!"
"His whole speech was about when I was 14, I told my parents I'm never getting married and they were like, 'OK, let's talk about this,'" Kunis explained. "The concept of marriage didn't make sense to me because my friends couldn't do it, and I found nothing wrong with what they wanted. So, I was like, 'Well, then it's not sacred, then it's not what it's supposed to be, so I don't want it.'"
When Kunis learned that same-sex marriage had become legal in the U.S., she was in the middle of shooting a movie in London. But that didn't stop her from becoming visibly emotional on set when she heard the news.
"I was 35 feet in the air and I got a text from my roommate who was married to his husband now of 19 years in London," she recalled. "I got a text that said it was legal, and I'm in the middle of a stunt and there's fire blowing everywhere, and I just start bawling ― literally bawling. Because something that I thought was never gonna happen ― ever! ― happened."
A text from Kutcher, she added, hinting that the couple should then move ahead with their wedding plans followed.
"He was like, 'Now what?' And I went, 'OK,'" she said.
The stars are confident that gay moviegoers will find much to admire in the female-centric "A Bad Moms Christmas," which hits theaters Nov. 1.
"I think the gays have always loved any woman on screen that represents power or strength or something that they have overcome ― anything that's positive," Kunis told PrideSource. "And so, I think when they watch women on film who embrace imperfections and embrace challenges and overcome them, and empower themselves and do the opposite of what society tells them to do, they gravitate toward that."