The City and County of Honolulu is refusing to reimburse Kristen Butac's $1,600 veterinary bill after a Honolulu police officer shot her dog in September.
According to local news channel KHON-2, police officers were investigating a separate domestic disturbance call from one of Butac's neighbors when her dog, a three-year-old Staffordshire Bull Terrier named Bruce, escaped Butac's house and lunged at three policemen. Two of the officers stepped out of the way, but one shot the dog.
Butac wasn't at home when it happened, but she told The Huffington Post that there was still a lot of activity when she got to the house.
"It was scary," she said. "When we first got there, they said that after Bruce got shot, he ran. I wanted to go find him, but I couldn't leave the premises."
Bruce, who had been hiding behind the house, came out when he heard Butac. "He was bleeding pretty bad," Butac said. "I started panicking."
The police officers prohibited Butac from taking Bruce to get medical care because it is police policy to investigate a scene anytime an officer discharges his gun.
"Apparently they couldn't find the bullet when they shot my dog," Butac said. "That got us worried, because we didn't know if the bullet was still inside my dog. We wanted to get him checked right away."
(Story continues below...)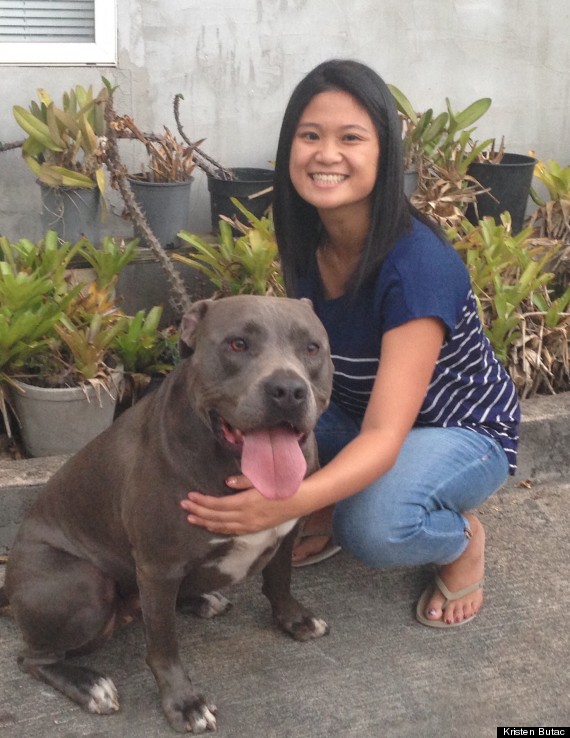 According to KHON-2, the investigation took about an hour. Then Butac took Bruce to the Veterinary Emergency and Referral Center of Hawaii where he was patched up. The bullet had entered and exited his chest without damaging any organs.
When Butac later filed a reimbursement claim, Honolulu's Department of the Corporation Counsel denied it, saying "there was no improper conduct on the part of the Honolulu Police Department officers."
HPD spokesperson Capt. Rade Vanic said in an email that he couldn't comment on the case directly because the issue is currently pending with city attorneys, but that HPD "takes all firearm discharges seriously, especially ones that result in injury, even injury to animals. HPD is in the process of reviewing the incident and will take appropriate action if warranted."
Calling all HuffPost superfans!
Sign up for membership to become a founding member and help shape HuffPost's next chapter
BEFORE YOU GO