Don't call the latest exhibition at Susanne Vielmetter Los Angeles Projects a "group show." The works of Kristen Calabrese, Monique Van Genderen and Mindy Shapero make up three solo shows that have been put into dialogue with one another. Each show deals of an artist's personal approach to creating art, and in particular being an artist on the West coast.
Calabrese's show is an experiment in playing with dimensions. Her tromp l'oeil pieces trick momentarily convince us that a painting is actually a broom, and that a painted canvas is a sheet of wood.
Each artist displayed has her own voice, evident in the choices of medium, color and subject.
Monique van Genderen's show in the adjacent room continues her exploration of color and flatness, but expands her particular style to ceramic surfaces. Her works engage the viewer's eye and encourages us to create our own spatial narratives.
In the final room, Mindy Shapero's art showcases her influences from antiquity, including Oceanic, African and Greek art. Her pieces, steeped in visual and spoken mythology, invites us to bring the traditions of ancient cultures into the modern world.
Continue reading after the slideshow.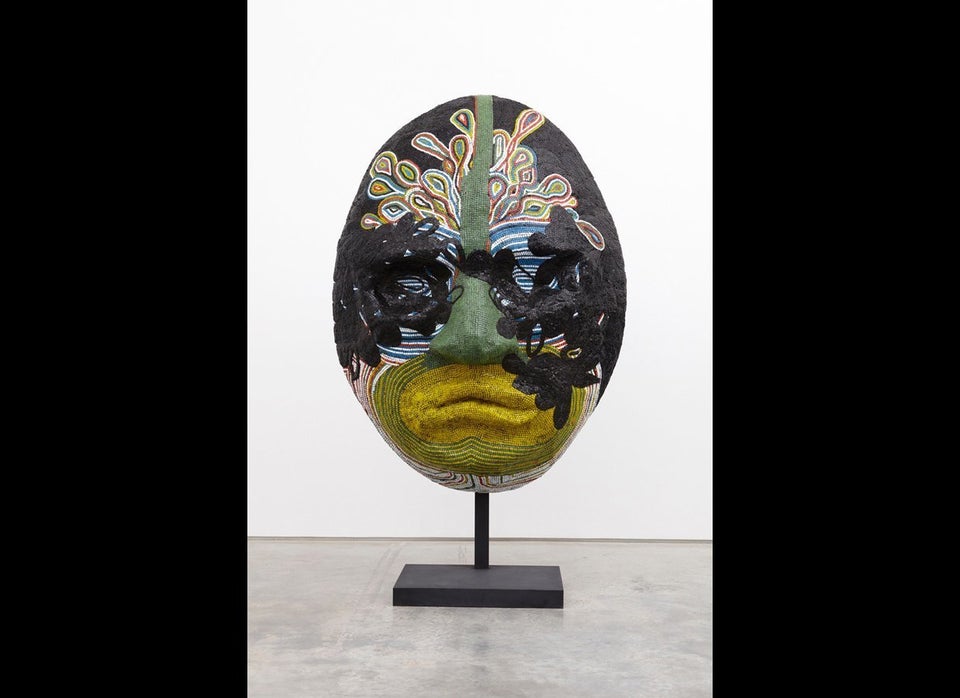 Gallery
"Back of my Face" is a poetic title - descriptive of emotions translated from the body and pushed into a surface...The works are physical manifestations of areas of conflict, intended as stand-ins for the presence of the artist. Included in the exhibition will be a painting of a broom leaning against the wall like a broom would, a painting of plywood, a painting of 3000 band-aids, as well as several self-portraits showing the artist balancing a potted plant or a pile of spaghettis on her head.
Popular in the Community