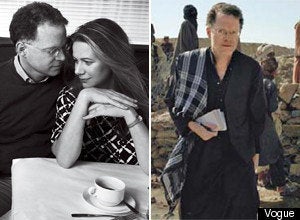 Kristen-
I believed I had to do this to make this a credible book. Most people in Helmand support them now and I need to tell that part of the story. I honestly believe this is a calculated risk that will be OK.
Scribbled in the margin is a phrase that makes my heart sink: This is my passion and I must do what I love.
The letter continues:
If I get kidnapped, use money from my book advance. Do not involve money from your family or mine. This is my responsibility.
I love you so much and am sure this will be OK. Please go and be happy and move forward if things go very wrong.
I love you so very much and thank you for giving me more joy and love than I've ever known.
I love you,
David
The note does not comfort me. I can't help feeling that David has thrown us under the bus at month two of marriage. I know that he is writing the book in part to distance himself from his dangerous work as a war correspondent. But pursuing an interview with a Taliban commander was a bachelor's decision.

Related
Popular in the Community