Before Kristen Stewart became a mega-star playing Bella in the Twilight film trilogy, she made a memorable onscreen debut as Jodie Foster's daughter in Panic Room. Playing an androgynous pre-teen, she epitomized both vulnerability and grit. In her latest film, Camp X-Ray -- opening Oct. 17 -- Stewart plays a soldier who guards detainees at Guantanamo Bay: boyish and deglamorized, she demonstrates the same combination of fragility and strength, but in a far more political context than David Fincher's film of 2002. In fact, perhaps this detention facility represents our national Panic Room.
Stewart and the film's writer-director Peter Sattler were the onstage guests for the opening night of the Forum Film Festival at New York University on Tuesday. After a preview of Camp X-Ray, Thane Rosenbaum -- Director of The Forum on Law Culture & Society at NYU School of Law -- moderated a provocative discussion in front of a packed house of students.
While Stewart was poised and articulate in her plus chair, her right leg never stopped moving around. Dressed in pants and a jacket (her hands often inside the pockets), and sporting a chic, short haircut, the actress recalled her excitement upon reading Sattler's script: "I wanted to do something that saved me, that I could jump into head first."
Camp X-Ray begins with searing topicality, as footage of the Twin Towers burning is revealed to be emanating from a television set in the Middle East. Sattler said, "9/11 was a giant scar on the American psyche. I had just gotten out of film school. The challenge was, how do you make Guantanamo Bay -- which people have been trying to forget -- into a movie they'll want to see on a Friday night?"
His answer was to focus on the rite of passage of Amy Cole (Stewart), an MP who patrols a "Gitmo" hallway, peering into the cell windows of alleged terrorists who have been locked up for eight years. She slowly gets to know Ali (Payman Maadi, who played the husband in the Iranian drama A Separation). "The film forces people to acknowledge that there are two sides to every coin," Stewart proposed.
When asked how she envisioned her character, the actress said, "I feel like I knew a few Amy's in high school, looking like they've swallowed a ton of bricks. Amy wants to lose herself so she doesn't have to look inward. But she overcomes a lot, and learns." Sattler quipped that his film is about "a quarter-life crisis."
Shooting numerous takes of the tense scenes between her and Ali proved challenging: "I am -- to a fault -- obsessed with the first taste of something," she admitted. On the other hand, there were surprises for both the actress and her character in this story about overcoming prejudice: "The most precious solace can be from a place that is unexpected," said the actress.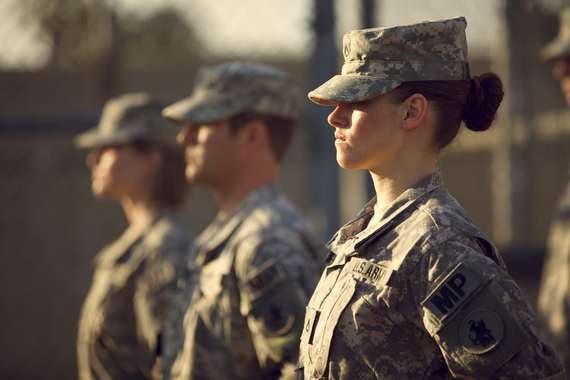 Stewart's commitment to this independent drama -- and her appearance in front of hundreds of law school students Tuesday -- seems far from the "celebrity headlines" she often elicits. In fact, her career exhibits a growing maturity, partly due to her work with foreign directors like Udayan Prasad (The Yellow Handkerchief, co-starring William Hurt and Eddie Redmayne) and Walter Salles (On the Road). This is especially true of Olivier Assayas's Clouds of Sils Maria, premiering this week at the New York Film Festival. For her utterly natural performance as the personal assistant of a movie star played by Juliette Binoche, Stewart received rave reviews at the Cannes Film Festival. As in Camp X-Ray, there is little make-up or vanity about her deglamorized character.
Taking on the role of an army private led Stewart into fertile political territory. Amy's first line in Camp X-Ray is in response to why "prisoner" is the wrong term for the men they watch: "Prisoners are subject to the Geneva Convention; the detainees are not." Guantanamo provides a different kind of twilight from vampire films: because the detainees have not been charged, it is an endless limbo or purgatory.
Calling all HuffPost superfans!
Sign up for membership to become a founding member and help shape HuffPost's next chapter