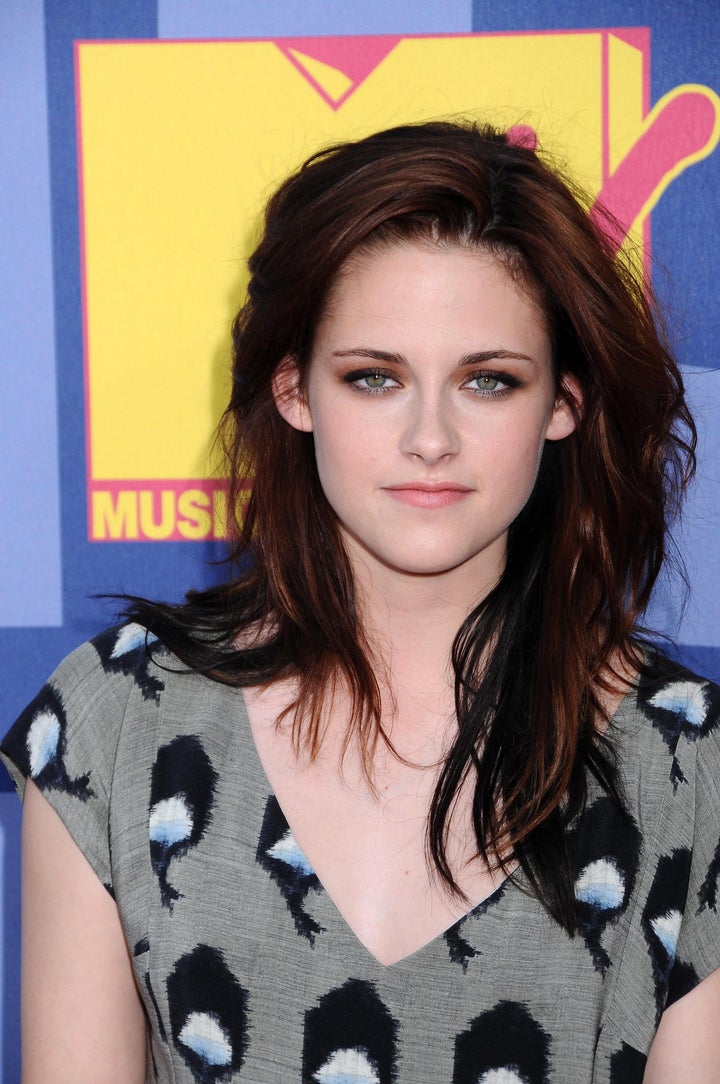 OK, I've had it, really had it! This blog is in defense of Kristen Stewart. Please read on...
I have found it unbearable to read (as well as impossible to ignore) the fallout of Kristen Stewart's (age 22!) involvement with the director, Rupert Sanders (age 41!), in her latest film, Snow White and the Huntsman. This is the very film where Sanders' wife, Liberty Ross, the mother of his two young children, Tennyson and Skyle, plays Kristen's mother.
It is impossible to count how many times you and I have read or heard the description of Kristen's "shocking betrayal" of Robert Pattinson, with whom she has had three year Twilight-induced romance. Media overkill has led to a vicious and scathing attack of Stewart, who reportedly has gone into seclusion at her mother's home, and can neither eat nor sleep. Meanwhile, Pattinson, placed in the most humiliating position a man can find himself sexually, has, among other nurturing acts, been given Ben & Jerry's by Jon Stewart, and has done his best to take a high road.
Young fans, who have seen Stewart's romance with Pattinson as the dream romance they long for (but of course have no idea what stresses this relationship may have), write that they wish Kristen Stewart dead and more; and it has been reported that while Sanders will direct the sequel to "Snow White, etc.," Stewart may well be dropped.
The only wise light in this horrific mess is actor Jodie Foster, who has endured her share of media hell. Foster's stalker, John Hinckley, Jr., obsessed with her role as a 12-year-old prostitute in the 1976 film, Taxi Driver, shot President Ronald Reagan in an act meant to impress and woo her. Addressing the horror that Stewart has gone through, Foster wrote in a Daily Beast essay: "We've all seen the headlines at the checkout counter. But we seldom consider the childhoods we unknowingly destroy in the process." She continues: "If I had to grow up in this media culture, I don't think I could survive it emotionally." Foster deeply respects Stewart. She played the mom of an 11-year-old Stewart in David Fincher's 2002 film, Panic Room and writes that the young actor possesses "beautiful talent and fearlessness."
In my psychotherapy practice I have worked with actors in the Philadelphia and New York areas. What most do not realize is the huge degree of fantasy that often envelops a film set throughout the shoot. And in this period, seduction and flirtation easily flourish. All serious actors learn to see this setting for what it is, a fantasy, and to view any potential sexual involvement as one where there is an act, a role -- not an authentic person.
Further, the most powerful person on the set is usually the director; and usually he rules, in one way or another. In this extremely elevated position, the actors (especially the young ones) who depend on him to show their work as beyond merely credible (their professional futures depend on this), attribute powers and abilities to him that are most likely highly exaggerated.
In this context Kristen Stewart, a serious young actor, is not the type of professional who would approach what has become her nightmare determined to seduce. Her anguished public apology would not have come from one with a knee-pad mentality. Contrast her apology to the scripted words of her 41-year-old director, old enough to be her father, whose seduction began while his wife was a stone's throw away. What most do not realize is that it would be next to impossible for a young person to resist the power and dazzling charisma of this type of pursuit.
It is common for young people, as they grow and mature, to have a sexual experience that at first appears extraordinary and magical, but in reality is anything but, one that brings them hurt and shame. If they are smart and savvy, they learn from their blindness. Obviously Stewart had some growing up to do: She confessed in a recent interview in Elle magazine, where her nervousness and ill ease was palpable, that she regrets having been home schooled as a regular school experience would have given her "a bit extra." She further stated that she feels "boring," that "you can learn so much from bad things," and she was waiting for "something crazy" in her life. Her wish is a common one, especially for those who feel undeserving of their very good fortune. ("My life has been so f**ing perfect," she shares.) Many young people do not yet understand that some choices that feel exciting in the moment can threaten absolutely everything they hold dear. Unlike Kristen Stewart, the aftermath of pain and humiliation following such an experience is not played out all over the world in the most intrusive manner conceivable.
I have no idea what the future of Robert Pattinson and Kristen Stewart is or should be. But I do know that they both, their public, and the media should understand what went on and its context far more completely. Rupert Sanders seems to have gotten a relatively easy public ride. Not only did he humiliate his wife. He also took advantage of a highly vulnerable young person with enormous talent; but, as is true of the majority of child performers, quite limited real life experience. What he deserves is a furious public and professional rebuke.
REAL LIFE. REAL NEWS. REAL VOICES.
Help us tell more of the stories that matter from voices that too often remain unheard.