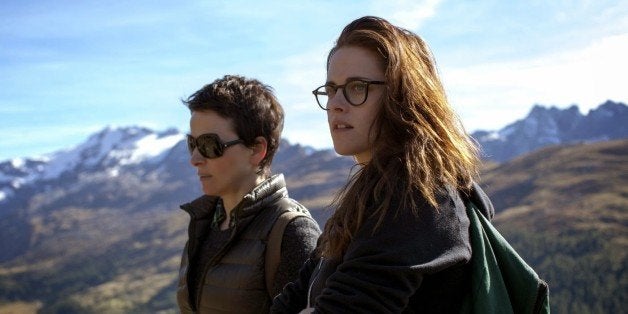 "Clouds of Sils Maria," the latest film from French filmmaker Olivier Assayas, is one of the most meta, layered films on this year's festival circuit. Not only is the story about a revival of a play within a movie, but the casting itself plays a big part in how we perceive the characters.
Assayas's film, which screened as part of the New York Film Festival this month, follows Maria Enders (Juliette Binoche), a famous French actress whose big break was playing the young lead role in a play 20 years prior. Now she has the opportunity to star in the revival of the play, only this time as an older woman opposite the character for which she became known. As Maria runs lines with her personal assistant, Valentine (Kristen Stewart), their relationship begins to mirror and complicate that of the women in the play.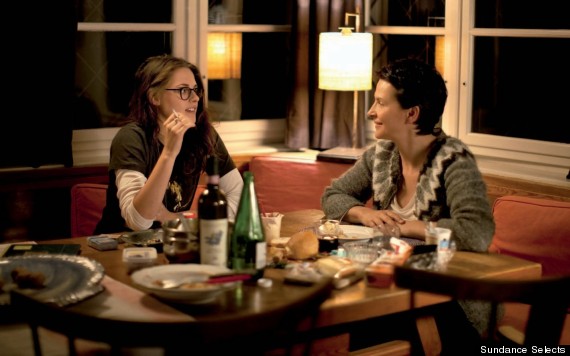 The fictional play, which Assayas described during a press conference as a "condensed, brutalized version" of Rainer Werner Fassbinder's "The Bitter Tears of Petra von Kant," follows a fatal attraction between an older woman and her manipulative young assistant. As the film progresses, the lines blur between Maria's relationship to the play 20 years ago and the dynamics between Maria and Valentine, Maria and Jo-Ann Ellis (Chloe Grace Moretz), the actress playing the younger role, and Maria and her past self.
The plot deepens as Assayas' story becomes dense with thick layers of intertwining relationships. The actresses who star in the film are equally important to its concept. On one level, Binoche's relationship to her character is very connected to her own relationship to Assayas, as she starred in 1985's "Rendez-vous," a film that he co-wrote and which launched her into the spotlight.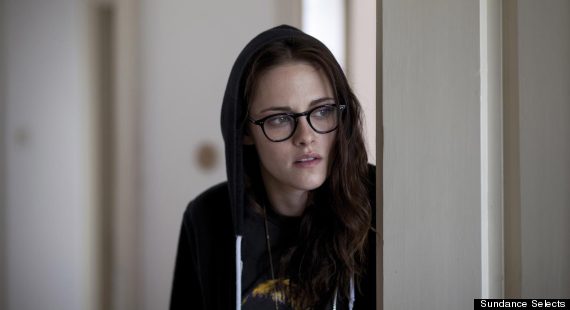 Kristen Stewart, though, embodies the fascinating real-life connections. Multiple instances in the film wink at the actress' celebrity status and some prior scandals. In one scene, Valentine asks Maria whether the actress had a romantic affair with the play's director when she was younger. "You wouldn't understand," Maria says to Valentine. But the audience might: Stewart had a highly-publicized affair with filmmaker Rupert Sanders while the director was still married. Valentine also helps Maria evade the paparazzi multiple times, which her character angrily calls "cockroaches." The irony is hilarious and makes Stewart's great performance even more enjoyable to watch.
"I had to reign in the glee on my face. I had to make sure my cheeks weren't turning red and I wasn't in hysterical laughter when I said some of the lines that I said in the movie," Stewart said during a press conference on Wednesday. There are other moments in the film where Moretz's Jo-Ann, who is constantly in the tabloids for DUIs and affairs, is a clear commentary on celebrity culture and the media. "I think that my position -- just the life that I'm living and my experience -- sort of gave [the film] this irony," Stewart said with a laugh. "[It] just made it a bit more relevant and interesting."
Stewart was originally cast in the role of Jo-Ann, which may have made for some all too obvious allusions. But Assayas revealed that he initially pictured Stewart in the role of Valentine, and ultimately gave her the part once they met. Unlike many films, "Clouds of Sils Maria" is a work of art that begs audiences to be aware of its internal references to Hollywood and celebrity culture. "It's a movie where you ultimately never forget that you're watching those actresses," Assayas said. "It's part of what the film's about."
"Clouds of Sils Maria" opens in March 2015.
Calling all HuffPost superfans!
Sign up for membership to become a founding member and help shape HuffPost's next chapter
BEFORE YOU GO
PHOTO GALLERY
Fall Movies 2014