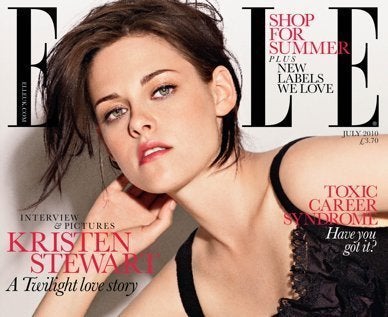 Kristen Stewart covers July's British Elle, out Wednesday, and in the interview she talks about fame and likens getting chased by the paparazzi to being raped.
On the press:
"It really bothers me when people write nasty s*** about me and the perception is that I don't give a f***. It could not be further from the truth. Your little persona is made up of all the places that people have seen you and what has been said about you, and usually the places that I am are so overwhelming in the moment and fleeting for me ­like one second where I've said something stupid, that's me, forever."
On the paparazzi:
"What you don't see are the cameras shoved in my face and the bizarre intrusive questions being asked, or the people falling over themselves, screaming and taunting to get a reaction. The photos are so... I feel like I'm looking at someone being raped. A lot of the time I can't handle it. It's f***ed. I never expected that this would be my life."
On Robert Pattinson:
"People always ask me if I'm dating Robert. It's beyond annoying. People say that if I just tell them everything they'll leave me alone, but God, you think if I tell people they'll leave me alone? They pick up every little scrap, and that's much worse."
Popular in the Community