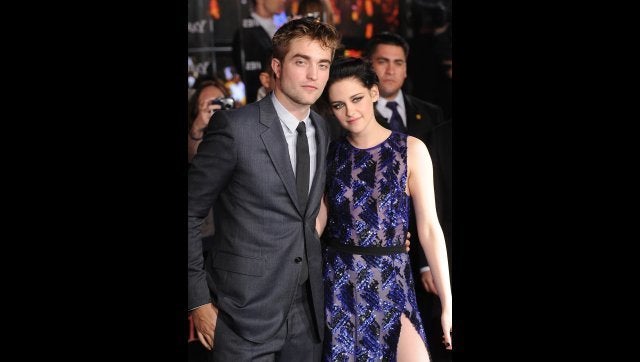 Photos and rumors have the media buzzing about a potential romantic reunion between Robert Pattinson and Kristen Stewart. Could it be a publicity stunt designed to change attitudes while they're on their worldwide promotional tour for the final Twilight movie? Or could it be, now that the dust has settled, that they both realize that in spite of all the pain, negative attention and uproar that Kristen's betrayal caused, they still really love each other and don't want to chuck their four-year relationship?
Many are wondering why Kristen would ever cheat on a hottie like Robert.
Some say that Kristen is young, naïve, restless and needs to have more life experience. Or, Hollywood experts theorize, filming on location can be a very sexy and intense bonding ground, where intimacy and connection (with your director) grows deep quickly. Perhaps. But usually, most affairs happen when there is vulnerability in the primary relationship, whether it's caused by loneliness, a lack of attention, appreciation or sex, boredom, a breakdown in communication or just too much emotional or physical distance. Any of these factors can weaken or tear a relationship apart. It leaves an emotional hole for others to come and fill.
After an affair, especially one so public, do they have a real chance of making it?
In order to save their relationship, K-Stew and R-Patz will have to hold hands and do the work it takes to make their relationship strong, resilient and trustworthy again.
It takes patience, integrity and perseverance.
Kristen has to earn back his trust by being steadfast and resolute in her love and actions and doing whatever it takes to show Robert that their relationship is her #1 priority. She has to figure out WHY she had the affair in the first place, and then find that place inside herself that is ready to be faithful through thick and thin.
In order for Robert to rebuild his relationship with Kristen, he has to re-channel his energy and focus away from what has happened to him, how embarrassing the public ordeal was and how betrayed he felt and look at what he honestly wants and what he's willing to do to make this relationship work.
Recovering from betrayal takes a willingness to forgive, heal and open up your heart again.

It's easy for Rob (and all of us) to point fingers and blame K-Stew's romp with Rupert as the source of the problem. However, the truth is they each played a part in the affair happening in the first place. This is the time to sit down together and have a heart-to-heart look at what problems, behaviors and attitudes led to the affair happening. Without identifying and openly talking about why the affair happened, there will be an increased risk of a repeat performance in the future.
An affair doesn't have to mean the end. It can be a new beginning.
Kristen's and Rob's apparent reconciliation could very well be a temporary publicity stunt and their affections a show for the audience until the movie tour is over. But if it isn't, and they are really attempting to reconcile, there's some good news. There can actually be deeper, more honest and faithful love on the other end.
As a marriage and family therapist and author of a book called Chatting or Cheating, I've seen thousands of couples heal from an affair and make a relationship better than ever. But both partners must be willing to re-prioritize their relationship to #1 status. Rob and Kristen already have a strong friendship, compatibility, continuity and mutual lifestyle in common. This can be a new beginning for them, as long as they keep sharing their truth and mean it when they tell each other: "I love you and only you, and you're important to me."
Sheri Meyers, Psy.D is a licensed Marriage & Family Therapist in Los Angeles, CA, and author of Chatting or Cheating: How to Detect Infidelity, Rebuild Love, and Affair-Proof Your Relationship.
Connect with Dr. Sheri Online:
Calling all HuffPost superfans!
Sign up for membership to become a founding member and help shape HuffPost's next chapter