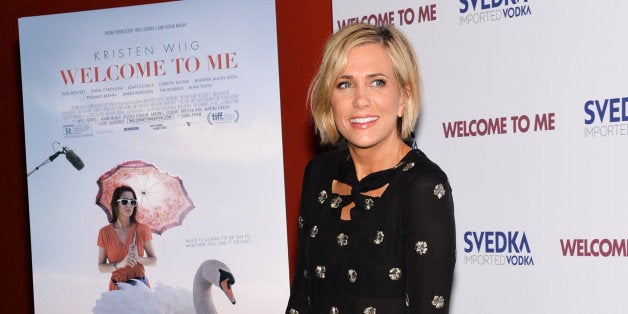 "Saturday Night Live" alumni tend to form predictable career paths: They star in broad comedies that double as extensions of their work on the series, then attempt to wow us with an off-kilter dramatic performance that confirms they're worth more than sketch-show idiosyncrasies. Some forge their own paths in television (see: Julia Louis-Dreyfus, Jimmy Fallon), but most linger in the admittedly fruitful shadow of the famous words "live from New York."
Kristen Wiig, on the other hand, has been quietly breaking with her "SNL" heritage since exiting the show in 2012, and this year offers a trifecta of films in which the actress not only masters dramatic roles -- she is a marvel in them.
First up is "Welcome to Me," which opened in select theaters this weekend and expands nationwide on May 8. Wiig's best role since "Bridesmaids," the film casts her as Alice Klieg, an Oprah-obsessed hermit with borderline personality disorder who uses her $86 million lottery winnings to fund her own daytime talk show. Its topics, all of which revolve around Alice, are very un-Oprah-like. Instead of finding "aha moments," Alice devours an entire piece of homemade meatloaf cake (after discussing its "carbohydrant" quantity), reenacts melodramatic moments from her adolescence and neuters dogs on live television. That description sounds like one long "SNL" sketch, and parts of "Welcome to Me" very well could have been. But that's what makes the movie a perfect interlude in Wiig's career: The accessories of her broad-comedy background are intact, but what resounds is a heartfelt character study that never reduces Alice's mental condition to a punch line.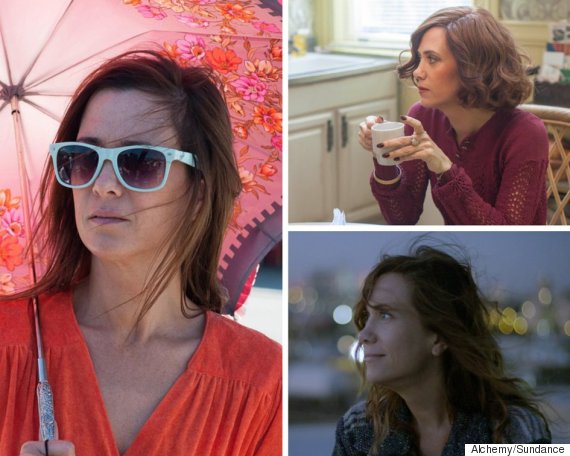 Clockwise: "Welcome to Me," "The Diary of a Teenage Girl" and "Nasty Baby"
Wiig, whose participation in movies like Paul Feig's female-centered "Ghostbusters" reboot indicate she hasn't abandoned big-budget comedies, does not think of her indie-film trajectory as strategic. In fact, while discussing "Welcome to Me" earlier this week, Wiig told The Huffington Post that she receives fewer "SNL"-esque scripts than one might imagine. There's a misperception, then, that her dramatic parts -- which have recently included "Hateship, Loveship" and "The Skeleton Twins" -- mean she is drifting away from the comedic realm. "It's just the timing of it," she promised.
Still, by the end of 2015, audiences will have a fuller interpretation of Wiig's range. In August, the '70s-set "Diary of a Teenage Girl," based on Phoebe Gloeckner's graphic novel of the same name, will arrive with almost no "SNL" trappings whatsoever. One of this year's Sundance Film Festival standouts, the dramedy finds Wiig playing Charlotte Worthington, a self-absorbed Patty Heast obsessive glued to the halcyon hippie days that have just passed her by. Meanwhile, Charlotte's boyfriend (Alexander Skarsgård) is having an affair with her dumpy teenage daughter (Bel Powley). Powley is at the film's center, but Wiig's performance is her most dynamic work yet. In Charlotte, she captures both the anger and idealism that boiled beneath 1974 San Francisco as it reeled from Watergate and the Vietnam War.
Also due out in the near future is "Nasty Baby," an even smaller-scale indie about a gay couple in Brooklyn (Sebastián Silva and Tunde Adebimpe) attempting to have a baby with their close friend. A down-to-earth Wiig portrays said friend in the movie, which begins mostly as a comedy before its third act takes a swift dive into thriller territory.
After premiering at Sundance, "Nasty Baby" was acquired without a set release date. If it opens in 2015, the movie could be sandwiched between Wiig's part in this summer's bombastic heist comedy "Masterminds" -- the latest offering from "Napoleon Dynamite" director Jared Hess -- and a supporting role in Ridley Scott's much-anticipated "The Martian," which could factor into next year's Oscar race.
For "Welcome to Me" director Shira Piven, there was never any doubt that the same actress who gave us Target Lady and Gilly would fit firmly into Eliot Laurence's script, which Piven helped to develop. She told HuffPost she was targeting a performer who existed in a "comic space" and could stretch into dramatic characterizations, rather than the other way around -- Bill Murray in "Lost in Translation," for example. (Were she to recruit a dramatic actress who can pull off comedy, Piven said Kate Winslet would have been her first choice, citing "Eternal Sunshine of the Spotless Mind" as evidence.)
"We batted around a lot of lists of actresses, but in my mind she was really the one," Piven said of Wiig. "I love those performances from comic actors who are asked to do something really heartbreaking."
Wiig was the first to sign on, and a slew of others followed: Linda Cardellini as Alice's patient best friend; Tim Robbins as her patient therapist; James Marsden, Wes Bentley, Jennifer Jason Leigh and Joan Cusack as the patient network executives who supervise Alice's show.
Wiig acknowledges that Alice is hard to like, but because the character occupies some of the same fictional space that her "SNL" roles did, Alice's idiosyncrasies -- often tied to the demonstrative facial expressions that highlight Wiig's humor -- accentuate the character's oddities without dehumanizing her.
"Eliot wrote such a detailed description of this character that I kind of just pictured it in my head as I was reading it," she said. "It was so great just having him on set, even for little things like saying, 'I feel like when I walk maybe I should be a little stiff up top.' He was like, 'Oh yeah, show me. Yeah, that feels like her.' Because she has a mental illness, I wanted to be respectful of it and not comment on it and not make fun of her in any way, and if comedy came out of it, it was because of her just doing something funny, not because she's sick."
There's something similar happening in "The Diary of a Teenage Girl," where Wiig is in full bad-mother mode. Unlikeable for entirely different reasons, the character still manages to ignite sympathy because Wiig's performance is full-bodied in both appearance and actions.
In keeping, this transition to deeper storytelling seems natural for someone whose more memorable "Saturday Night Live" moments seemed to inhabit her entire body, à la Dooneese and impressions of Suze Orman and Liza Minnelli. In the same way that Wiig's Oscar-nominated screenplay for "Bridesmaids" (written with Annie Mumolo) was heralded as a watershed for women in comedy, the future of Wiig's career seems destined to become one of the "SNL" roster's big-screen triumphs.
That's the mark of a prosperous "Saturday Night Live" departure: a career that draws from and dismisses its sketch-comedy roots in the same breath. Meet Kristen Wiig, burgeoning indie queen.
REAL LIFE. REAL NEWS. REAL VOICES.
Help us tell more of the stories that matter from voices that too often remain unheard.
BEFORE YOU GO
PHOTO GALLERY
Indie Summer Movie Preview 2015