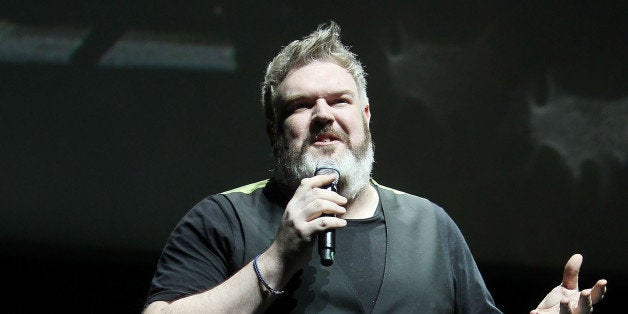 Wouldn't you know, there's way more to Hodor than his iconic one-word tagline, "Hodor."
He may play the most silent character on HBO's "Game of Thrones," but actor Kristian Nairn is quite the opposite. He's eloquent, thoughtful and really quite hip. The tattooed actor and DJ sat down with HuffPost TV after hosting an onstage Q&A session at Brooklyn's "Game of Thrones" Epic Fan Experience on March 20.
Nairn has plenty of thoughts about his generally reticent character and he's adamant that there's more to Hodor than meets the eye. Here are some of the highlights from our chat.
Do you think Hodor's aware of the journey he's going on with Bran?
Oh yes, and by the end of Season 4, he's definitely aware of it. You'll see a change in him. We're all very tired. It's very arduous and, toward the end, you can see that it's taken a toll on everybody.
Do you think that Hodor understands the mystical element of what's going on?
Yes, and I think he's terrified of the magical element. It's foolish to have someone in your head, against your will, but he loves Bran and I don't think he would ever leave him. There's so much backstory to Hodor and George has left so much of it a mystery. I can't wait to learn what his backstory is.
Is Bran Hodor's ultimate motivation, then?
I think there's something else ... but I think that Bran's all he's got; it's the only thing that reminds him of home, safety and security.
And on a tangentially related note, as a DJ, what song would you say best represents the journey that they're going on?
"Road to Nowhere" by the Talking Heads.
How would you describe season 4 in just one phrase.
High-octane.
Tune into the Season 4 premiere of "Game of Thrones" on April 6.
Calling all HuffPost superfans!
Sign up for membership to become a founding member and help shape HuffPost's next chapter
BEFORE YOU GO
PHOTO GALLERY
"Game of Thrones" Epic Fan Experience