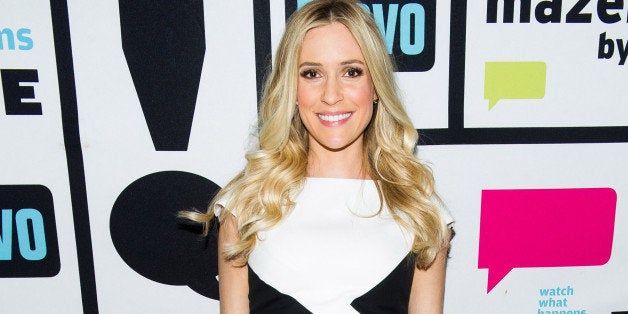 Kristin Cavallari is not backing down from her stance against vaccines.
The reality star sat down with Bravo's Andy Cohen for an episode of "Watch What Happens Live" on Tuesday, March 18, and the host pressed her on her recent anti-vaccine comments.
"You know, at the end of the day, I'm just a mom," Cavallari told Cohen of her personal decision not to vaccinate her kids. "There are very scary statistics out there regarding what is in vaccines and what they cause -- asthma, allergies, ear infections, all kinds of things. We feel like we are making the best decision for our kids."
Cavallari, who is pregnant with her second child with husband Jay Cutler, previously made headlines for an interview she gave to Fox Business show "The Independents," during which she discussed anti-vaccine advocate Jenny McCarthy. The "Laguna Beach" alum said she hasn't vaccinated her 19-month-old son, Camden, and will not vaccinate her new baby after he's born because she has "read too many books about autism."
"There is a pediatric group called Homestead, or Home First? Pregnancy brain, I've got it confused," she said. "They've never vaccinated any of their children and they haven't had one case of autism. And now, one in 88 boys is autistic, which is a really scary statistic. ... The vaccinations have changed over the years, there's more mercury."
The 27-year-old then spoke with HuffPost Live, saying she was "bombarded" and "thrown off-guard" during the Fox interview. She added that she does not want to be part of the vaccination debate. Still, she thinks there is a reason behind the increased prevalence of autism, whether it be vaccines or the food we eat.
The Centers for Disease Control and Prevention estimates that one in 88 children have autism spectrum disorders. Some believe that this number, which is higher than estimates from the early 1990s, is related to thimerosal, a preservative ingredient in vaccines. However, in 2001, thimerosal was removed or reduced to trace amounts in all childhood vaccines except for an influenza vaccine. There is also a thimerosal-free alternative available.
The CDC supports findings from an Institute of Medicine scientific review, which concludes that "evidence favors rejection of a causal relationship between thimerosal–containing vaccines and autism."
Related