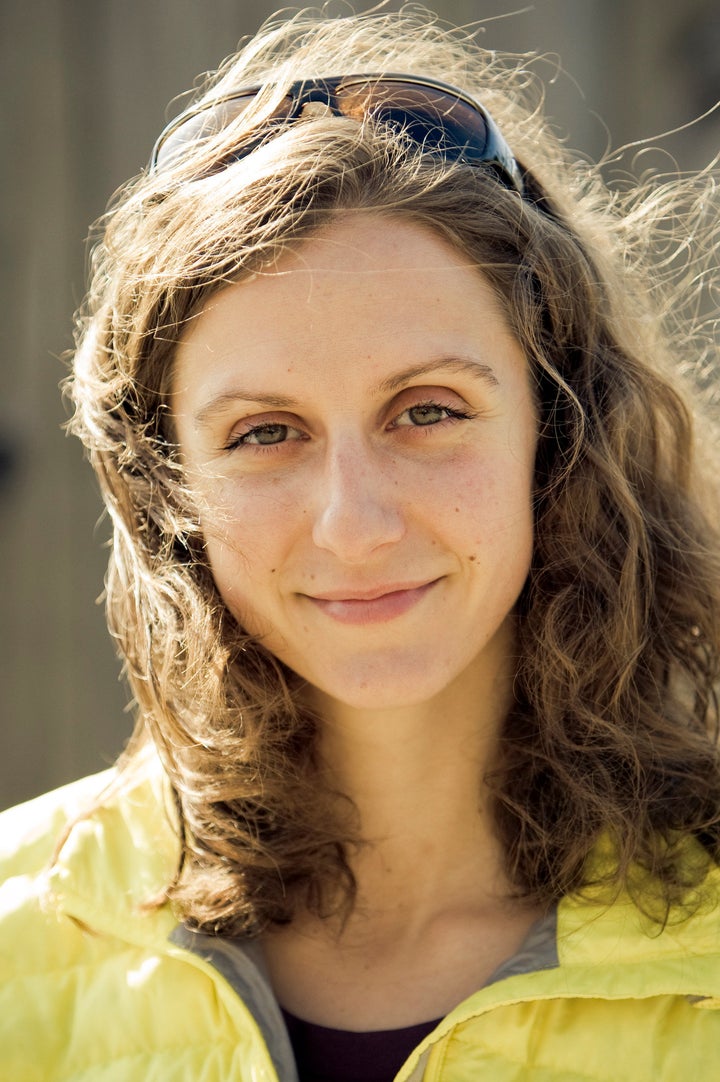 Standing at the South Rim of the Grand Canyon, ultra marathoner Kristin Moehl saw more than 20 miles of trails winding down to the canyon floor 11,000 feet below and then back up to the North Rim. The ledge is more commonly a place to pose for family pictures than the start and finish line of a 42-mile race with one of the nastiest elevation changes in the world.
But Moehl and her race partner Devon Crosby Holmes were at the South Rim this past April on business not pleasure, and they started their watches and began their descent. Nine hours, 12 minutes and 29 seconds later, they were back on the South Rim, breathless and the new women's world record holders for the Grand Canyon Rim-to-Rim-to-Rim ultra run.
Moehl, 33, is one of a small group of elite athletes in the world of ultra marathon running, an ancient fringe sport that is now teetering on the brink of going mainstream. With races up to 100 miles, Moehl often logs more miles in a day than many runners do in a month. She made history in 2005 as the youngest woman to ever complete the ultra "Grand Slam": racing the Western States 100 Mile Endurance Run, the Vermont 100 Mile Endurance Run, the Leadville Trail 100 Mile Run and the Wasatch Front 100 Mile Endurance Run all in the same year. On these rugged trails, clay courts would be a luxury. Since that historic feat, she captured enough first-place finishes to attract attention from high-profile sponsors -- including Patagonia -- which has allowed her to spend the last year focusing exclusively on training.
As thousands of runners double-knot their sneakers and hit the road Wednesday for National Running Day, HuffPost caught Krissy in between workouts to learn more about one of the world's most grueling sports: super long distance trail running.
How did you get started in this absolutely crazy sport?
I wouldn't call it absolutely crazy. I started running track and cross country in grade school but I really found the running that fit me when I worked at Seattle Running Company during my last year of college. There, they dragged me kicking and screaming out to the trails early on one Sunday morning. I was hooked: After that I was out there every Sunday. They got me to run the 50K up in Bellingham Washington, in March of 2000. After that it was all history -- I won that first event and I realized that this was more of my running style.
I wouldn't say the 100-mile distance is my favorite but it's the one I do best at. Hit mile 80 and some people might start slowing down, but I just keep plugging at the same pace.
So at mile 80 what pace are you running?
It really depends on the course. I prefer the mountainous courses like Hardrock or Ultratrail in Mont-Blanc. There, I average between 10- and 12-minute miles. Sometimes it takes 16 minutes to hike up hill but then you fly downhill at 6 minute pace. It's not like a marathon where you're trying to hit mile splits.
Speaking of marathons, running 26.2 miles used to be for a few hardcore athletes only, and now the NYC marathon attracts more than 40,000 runners each year. Do you think the same evolution might happen for ultras?

Yes, the sport is changing so much. These guys are freakin' racing 100 miles. That's what I keep thinking: We're going to see crazy stuff in the next couple of years.
For a lot of people, it will still be an accomplishment to do 100 miles in a day, but there's a group that's turning these races into more of a sport than a hobby or an endeavor. The goal is to bring money into the sport so we could be able to be professional athletes.
You said guys are racing 100 miles. What about women ultra runners?
The sport is definitely male dominated, but women have made names for themselves. There are a lot of us that want to challenge these records, like Devon and I did with the Grand Canyon Rim. We were able to break that record and then four days later another friend stepped up and beat our time. So the women are stepping up and saying it's not just the men that can climb these mountains.
Plus, I always say that at least at the start of an ultra you don't have to wait in line for the bathroom like everywhere else.
Back when Ann Trason was winning all these races there was a lot of speculation that women might start beating men at super long distances. What do you think?
I definitely agree that there are some attributes women have that set them up to be better distance runners. Especially my friends who have had children -- they've been through another level of pain so they can endure even more.
In my experience with ultras, the longer you go the higher the chances that you can beat men. The longer distances level the playing field. The times get a little bit closer.
You recently quit your job at Conservation Alliance to run full time. In a sport with so little financial support, how did you decide to take that risk?
It was one of those moments that I realized if I didn't try this, I would have always wondered what it would be like. If I end up in my car eating beans and rice, I'll still be happy. So I figured I'd try to for it. I pieced it all together and realized that with sponsors and some contract work, I can do this.
At races there is no financial support like prize money yet. Some events are trying to make a push for it, so I feel like the sport is at the brink of change right now.
Last question: what's your work out plan for National Running Day?
I'm in taper-mode for a 100-mile race, so I should probably take it easy. Maybe nine miles of running for today.
Check out Moehl's record-breaking Grand Canyon race.
Related
Popular in the Community