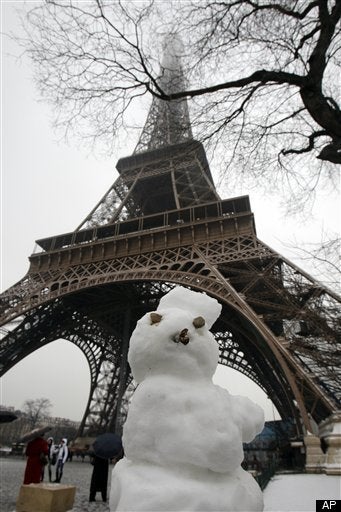 Kristin Scott Thomas has never looked more beautiful as she does in Leaving, Catherine Corsini's passionate, devastating depiction of a housewife and mother's sexual reawakening at the hands of a hunky Spanish ex-con (Sergi Lopez). Opening this weekend, it's the raciest role in which we can recall seeing the British Oscar nominee (who also stars in next week's Nowhere Boy, as John Lennon's strict-but-loving Aunt Mimi).
On her recent spate of French films:
I live in France, and I find that the most interesting roles for me come from France, because I guess they like older women. Amazing, isn't it?
On why France is a good place to be for an actress over 40:
I think the thing about France in particular—and maybe other countries like Italy, not so much in England, because England kind of apes the U.S.—the way women are perceived is not that once you're past 40, you're past IT. But on the contrary, experience is very attractive, and we like seeing a woman with lines, we like seeing a woman who looks like she has experience; that's exciting. I think that's just a pity there isn't a little more of that elsewhere.
They're not fascinated by youth. Or size.
In something like Leaving, where I am portraying this woman who has a very abusive relationship with her husband (Yvan Attal), and falls in love—or I would say in lust, actually—with this man that happens to be passing. And she has this crazy abandoned affair with this guy. She just abandons everything—her status, her comfort—she loses absolutely everything. And ends up, having been trapped in this marriage, at the end she ends up trapping this other man, so it just sort of keeps going.
It's the most fantastically passionate love story I think I've ever been involved with in a movie. So I was very pleased to be able to do that.
About realistic love scenes in France:
Love scenes are very different. A love scene, if it's supposed to portray love, then [nudity, graphic] is interesting. If it's just about somebody's oiled-up body, then it's not quite so interesting.
On being a British woman in French films:
I've been living in France all my adult life, and I've been working there consistently—in fact, my first film, the first time I was ever paid to be in front of a camera, was in France. I've been making French films all my career, and it's just recently I've been lucky enough to do some rather good ones.
Calling all HuffPost superfans!
Sign up for membership to become a founding member and help shape HuffPost's next chapter