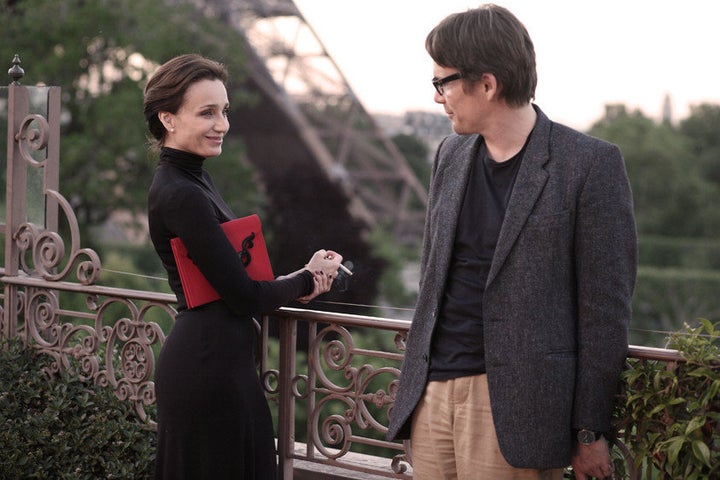 "I love the idea of playing a mysterious fantasy who's a mother, lover, and muse-type character," said Kristin Scott Thomas of her role in the recently released movie "The Woman in the Fifth." "Mysterious" is something of an understatement.
In the film by director Pawel Pawlikowski, Scott Thomas plays Margit, a beautiful widow who seduces American writer Tom Ricks (Ethan Hawkes), a younger man who's moved to Paris to reunite with his estranged daughter. Margit establishes a set of rules for their encounters: she will only see him in her apartment in the 5th arrondissement, at 5 p.m. sharp, twice a week, and he must not ask any questions about her work or past. (Spoiler alert: If you plan to see the film you may want to stop reading here.)
When people around him suddenly start dying, Tom begins to believe that a dark force has entered his life. After the police accuse him of murdering his neighbor, Tom tries to use his weekly visits to Margit's apartment as an alibi, only to find out that she hasn't lived at this address for the past 15 years.
Scott Thomas' role is yet another epic performance from an actress who's known for her nuanced and beguiling emotional intensity. Born in England, Scott Thomas has spent most of her life in France working for European directors, garnering rapturous reviews and accolades along the way. She's best known for her Oscar-nominated role as Katherine Clifton in "The English Patient" and Fiona in "Four Weddings and a Funeral." In France, she has played a greater range of parts, including the raw and riveting role, sans make-up, of a woman trying to re-establish her life after spending 15 years in prison in "I've Loved You So Long."
Scott Thomas' posh, aristocratic demeanor belies a modest and complicated childhood: Her father, a pilot, died in a crash when she was 5 years old. (Ironically, her stepfather died the same way a few years later.) She was raised with four other kids by a single mother of modest means and worked in a department store until she moved to Paris at the age of 19 to study acting. "I'm definitely not aristocratic," she said. "I'm actually very middle class."
Now 52, Scott Thomas is in her prime. She recently finished a film playing Ryan Goesling's mother and a film with Ralph Fiennes about Charles Dickens. In October she'll do another film with Phillippe Claudel and Daniel Auteuil before returning to the stage.
"I'm a 52-year-old woman with a lot of experience and I've done a lot of things in my life, including having three kids," she said. Huff/Post50 recently spoke with Scott Thomas about "The Woman in the Fifth" and the woman behind her many roles.
"The Woman in the Fifth" is disturbing on many levels. So who are you in the film? A ghost? A figment of Ethan Hawke's unhinged imagination?
I don't really know, to tell you the truth. The screenplay is an adaptation of a novel written by Douglas Kennedy, which sells like hotcakes in France. In the novel, I was a ghost. And I think Pawel Pawlikowski was interested in this idea but couldn't quite handle the ghost bit. I think as far as he's concerned, the woman represents this man's art and creativity, which is why he's prepared to give everything up for it. She doesn't really exist, but she's all encompassing at the same time. His desire is all eaten up by this figure -- his sexual desire, his desire to be a better writer, his longing for revenge. Ethan's character abandons everything for this woman, and it's a way of describing what lengths you go to to be an artist or to be creative. It's also a description of madness, of falling into insanity.
Ever since Mrs. Robinson in "The Graduate," older women have often been depicted in film as mad, complex and sex-starved. Why do you think the older woman is frequently presented as such a terrible menace?
Because it's the mother. For me, it's the incest thing. It's the mother coming back to get the child. It's all of those archaic fears.
So you have a Freudian interpretation of it.

Or Greek.
Do you think it's as simple as that?
Someone will always drag out an exception, but my thing at the moment is why, in film, is the woman always the one reacting to the marvels of the man? Ninety percent of the time, that's how it's presented.
Why do you think that's the case?
I don't know. I'm trying to figure out if we can turn that story around. It seems our fate as women is to be victims who will overcome something terrible. Whereas a man is allowed to go out and save the planet. Okay, so there's Sigourney Weaver in "Alien," and then who else? Thelma and Louise -- but they all end up smashed at the bottom of the cliff. Erin Brockovich, yeah, she's probably saving the planet. But most of the time, it's pretty negative.
Could it have something to do with the fact that most screenplays are written by men?
I don't know, but it's something that's been trotting around in my head recently and getting me quite hot under the collar.
You're known for your uncanny ability to access very dark, complicated emotions. In that regard, you hit a high note in the film "I Loved You So Long." I've heard that it was very liberating for you not to wear any makeup in that film and be so raw and exposed.
I think if you give them half a chance, everybody would like to do that. It's exhausting having to be an icon and be admired all the time. I remember one director telling me "You've got to be appealing." And I thought, "I don't want to be appealing. I want people to either be moved or go home. I don't want to make them think that I want them to like me. I don't want that."
Your sentiments sound very French. I think the tendency in the U.S. would be to fight to keep a certain appealing image going.
Let me clarify that a little bit. If you're making a film about a character who somebody in the film falls in love with, which are 90 percent of all films, you want the audience to fall in love with you. You do want to look gorgeous. But if you're playing somebody who's just come out of prison, then I don't want to be appealing. I want to be raw. Of course I still have vanity, but I am able at certain points to ditch it and not worry about whether I have circles under my eyes or the fact that I'm 52. I'm able to say, let's not worry about that.
I find myself fighting a lot, especially with Anglo-Saxon film directors who have this idea that all women over 40 should look wrecked. When you have a Polish and Italian or French DP (director of photography), they will sort of glorify you and turn your wrinkles into something of beauty.
You've been called the most English of Parisians and the most Parisian of the English. In fact, you perfectly embody many aspects of both cultures. Did you make a conscious decision to have your career in France or was it more organic?
Yeah, it was much more organic. It was a decision that involved a big family commitment. My children were growing up in France and the only reason to move them was because I was having a career in Los Angeles. But I just didn't really want that badly enough. I love living in Europe. I love the surroundings. I love looking out of my window and seeing what I see. I love the culture, which is resisting a certain degree of homogenization. It's hanging on by its fingernails, but it's still resisting. It's incredibly provincial but it's been just fine for me.
You once said in an interview with Graham Fuller: "I never go straight to the point if I can go to the most difficult way. Why be simple when you can be complicated?" Do you still feel the same way now?
I've changed a little bit. I loved intrigue and mystery. I just think growing up, I'm just trying to be more immediate, because there's nothing wrong with being straight on and embracing something. Things have changed a lot for me since I started working seriously in theater. It's really helped me understand how important it is to be clear in your communication. Once you're sending out a clear message, you can put layered subtlety to it. But I think I've changed. Before, I would go in through the back door into the emotion. I would try and find a sideways or backwards way into it. In the recent years, I've been more frontal in my approach to character.
What is one thing that you know now that you wish you knew growing up?
I think one of the things that I would like to be able to nail down in my brain -- and I'm sort of getting there now -- is that things don't always go wrong. I think a lot of people are just like that: prepared and braced for the worst, especially at the moment.
And yet you've had such a magnificent career.
Yes, I know. It's just one of those things...
(Check out the slideshow below for highlights of Scott Thomas's career.)
REAL LIFE. REAL NEWS. REAL VOICES.
Help us tell more of the stories that matter from voices that too often remain unheard.