"We've begun to raise daughters more like our sons... but few have the courage to raise our sons more like our daughters." -- Gloria Steinem
Mirror, Mirror! is an iteration of Kristine Schomaker's ongoing cross-platform project A Comfortable Skin, whose leitmotif addresses the complexities of gender identity, body image, and the societal privileging of women's physical beauty over character and intellect. The series already includes painting on canvas and mannequin, sculptural installation, digital animation made in Second Life, and narrative photography and video. A dedicated conceptualist and surrealist autobiographer, with Mirror, Mirror! Schomaker brings her painting-based practice off the wall and onto the floor -- the playroom floor to be precise. Except Schomaker isn't playing.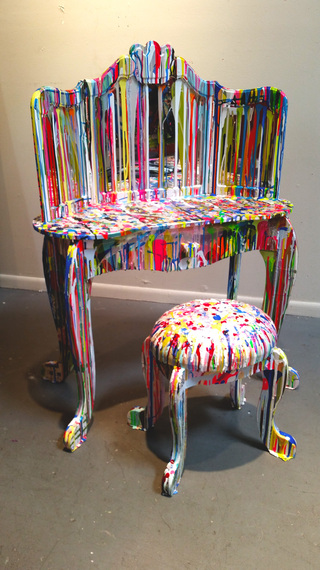 From video skins to tangible objects, in Second Life life and In Real Life, everything Schomaker does is in a sense "simply" painting; though she has frequent occasion to construct dimensional and virtual environments out of her crisp, expressionist, kaleidoscopic, abstract patterns. Mirror, Mirror! brings her attentions to bear in a cheeky exploration of the commonplace trappings of childhood, and the role of gender-branded toys in instilling skewed societal values from an early age. Vanities, kitchenettes, toy cars, beauty products, pink shag carpet -- all of these and more seemingly innocuous set pieces of our romper room days reinforce the toxic messaging about women's work and self-worth as a function of body image. Messaging that follows adult women into the boardroom and the bedroom.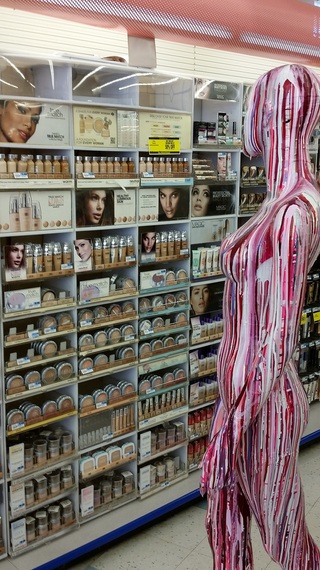 Schomaker's visual style is one of density and delicacy, control and chaos, intuition and deliberation. Her marriage of concept and technique emphasizes the artifice of the manufactured beauty standards that can obscure our true selves from the world. As the gravitational layers of paint coalesce into "metaphorical skins" and are applied to pared-down emblems of domestic interiors, especially the rich metaphor of the obscured vanity mirror, Schomaker illuminates a moment at which we have a chance to truly see ourselves.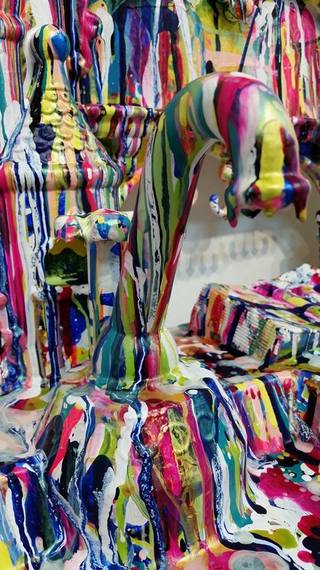 Mirror, Mirror! is curated by Gloria Plascencia and will run at Phantom Galleries in Hawthorne from December 5-20, 2015.
Artist Talk with Shana Nys Dambrot: Saturday, December 12, 1-3pm
Closing Reception: Sunday, December 20, 3-5pm
Popular in the Community