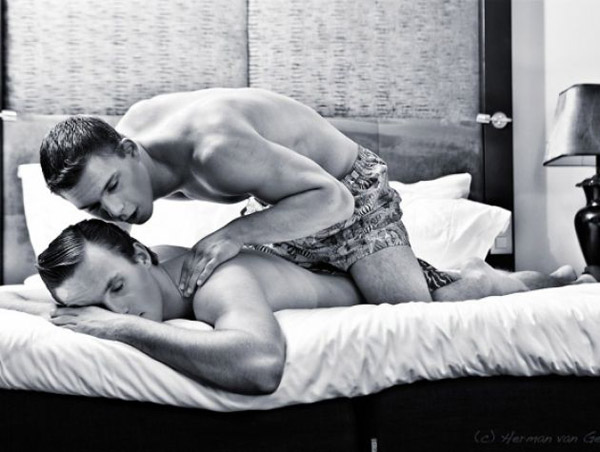 When it comes to being gay in Russia, things are pretty serious right now. I know. Understatement of the century. Yes, Lady Gaga and Madonna were threatened with arrest, but, transgender people are being brutally beaten, Olympic hopefuls are being threatened, and news personalities are getting fired for being who they are. It feels like we live in a weird alternate universe at times where I can go party in New York on the same day someone else can get killed for loving someone of the same sex.
Like most people, I keep up with what is happening in Russia via Facebook. Russian designer Kristof Buntinx does as well. In an open letter on his website, he discusses growing disgusted by the atrocities he saw in Russia. A gay man, he felt moved to take a stand. And what better way to do so, than with men's underwear. "If you do not like the fact that I am homosexual, I can learn to live with it. But to humiliate, attack and torture people is really going too far," he wrote.
The designer isn't world renowned for his work in underwear, but, he has created a line of boxer shorts that poke fun at the controversy, blending the LGBT rainbow with the Russian symbol. Designing underwear was just the beginning for Buntinx. For his "To Russia With Love" campaign, Buntinx is aligning with photographer Herman Van Gestel to create a gay themed calendar of men in the boxers. Buntinx will release the calendar in late September.
Buntinx shows us that even underwear can be used to make a political statement. "It is truly a quiet revolution. Just imagine that you live in Russia where you cannot be gay, but under your clothing you are still able to wear a pair of protest shorts. Is that not a nice thought," he said.
Check out a behind the scenes video below.
Photo Credit: Herman Van Gestel
The Underwear Expert is the ultimate resource for 200+ men's underwear brands including Ubatuba, Under Armour, Under Underwear and tons more. Visit us for the latest men's underwear trends and more; like us on Facebook here.