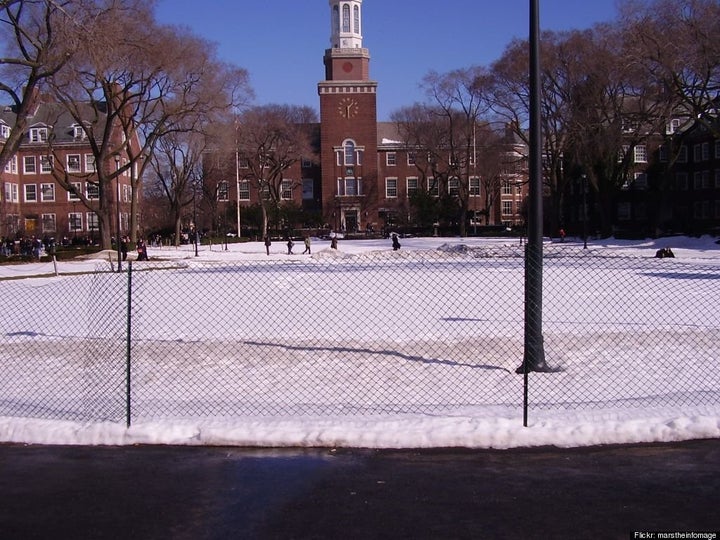 A Brooklyn College graduate student was informed this week that he will not be allowed to teach a masters-level course on politics in the Middle East because he is underqualified -- but some suspect that he may have been ousted due to his pro-Palestinian political beliefs.
According to the New York Times, Kristofer Petersen-Overton was dismissed after several people contacted Brooklyn College President Karen Gould to "express deep reservations" about the graduate student's appointment. Blogger Bruce Kesler also posted the Jan. 19 note he sent Gould to his blog:
In reviewing Mr. Petersen-Overton's writings and professional background, I was alarmed about the slanted nature of his works, as well as what can only be termed as his use of hateful invectives against the State of Israel. Mr. Petersen-Overton's curriculum vitae reflects service as a research assistant for the Palestinian Centre for Human Rights, a viciously anti-Israel organization notorious for its factual distortions and coverage of Israel, although it bills itself as a guardian of Palestinian civil liberties.

...Mr. Petersen-Overton's personal biases should not be allowed to pollute the academic realm, nor should taxpayer dollars be devoted to promoting his one-sided agenda. I ask you, Dr. Gould, is Mr. Petersen-Overton, an overt supporter of terrorism, really the best candidate Brooklyn College could find to teach this course? Surely, you must concede that the answer is a resounding "no."
New York State Assemblyman and Brooklyn College alumnus Dov Hikind also contacted Gould and spoke out against Petersen-Overton's appointment, calling his work "slanted." Hikind told the New York Post that the Petersen-Overton's proposed curriculum contained many books deriding Israel.
Petersen-Overton was informed that this week that the college would be revoking his job offer. College officials insist that the decision to remove Petersen-Overton was not related to Hikind or the Kesler's requests, but because the graduate student was simply underqualified for the post.
But professor Mark Ungar -- who made the decision to hire Petersen-Overton -- told Salon that many of the college's graduate courses are taught by students still working towards a Ph.D. Along with 11 other faculty members, Ungar has formally objected to the provost's decision to let Petersen-Overton go -- a move he said "undermines academic freedom and departmental governance."
For his part, Petersen-Overton posted this message on his personal website: "Unfortunately, due to external pressure, the Brooklyn College provost has chosen to suppress academic freedom and intervened to cancel my appointment. This is a profoundly unsettling outcome and I am currently challenging it."
Do you think Petersen-Overton should have been allowed to maintain his post? Weigh in below.