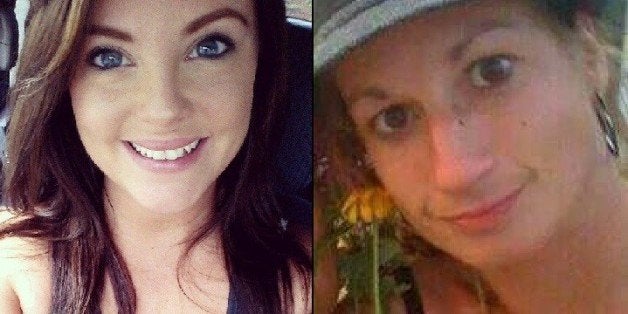 Two moms from southwest Indiana have disappeared -- five weeks and less than 20 miles apart – leaving investigators looking for potential links in the two cases.
"To have someone missing in our area –- two of them active like this at the same time -- is very unusual," Sgt. Jason Cullum of the Evansville Police Department told The Huffington Post.
The two women are 30-year-old Joelle Ann Lockwood of Evansville and 27-year-old Kristy Kelley of Boonville. Both are mothers with two children. Both were last seen wearing tank tops and blue jean shorts. And the similarities go on.
"[The similarities are] something both agencies have to keep in mind," Cullum said. "You don't ever want to rule anything like that out."
Lockwood was last seen on the afternoon of July 9, walking in the area of Park Street and Florida Street in Evansville.
"There is not a lot of information, other than she was at a residence and left on foot," Cullum said. "No one saw her leave with any particular person. We don't really have any solid stuff."
Lockwood's friend, Amanda Crowe, said the missing mom has two children, ages 9 and 12. She described her friend as "tiny, petite," with no known enemies.
"She would not hurt a flea," Crowe told HuffPost. "She is very sweet and has a very large circle of close-knit friends."
Authorities have more details in the disappearance of Kelley, but so far those details have not proved helpful in locating her.
Kelley was last seen at a VFW lounge in Boonville, Indiana, at about 1:30 a.m Friday.
Boonville is a small city located about 18 miles northeast of Evansville.
According to her father, Todd Scales, Kelley had been hanging out with friends at the VFW and headed out about 15 minutes after they left.
"I guess there was hardly anybody in the place -- just them, the manager and a fairly new bartender who Kristy knew –- so they closed early," Scales told HuffPost.
What happened to Kelley after she left the VFW is a mystery. Somewhere between the lounge and her parents' house -- a distance of less than 2 miles, according to her dad – both Kelley and her 2003 Nissan Xterra vanished without a trace.
Kelley's parents were concerned when she did not return home to them and her 3- and 6-year-old children. That concern turned to worry when she failed to show up to her job at a local pharmacy.
"She has worked at CVS for several years and she was supposed to be there at 7:30 Friday morning," Kelley's close friend, Amanda Vollman, told HuffPost.
"I've known her since she was 6 years old and she's not one to not show up," Vollman continued. "She is a very responsible person and a very good mother."
The only clue leading up to Kelley's disappearance is video footage -- police obtained from a local ice cream parlor and a church -- that captured Kelley's car headed in the direction of her home. However, according to her father, the video footage is "kind of blurry" and it cannot be determined who is driving the vehicle in the videos.
Further frustrating investigators is the fact that Kelley left her phone at the VFW, negating the possibility of tracking her movements via cellphone towers.
"It's really odd that she would had forgotten her cellphone at the VFW," Scales said. "She's 27, so she and her cellphone are pretty much inseparable. As soon as she realized that, she would have gone back for it, but she didn't."
The distraught father said his daughter has no known enemies.
"She's very friendly, bubbly and outgoing," he said. "She's a wonderful person and everyone loves her."
"She is a very outgoing, happy person," she said. "There is not one person I can think of that would be her enemy."
According to Scales, Kelley's ex-husband is watching her children while friends, family and police conduct ground and air searches for her.
"We told him to keep [the kids at his house] because we don't want them to know their mommy is missing," Scales said.
CASE PHOTOS: (Story Continues Below)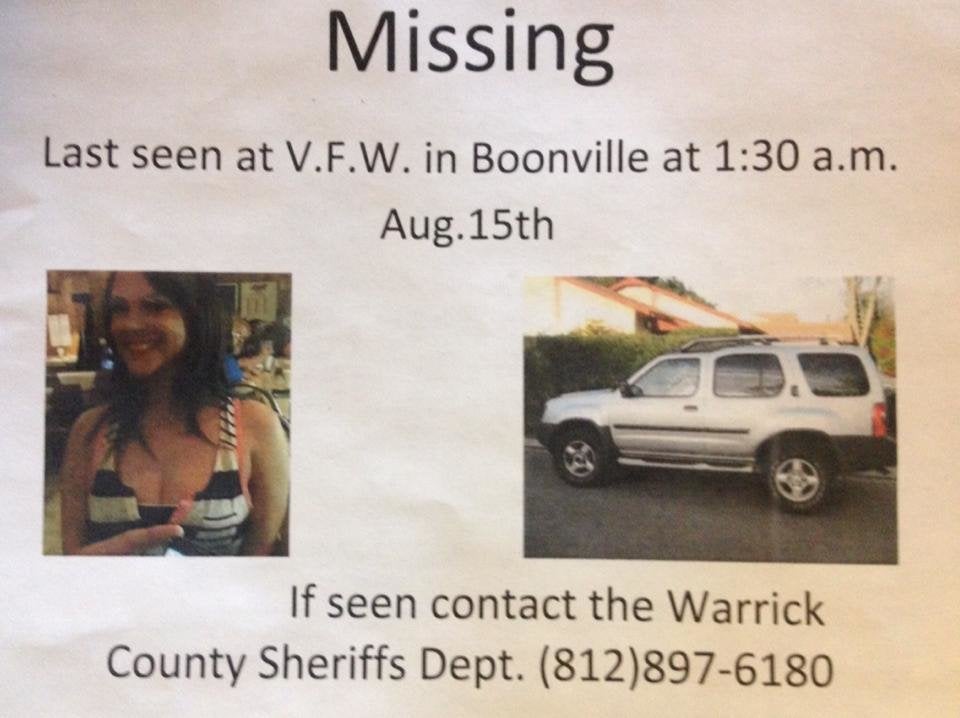 Joelle Lockwood And Kristy Kelley Missing
Scales and Vollman are aware of Lockwood's disappearance, but neither had any thoughts on a possible link.
Crowe said she, too, was initially dismissive of the possibility, but has since changed her mind.
"At first I said no, but as it's going on, it's too much of a coincidence," she said. "This is a very small community. It's not a high crime area and it's not common for anyone to go missing."
Michael Wilder, chief deputy at the Warrick County Sheriff's Department, told HuffPost his agency is connecting with the Evansville Police Department to compare notes on the cases.
"One of our detectives is reaching out now to speak with them to see if there are any similarities that link them," Wilder said. "We don't have much crime here, especially any type of things that involve foul pay often."
Kristy Kelley is described as a 135-pound, 5-foot-5-inch white woman with long brown hair and blue eyes. She was last seen driving a 2003 Nissan Xterra, Indiana license plate SZF858.
Joelle Ann Lockwood is described as a 125-pound, 5-foot-3-inch white woman with brown hair, brown eyes and two tattoos -- a Playboy bunny on her right shoulder and a tribal design on the back of her neck. Lockwood was last seen wearing a pink tank top, jean shorts and pink and white Nike sneakers.
Anyone with information about Kelley is asked to contact the Warrick County Sheriff's Department at (812) 897-6180. Anyone who has seen Lockwood or has information about her disappearance is asked to contact the Evansville Police Department at (812) 436-7979.
CORRECTION: A previous version of this article mislocated Evansville in the central, rather than southern, part of the state.