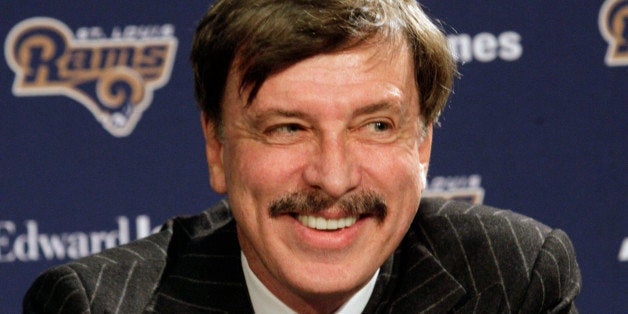 St. Louis Ram owner Stan Kroenke's plan to build a state-of-the-art football stadium in Inglewood near Hollywood Park is the most promising opportunity for the return of the NFL to Los Angeles in many years. His purchase of 60 acres proximate to Hollywood Park and a partnership with Stockbridge Capital group, who own the 238-acre former racetrack, offers promise for an integrated plan of football, retail, office, hotel and residential space. It could become a highly profitable entertainment zone just a few miles from the Los Angeles Airport.
The Rams inserted a clause in their contract with the Edward Jones Dome Stadium in St. Louis, which allows them to leave or convert to a year-to-year lease if the stadium is not in the top tier of football stadia measured by certain metrics. The stadium does not meet those standards currently, and there is no support for an upgrade. Therefore, the Rams could move as soon as they have NFL approval. The NFL has asserted its ability to control who enters the Los Angeles market.
Twenty years ago, prior to the move by the Rams from Anaheim to St. Louis, I heavily objected to their departure. I had grown up a Rams fan in the '50s and '60s and fell in love with the NFL watching games in the Los Angeles Coliseum. I felt that a team was not a conventionally private business -- it agreed to League restrictions, and asked a geographical area to support it in good times and bad, as if it was a civic institution. How could I explain to my son Jon the fact that the team he thought was there forever had left town?
I became Co-Chm of "Save the Rams" with Disneyland President, Jack Lindquist, and a committee of over 100 local business people. We put together a plan for a sportstown proximate to Anaheim Stadium, a Disneyland of sports-themed rides using virtual reality. It would be a tourist destination site, with hotels and retail. It would offset the prohibitive cost of building a stadium with only 10 home dates. Instead of sitting like a white elephant with a few concerts and tractor pulls, it would be a thriving Monday-through-Sunday activity zone.
We were able to persuade the NFL to veto the move at the 1994 League meetings, but Mrs. Frontiere and President John Shaw were determined to leave and got approval later.
The Rams' move set a dangerous precedent. The Cardinals had moved to Phoenix. The Browns moved to Baltimore. Instead of putting new franchises in St. Louis and Baltimore, the League admitted Jacksonville and Carolina, and musical cities ensued. The Raiders left Los Angeles, and it has been an NFL wasteland for 20 years.
Los Angeles has fumbled multiple opportunities to get a franchise. It could not deliver in 2000 when the League awarded it a franchise and Houston got it instead. Commissioner Tagliubue wanted a team at the Coliseum site and again the region didn't have the ability to move ahead. Then the AEG downtown site looked promising, but owner Phil Anschutz and the NFL have different agendas.
Southern California has lacked political leadership to take charge. It is tax phobic, and abhors public funding. With the multiplicity of entertainment options, no massive demonstrations have occurred demanding a team. The area has never settled on one venue -- too many alternatives. The Kroenke plan will solve all that with a friendly Inglewood government.
Los Angeles is the second largest market in the country. It has an enormous concentration of businesses to provide sponsorship and pay premium prices, especially the entertainment business. Fifteen million people live within a few hours of the Inglewood venue. Franchises here will shoot to the top of NFL valuations. I predict two teams will come, play in the Rose Bowl or another site until the new stadium is ready. I feel terrible for the disappointment to fans of the teams that come -- but St. Louis exhibited none of that concern when they stole the Rams.
After 20 bleak years it is time to get excited. The Kroenke plan can work and bring the NFL back to Southern California. And yes, we are ready for some football!
Popular in the Community