The Oklahoma Bureau of Narcotics said Monday that reports of deaths in the state linked to the use of the horror drug krokodil are unsubstantiated.
In a phone interview with The Huffington Post, OBN spokesman Mark Woodward said that there is no "conclusive evidence" linking the deaths of two Duncan, Okla., men last year to krokodil, a gruesome street drug similar to heroin that causes flesh to rot off users' bones.
"There's no current investigation," Woodward told HuffPost. "His death was ruled a drug overdose," he said, referring to the case of Justin "Quincy" McGee, a man who some outlets suggested may have been the first to die as a result of krokodil in the United States.
"OBN has not confirmed a single case in Oklahoma. We are aware of reports about its use in our state, but we are not aware of any evidence that can support the claims," Woodward said.
According to Woodward, police "became aware" of the drug in November 2012, after McGee and a friend both died from complications due to drug use. According to KSWO-TV, McGee was admitted to the burn unit of an Oklahoma City hospital with symptoms resembling krokodil use.
McGee's friend Chelle Fancher told the station that "everything that touched him took his skin off" and that doctors said "krokodil meth ... ate him from the inside out."
Krokodil, which is made by cooking up crushed codeine tablets with gasoline, paint thinner, or other household hydrocarbons, results in severe tissue damage that causes a user's flesh to rot off the bone.
"We see IV drug users with horrible infections on a daily basis," Woodward told HuffPost. "Infections from bacteria and dirty needles -- that doesn't mean it's [krokodil]."
Woodward said law enforcement is concerned and officers are remaining vigilant. But until signs of the drug or its chemical components are found in a user's system or witness statements can corroborate use, he said, there's no way of telling whether krokodil is killing people in Oklahoma -- or anywhere else.
Last week, the Drug Enforcement Administration said in a statement it is "very concerned" over hospital patients in Chicago who showed "symptoms consistent with the use of the drug Krokodil." However, the DEA stopped short of confirming the presence of the drug.
"What we do know is that if this is Krokodil, it is extremely dangerous and we're doing everything within our authority to stop it," Jack Riley, special agent in charge of the Drug Enforcement Administration's Chicago Field Division said in the Oct. 11 statement.
Before You Go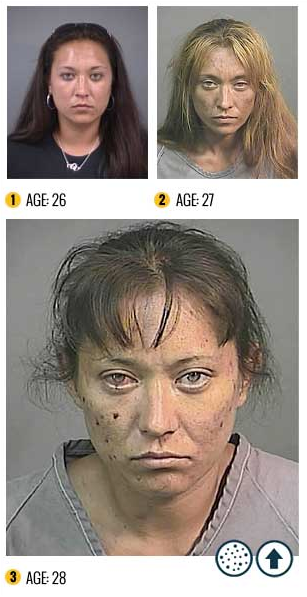 Horrors of methamphetamines
Popular in the Community