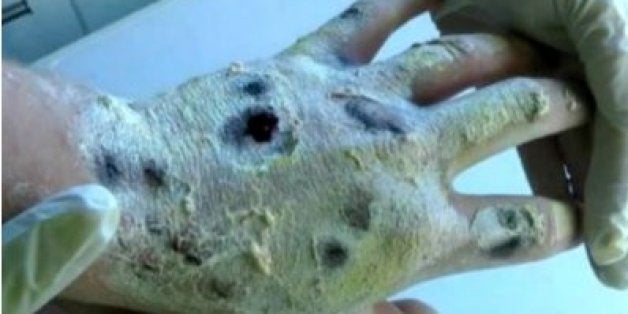 Some experts believe the widely-reported spread of krokodil in the United States is overstated. They claim that injuries associated with the drug are actually caused by dirty needles.
"Last year, young people in the border states of the United States began using synthetic marijuana and bath salts, and in a few months we began to see teens in Mexican states and municipalities using them," Inzuna told the magazine. He said the same thing could happen with krokodil.
In November, a 17-year-old was treated in Puerto Vallarta after she claimed to have injected krokodil into her genitals. In January, Mexican health officials said that the girl was a Houston, Texas, resident who had sought medical attention while visiting relatives in Mexico.
According to experts, part of the reason why the drug hasn't taken hold in the U.S. is because it's harder to get codeine than it is to buy cheap heroin.
"Relatively accessible and inexpensive alternatives, such as heroin, make krokodil production and use in the United States highly unlikely," Dr. Michael Lynch, medical director of the Pittsburgh Poison Center, told The Huffington Post in December.
Heroin use has its own perils, and it's become even more deadly of late, as evidenced by fentanyl-spiked batches that have been linked to the overdose deaths of more than 50 people since September.
REAL LIFE. REAL NEWS. REAL VOICES.
Help us tell more of the stories that matter from voices that too often remain unheard.
BEFORE YOU GO
PHOTO GALLERY
Horrors of methamphetamines