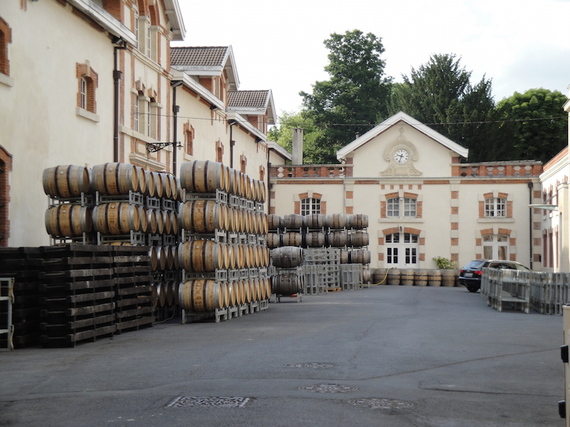 More than once while I was at Krug in Reims last month (above) was I told that the illustrious Champagne house, despite the quality and price of their wines, did not want to be a "connoisseur's wine." It simply wants to be the finest--a status it largely enjoys among lovers of bubbly and one I'd certainly agree with.
As explained by sixth-generation family member Olivier Krug, Chef de Caves Eric Lebel and the formidable CEO Margareth Henriquez, to be labeled a "connoisseur's Champagne" is to put it into a lofty category that may put off those who simply want to enjoy their Champagne, and Krug's aim is to make Champagne more accessible and less the cause for a special event. "We don't want to scare people," said the Venezuelan-born Henriquez, who prefers to be called Maggie (below).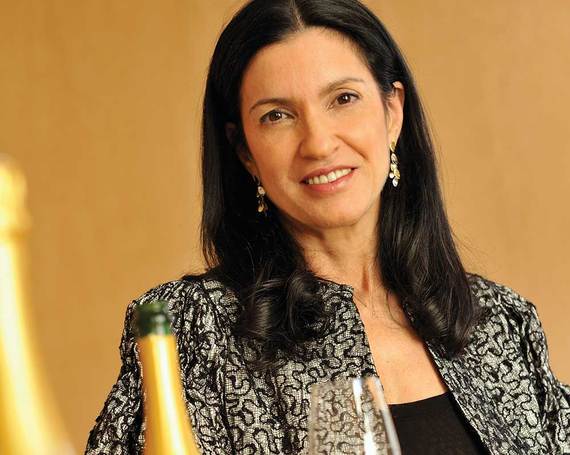 Of course, at prices that can exceed $2,000 for their top cuvées, most people are unlikely to pop the cork for a Wednesday night dinner. But, Maggie told me, Krug doesn't want to share the image of haute couture as an extravagant novelty; instead, she said, "We are simply committed to doing what Krug intended from the beginning--to make a Champagne that was refined, elegant and consistent every year."
That commitment began with the founding of the Champagne house by Joseph Krug, who was born in 1800 in the German town of Mainz, then part of France's Napoleonic empire. Growing up along the Moselle River winemaking region, he migrated to Paris as a trader in 1834 and was soon employed by Jacquesson, the leading Champagne House of its time, where he soon became a prosperous but ill-contented partner. Krug belief that the variables of weather and soils of Champagne worked against the wines' consistency, so in 1840 he left Jacquesson and, with Reims wine merchant Hippolyte de Vivès, founded the House of Krug & Champagne in 1843.
It was Krug's mission to create a Champagne that would be of the same consistent excellence year after year by using only the best wines from the best vineyards, tasted separately plot by plot. In addition, he began to build a reserve of wines from different plots' grapes, whose various vintages he would use as a palette with which to blend his Champagne, thereby lessening greatly the effects of weather and wars that might plague northern France in the years to come. Most all of the region's houses blend to an extent, though great vintage years are made from grapes only from that year's crop.
Joseph Krug called the wine Champagne No.1. Krug Grande Cuvée (today selling for about $150 a bottle), contending in his notebooks that, "A good House should create only two Champagnes of the same quality" every single year. Champagne No.2 (today known as Krug Vintage; the current 2003 sells for about $250) would be the expression of the circumstances of a particular year captured by Krug, and created only in the years where there is "an interesting story to tell."
In the 1970s, fifth generation brothers, Henri and Rémi Krug, experimented with making a rosé based on Pinot Noir made in the Krug style; when their father, who had no idea his sons had been developing a rosé, tasted it he exclaimed that "somebody in Champagne is copying Krug!"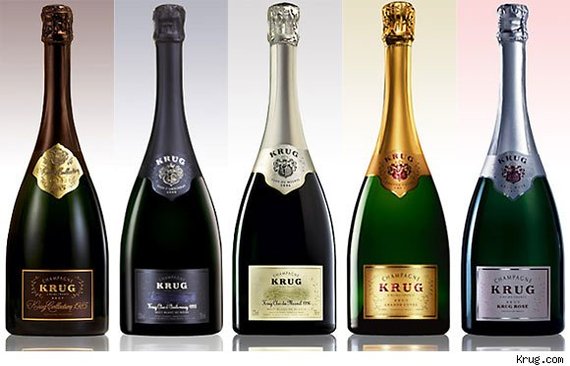 Krug also has a label known as Clos du Mesnil (about $650), produced from a single 1.84-hectare clos (lot) of Chardonnay in the village of Mesnil-sur-Oger. Made from a single year's harvest, Clos du Mesnil is cellared for more than ten years before release, as does Krug Vintage. (Krug Grande Cuvée stays in the cellars for at least seven years, Krug Rosé for at least six).
A third label, from an even smaller, 0.68 hectare vineyard, is Clos d'Ambonnay (about $2,000) of Pinot Noir in the village of Ambonnay. Purchased in 1994, the vineyard produces a miniscule amount of wine and must wait more than ten years for release. So that the first bottle of Clos d'Ambonnay only appeared in the market in 2007.
Krug intentionally diverges from standard practices in the Champagne region by using small, custom-made 205-liter oak casks (from 200-year-old trees)--"to respect the individuality and character of each single plot"-- which are themselves cured to tamp down their woodiness and humidified with water during the summer to prep them to receive the autumn harvest of grapes. After a natural clarification the wines are placed in small stainless steel vats, tasted, then, if not used for that year's blending of Champagne, they are stored in stainless steel for future use. Riddling, the process of bringing sediment in the wine to its neck to be disgorged, takes four or five days at most Champagne houses; at Krug it take four long months.
Krug is also unusual in that it owns a higher percentage of its vineyards than most houses, with the rest of their grapes coming from many growers under long-term contract.
One of Henriquez's very modern innovations, as of 2011, was to have all Krug bottles include a KRUG ID number on the back label, indicating the quarter and year in which the bottle left Krug's cellars, so that buyers can quite easily find out, on Krug's website, whatever they'd like about their specific bottle. (It should be added that Henriquez was brought onboard in 2008 to rescue Krug from a rocky period a decade ago when there was even thought that the house might not survive on its own. LVMH bought a majority share of the company in 1999.)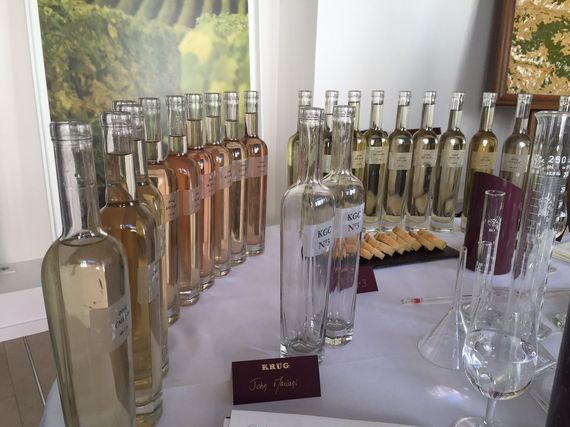 Perhaps the most remarkable of all the diligence Krug spends to produce its wines is the assemblage, or cuvée, of their wines (above). For while blending wines from various vats and years is common practice in the Champagne regions of Reims and Épernay, Krug's tasting panel uses up to 150 different wines to make its final blend--a process I and other wine writers partook in as a mock exercise while I was at the house. We were told by Chef de Caves Eric Lebel that "no plot of grapes is considered better than another. Our decisions during the assemblage took into account the unique essence and character of each plot."
And so, over an hour of swirling, looking at the bubbles, sipping and evaluating the various virtues and deficiencies of a mere 18 samples of wine, our four groups of journalists from several countries weighed the relative value of high acid in one, sweetness in another, and, since Krug wines are made for the long haul, a potential for aging. We then offered our blends and explanations for their components to Monsieur Lebel. Nodding at our efforts and tasting, he played the discreet host by declaring all our efforts interesting and commendable, before providing us with the details and percentages of Krug's final assemblage from 150 wines.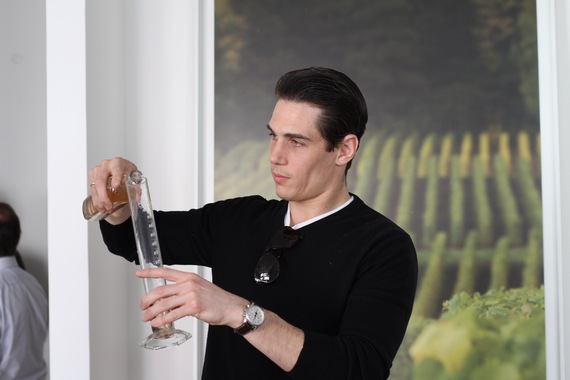 On another night, while dining with the Krug crew in the Clos d'Ambonnay vineyard, Maggie expounded further on why Krug should not be considered just a connoisseur's wine. "Krug's founder insisted that people should drink Champagne purely for pleasure, not to show off their knowledge or affluence. It's the reason we serve our wine in regular white wine glasses, because they preserve the bubbles and aromas much better than flutes or coupes. And we love to serve Champagne throughout the meal, as you would a still wine. The differences between a Chardonnay or Pinot Noir or Rosé offer enormous latitude with both seafood and meat and certainly with dessert."
Dining at twilight in the little walled clos of Ambonnay, with a menu by the young Belgian chef Julien Burlat of beef carpaccio (with Clos d'Ambonnay 2000); king crab with thyme, wild mushrooms, purslane and potato mousse (1995; the lake fish called ombre de chevalier with morels, sea aster and maple butter (Krug 2000); aged Comté cheese (1982), and rice pudding with candied rhubarb (Grande Année), it was easy enough to appreciate Maggie's point about an evening of pure pleasure while sitting under a canopy of twinkling stars floating above us like Champagne bubbles in the heavens.