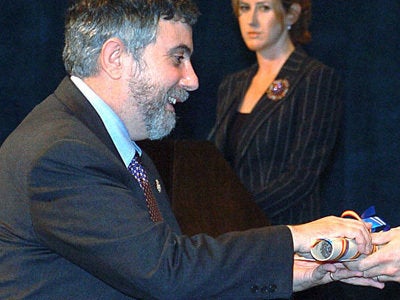 One day after the Nobel committee announced that Paul Krugman had won the 2008 Nobel Prize for economics, colleagues of Mr. Krugman voiced concerns that winning the coveted award could turn him into an egregious douchebag.
At The New York Times, where Mr. Krugman is an op-ed page columnist, and at Princeton University, where he is a professor of economics, co-workers of the newly-minted Nobel laureate were reportedly bracing for the worst.
"I think it's safe to say that Paul had pretty high self-esteem before the Nobel thing went down," said one of Mr. Krugman's Princeton associates, who spoke on condition of anonymity. "But now he's walking around like he's Jay-Z or something."
The first ominous sign, according to the associate, came at a meeting of the economics department this morning, when Mr. Krugman showed up with a coffee mug reading, "No. 1 Economist."
While his colleagues discussed the current global financial crisis, Mr. Krugman "couldn't be bothered" and spent the meeting texting Matt Damon instead.
At one point, one of his fellow economists asked him a question about credit default swaps, to which Mr. Krugman reportedly snapped, "Credit default swaps can suck my ass -- I'm Paul Fucking Krugman!"
Mr. Krugman could not be reached for comment and instead referred all questions to his publicist, Sherri Hefstein, whom he hired minutes after winning the Nobel.
According to Ms. Hefstein, Mr. Krugman plans to spend the next few months "building his brand" and will be adapting his book, International Economics: Theory and Policy, into a feature film to star George Clooney.
Andy Borowitz is a comedian and writer whose work appears in The New Yorker and The New York Times, and at his award-winning humor site, BorowitzReport.com.
Popular in the Community