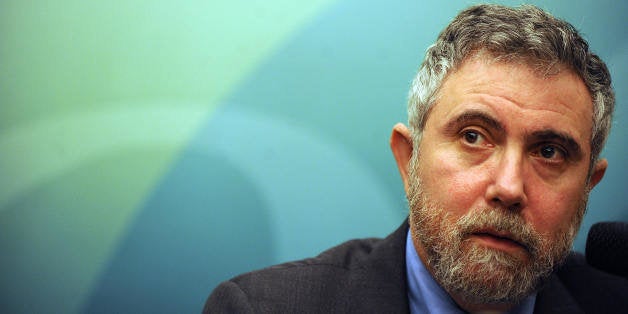 Paul Krugman is urging Greeks to vote "no" in a referendum that could determine their country's future in the European Union.
In a New York Times blog post published Sunday evening, the Nobel Prize-winning economist argued that the July 5 referendum would simply preserve the same dysfunctional austerity regime that has left Greece languishing for five years.
In that case, Krugman said, it would perhaps be better for Greece to leave the euro, reissue the drachma as a currency and simply try to weather the economic tumult that would result.
"Maybe, just maybe, the willingness to leave will inspire a rethink, although probably not," Krugman wrote. "But even so, devaluation couldn't create that much more chaos than already exists, and would pave the way for eventual recovery, just as it has in many other times and places."
Moreover, Krugman pointed out, voting "yes" on such a ballot would have the effect of undermining Greece's popularly elected government. When the leftist Syriza party was elected in January, it was seen as a strong rejection of the past five years of austerity policies imposed by Greece's creditors. Now, if Greek voters approve the cost-cutting measures that Syriza negotiators failed to nix from the new bailout plan, it would usurp the mandate on which the party was elected. In a speech Monday that highlighted Europe's strong-arming tactics, Jean-Claude Juncker, the president of the European Commission, tellingly said that voters should "say 'yes' regardless of what the question is," since a "no" vote would "mean that Greece is saying 'no' to Europe."
"The troika clearly did a reverse Corleone -- they made [Greek Prime Minister Alexis] Tsipras an offer he can't accept, and presumably did this knowingly," Krugman wrote. "So the ultimatum was, in effect, a move to replace the Greek government. And even if you don't like Syriza, that has to be disturbing for anyone who believes in European ideals."
Support HuffPost
The Stakes Have Never Been Higher
Related
Popular in the Community