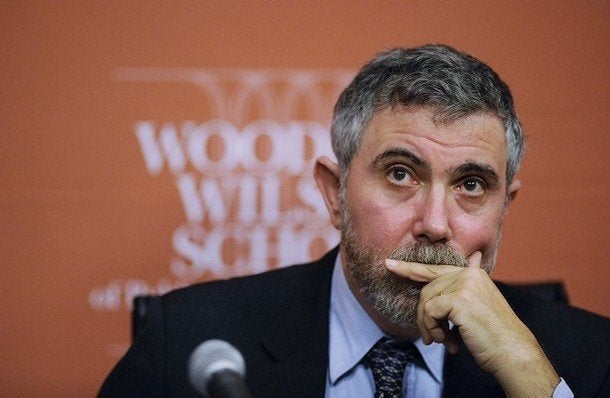 [T]here's a reasonable economic case for including a significant amount of tax cuts in the package, mainly in year one.

But the numbers being reported -- 40 percent of the whole, two-year plan -- sound high. And all the news reports say that the high tax-cut share is intended to assuage Republicans; what this presumably means is that this was the message the off-the-record Obamanauts were told to convey.

And that's bad news.
Politico reported Sunday night that 40 percent of the plan's cost will come from tax breaks.
"Obama strategists say he wants to get 80 or more votes in the 100-member Senate, and the emphasis on tax cuts is a way to defuse conservative criticism and enlist Republican support," Mike Allen relays.
The Wall Street Journal adds:
The Obama tax-cut proposals, if enacted, could pack more punch in two years than either of President George W. Bush's tax cuts did in their first two years. Mr. Bush's 10-year, $1.35 trillion tax cut of 2001, considered the largest in history, contained $174 billion of cuts during its first two full years, according to Congress's Joint Committee on Taxation. The second-largest tax cut -- the 10-year, $350 billion package engineered by Mr. Bush in 2003 -- contained $231 billion in 2004 and 2005.

The largest piece of tax relief in the new plan would involve cuts for people who pay income taxes or who claim the earned-income credit, a refund designed to lessen the impact of payroll taxes on low- and moderate-income workers. This component would serve as a down payment on the "Making Work Pay" proposal Mr. Obama outlined during his election campaign, giving a credit of $500 per individual or $1,000 per family.
Obama is expected to detail his economic vision in a meeting Monday with congressional leaders. While the president-elect was hoping to have a stimulus package on his desk by January 20, but now leaders on the Hill are saying it will take until at least mid-February. Obama spokesman Robert Gibbs calls a bill by inauguration "very, very unlikely."
"The reason we are here today is because the people's business cannot wait," Obama said. "The speaker and her staff have been extraordinarily helpful in working with our team so we can shape an economic recovery plan and start putting people back to work."
Popular in the Community