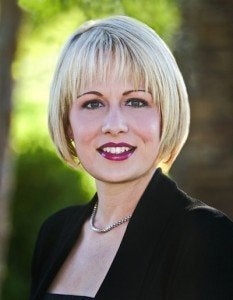 A former Democratic Arizona state senator running for Congress who is a frequent critic of state Senate President Russell Pearce (R) is being criticized for not publicly endorsing a recall of Pearce and for being falsely listed in a legislative directory as a Latina.
Krysten Sinema, locked in a three-way Democratic primary for a newly created Phoenix-area House seat, is being criticized by leaders from last year's movement to recall Pearce, the architect of Arizona's controversial immigration law. Sinema, a former Democratic state senator and representative, was cited by the Arizona Republic in 2010 as the legislator most likely to vote against the controversial former Senate president. Sinema faces an August primary against former state Democratic Party Chairman Andrei Cherny and Senate Minority Leader David Shapira.
"She would protect Russell Pearce while we were working hard to get him recalled," state Sen. Steve Gallardo (D-Phoenix) told HuffPost.
Gallardo, who has endorsed Shapira in the primary, said Sinema was one of the few Democratic senators not to endorse removing Pearce from office. Pearce was facing fellow Republican Jerry Lewis in the recall election and Pearce opponents were seeking Democratic lawmakers to back Lewis in order to win Democratic votes.
Randy Parraz, who lead the Pearce recall effort, confirmed that Sinema did not sign a resolution pushed by the group to oppose Pearce.
Sinema's spokesman Rodd McLeod said that Sinema was a supporter of the Pearce recall, but did not publicly endorse it in order to help Lewis. He said there was fear that if Sinema and other liberal Democrats backed Lewis, they may spur a backlash that would have helped Pearce. McLeod stressed that Sinema helped organize the Republican-controlled Senate to defeat five Pearce anti-immigration bills and noted the Arizona Republic's designation.
McLeod said a 2011 statement by Sinema in which she referred to Pearce as "her boss" was taken out of context. He said she was explaining how the Senate worked and Pearce's ability to block legislation when she called him the "boss of the Senate."
Sinema opponents are also using a quote she gave on a 2011 episode of a Phoenix public affairs television show in which guests were talking about the possibility of Pearce running for Congress.
"I'd love to see him run for Congress," Sinema said. "I love Russell, we get along very well, not always on policy matters, but on personnel matters we do."
Gallerdo said he believes that Sinema, a former Green Party member who backed Ralph Nader in the 2000 presidential election, has shifted her political views in order to run for Congress. He cited her role in pushing a bill to increase penalties for those operating houses that harbor human trafficking victims as an example. He said the bill may harm the victims and claimed it was an extension of Pearce's law, partially struck down by the U.S. Supreme Court last month.
McLeod noted that Sinema's bill had bipartisan support in the Legislature and was backed by former state Attorney General Terry Goddard (D). Goddard lost the 2010 governor's race to Gov. Jan Brewer (R), who signed the bill.
Gallerdo also criticized Sinema for being listed as a Latina in a National Association of Latino Elected and Appointed Officials directory when she is not. McLeod said that Sinema was not responsible for the listing and noted that association acknowledged the mistake. Sinema's campaign released a statement from state Sen. David Lujan (D-Phoenix) saying that Sinema had not provided the information to NALEO.
Gallerdo said he disagrees with Sinema's assertions.
"What I saw was she drifted away from her positions, she would do whatever to be elected," Gallerdo said. "She would tell you what you wanted to hear."
McLeod said that while Sinema has "evolved" from being a 24-year-old Nadar supporter in 2000, he stressed her beliefs remain the same, noting she won three state legislative races as a Democrat. He said she joined the Green Party due to her support for sustainability.
"To say she's for Russell Pearce is a joke," McLeod said.

Support HuffPost
The Stakes Have Never Been Higher
Before You Go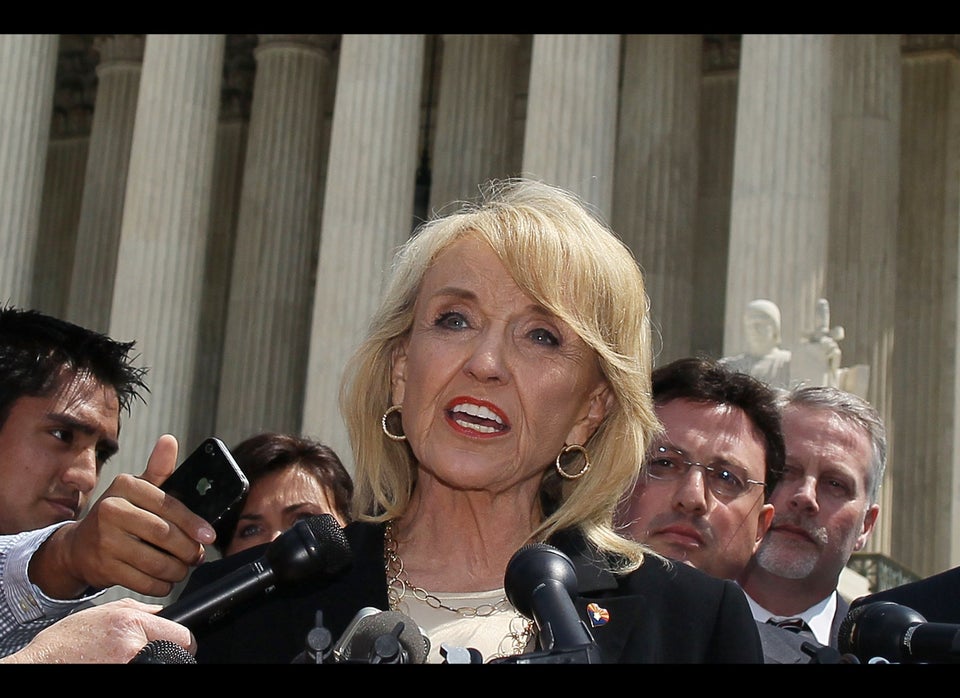 Political Reaction To SB 1070 Ruling
Popular in the Community