Krystle Lynch is a wife, mother, author, actress, and speaker. She is the author of six books. Her works include, "It's time to birth it out", "Miracles do happen", and "Fit for the crown". She has a bachelor's degree in organizational management, and is also a certified life/marriage coach. She is the owner of Miss gorgeous plus size consignment boutique. She has been featured in national magazine first for woman, seen in Walmart commercials, quoted on sheknows.com, and cosmopolitan.com.
Krystle is Currently Ms. Elite worlds outstanding woman 2018. Her mission is to help women birth their dreams, and recover from pain, hurt, and loss. In 2005 she birthed a 1 pound 8 ounce baby named Gabriel, and miscarried her daughter named Sarah at 16 weeks. Krystle and her family were the ambassador family for a national preterm birth association in 2016. She speaks to encourage women from all walks of life.
I got a chance to interview Krystle, I asked her what were the three most important things she wanted women who were facing the pain and disappointment of miscarriage to know. She shared her heart and went on to say, The first thing every woman should know is that,
When a woman goes through a miscarriage it can be one of the most isolating times of her life. There can be many people around such as a spouse, family, or friends, but the isolation that is felt is something that she can't explain. She feels this way because she was the incubator for a life that was now taken away, without an explanation. She questions herself as to why this happened. Doctors may say, it was because your cervix was incompetent, or you had an infection that caused your water to break. However, your miscarriage came about. YOU ARE NOT ALONE! When I miscarried many family and friends began to call. Many of them began to tell me that they had a miscarriage before and that I would get through. It seemed like people were coming out of the wood work telling me they had been through the same thing. I was shocked and surprised. I began thinking, that there is always someone that has been through what you have been through. Reach out to those people. There are forums and social media pages designed for women that have miscarried.
As women we can blame ourselves for what took place in our bodies. We cannot control what our bodies decide to do. When I miscarried my daughter, I only had one pregnancy prior. That pregnancy that I had prior I delivered my son at 24 weeks. He was only 1 pound 8 ounces. When I had my second pregnancy and miscarried I thought it was my fault because after I delivered my son the Doctors told me that I would need a cerclage. A cerclage is a surgical stitch of the cervix that helps to hold the baby in longer. My husband and I decided not to get it for the second pregnancy because of the risks. Some of the risks were losing the baby, preterm birth, and earlycontractions. I didn't want to risk having another premature baby. At around 16 weeks, while pregnant with my daughter my water broke. I called the doctor, and he said put your legs up. My husband rushed me to the hospital, as I laid in the back of the truck on the floor. I thought this is not happening again. My husband rolled me to the pregnancy unit, and the nurses and staff were taking their time as if there was nothing that they could do. Finally, I get into the hospital room and the Doctor tells me that you had a urinary tract infection that caused your water to break early. He said there is nothing we can do. You will have to deliver the baby. I still went through contractions and everything to deliver our baby Sarah. She was born will all her limbs. We placed her in a basket, and I held her. My husband, the doctor and my family all reminded me that this was not my fault. I could not control the fact that I had a UTI , and how it affected my body.
IT'S OKAY TO GRIEVE BUT YOU CAN'T STAY THERE
Grieving is a normal part of human life. It is the way we express sadness or loss. In fact, grievingis an important part of healing. There is no time frame for grieving, but we also must be mindful of how negative emotions can create sickness in our own bodies. I want to let you know that it is ok to cry. Crying doesn't mean you are weak, it means you have a heart. You may have just lost the connection to what was growing in you, and now it is not there. It is important to have a good support system around you to walk you through your grieving process. You don't have to do it alone. Grieving if left unchecked can turn into depression, anxiety, and trauma. Have people such as friends and family around you that can recognize the signs. Find a counselor through a local hospital or church. If you are having worsening symptoms of depression go to a doctor. Too many times women may ignore their symptoms, and can't figure out why they are not able to function properly. It may be a simple hormonal imbalance, or lack of vitamins. And finally prayer and meditation. When God is your comforter, spiritual healing can take place. Once you have grieved it is time to move forward. You will still remember your baby. You can't erase the memory, but you can heal from the pain of the past. Moving forward is best for your health, and life. There are times that I still will have flash backs of that day that I miscarried Sarah, and I cry. Crying doesn't mean that you are in denial. Crying is an expression whether it be joy, sadness, or happiness. For me it is the thought that I was able to see her after I birthed her, and that although she may not be with my today, she will always be a memory in my heart that I will never forget.
To learn more about Krystle, follow her on Instagram and Facebook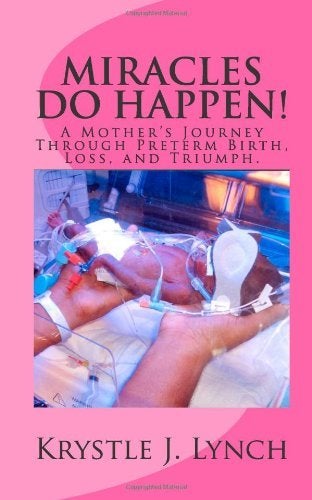 REAL LIFE. REAL NEWS. REAL VOICES.
Help us tell more of the stories that matter from voices that too often remain unheard.
This post was published on the now-closed HuffPost Contributor platform. Contributors control their own work and posted freely to our site. If you need to flag this entry as abusive,
send us an email
.