Russia has its own blond-haired reality TV star running for president, and much like Donald Trump's 2016 race for the White House, there is suspicion that the Kremlin might be colluding with her campaign.
Ksenia Sobchak, known to many as the "Paris Hilton of Russia," is a candidate in the country's presidential elections next month, when she officially hopes to unseat Vladimir Putin. Modeling her "Against All" campaign on Trump's anti-establishment politics, the 36-year-old socialite is a unique voice in Russia's election season. Unlike Trump, however, she won't come anywhere close to winning the presidency.
Putin, who doesn't have to worry about criticism in Russia's state-run media, enjoys remarkably high approval ratings. His victory is essentially a foregone conclusion. So why has Sobchak bothered to challenge him? In an election where nothing seems left to chance, the true goals of her candidacy have given analysts and pundits something to talk about.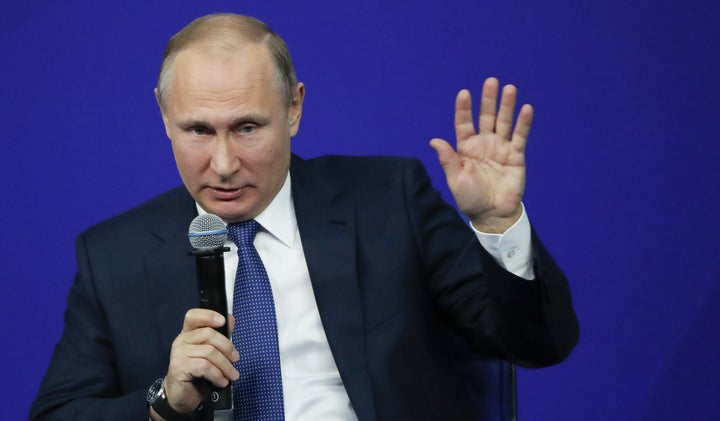 Kremlin Ties
Russian opposition figures suspect Sobchak's presidential bid is part of a thinly veiled Kremlin plot that serves three main purposes: to reduce voter apathy, divide support for Putin's other opponents, and foster the illusion of a free and democratic election in a country plagued by widespread allegations of political corruption.
The TV anchor, journalist and actress is a household name in Russia, having risen to fame in 2004 as a reality show host. She has known Putin since she was a child ― he even attended her baptism ― but she has publicly opposed his rule for years.
Her father, Anatoly Sobchak, was Putin's mentor. In 1999, after Sobchak came under investigation for the alleged misuse of funds during his time as mayor of St. Petersburg, then-Prime Minister Putin helped him return from exile. Sobchak died suddenly the following year, when his daughter was still a teenager, and Putin wept at his funeral.
The close ties between Ksenia Sobchak and Putin have led analysts to question her opposition credentials. Her candidacy is merely "a Kremlin-managed opportunity, simply to undermine [Putin's rivals], and more to the point, to try to create some degree of excitement around the election," according to Mark Galeotti, a senior researcher at the Institute of International Relations Prague.
"That's pretty obvious," Galeotti said in a video for The Moscow Times. "This is all an attempt to increase the turnout rate and increase the sense that this is a genuinely legitimate election."
But Sobchak and Putin spokesman Dmitry Peskov have fiercely denied such claims. She maintains that she simply wants to present a liberal alternative to the incumbent, although she believes the vote is already rigged in his favor.
"These elections, to my mind, are a kind of fake elections. They are not real. You can't win in a casino — the casino always wins. In the same way, Putin always wins," Sobchak told NPR during a visit to Washington this month.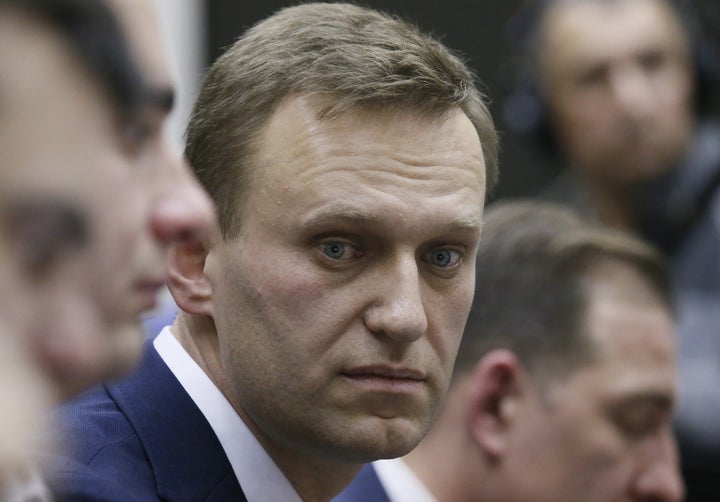 The Alternative To The Alternative
Putin became Russia's prime minister in 1999 and then first won the presidency in 2000, serving in that post until 2008. After four more years as prime minister, he was again elected president in 2012.
Sobchak told NPR she thinks Putin has not interfered with her candidacy ― as he is accused of doing to other presidential hopefuls ― because she appears to present less of a threat.
"I think Putin maybe underestimates me. Or he's less afraid of me than, let's say for example, [political activist] Alexei Navalny," she said. "But that's good for me, and that's good for [the] opposition, because it gives us a chance to squeeze through all those restrictions."
Navalny, perhaps the Russian president's most vocal critic, was barred from registering as a candidate in this election because of a previous conviction in a fraud case, which itself was widely viewed as a move by Moscow to prevent him from running. But Navalny is not going quietly ― he is urging Russians across the country to boycott the vote in protest.
Over the years, Navalny has been jailed repeatedly for organizing public rallies. Now, rather than instructing his supporters to back Sobchak, the 41-year-old has lambasted her candidacy, saying in a YouTube video last year that Putin and his supporters "need a cartoonish liberal candidate at a time when they don't want to allow me to enter the race."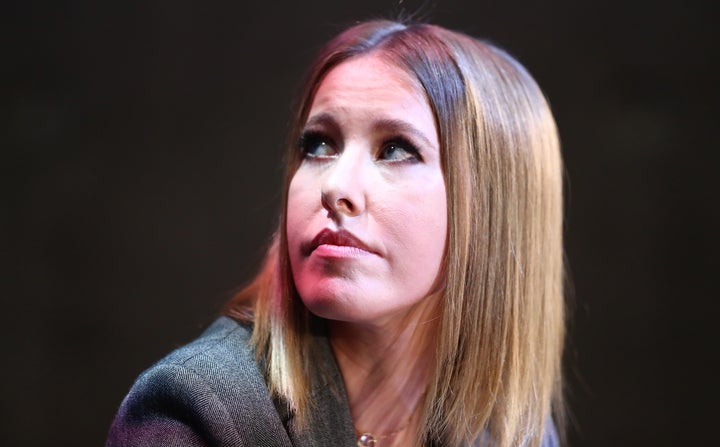 Eyes On The Prize
Sobchak will not win the presidency this year, but her campaign could boost her legitimacy in future runs for office. She told NPR that after the March 18 election, she plans to set her sights on a seat in the Russian Parliament. Russia observers suspect she could be positioning herself to run for president again in 2024 ― when Putin, who will be 72, will be constitutionally barred from seeking another consecutive term.
"We have to work hard for those six years to make [Putin] really go away and give his powers to a compromise figure between [the] opposition and his rule," Sobchak told BuzzFeed this month. "I think that's the only peaceful option ... but that's a realistic option."
With his ironclad grip on power, however, what incentive would Putin have to allow Sobchak to become his successor?
"The answer is simple," according to New Yorker writer Masha Gessen, who has authored several books about Russia and Putin, and has reported on Sobchak for years. "[Putin] could trust [Sobchak] to protect him from prosecution the way that he once protected her father," Gessen wrote recently, adding that it's also possible that Putin might "try to stay in office indefinitely."
Others like Paul Christensen, an expert in Russian domestic politics and a political science professor at Boston College, doubt that Sobchak would have a chance even in 2024.
"Unless something fundamental changes in the way Russian politics works, I don't see that happening. ... Barring a major shift in the way the political system is structured, the heir apparent will probably come out of the existing government or the hierarchy of [the political party] United Russia," he told HuffPost.
"If you want to look for successors to Putin, you don't really look at the liberal opposition," Christensen said. "You look at the existing structures of power."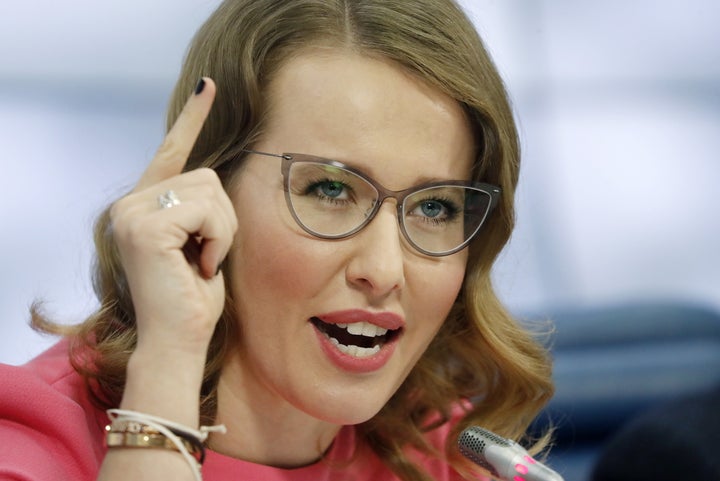 Candidate Sobchak's Accomplishments
Even if she doesn't position herself for 2024, Sobchak's doomed bid for the presidency this year has not been entirely frivolous. She has used her fame ― which has expanded outside Russia thanks to her campaign ― to discuss topics that are often taboo in her country, including LGBTQ rights, political prisoners and feminist issues.
"In Russia, unfortunately, we have a conservative kind of thinking about women, and for many, it's totally unacceptable that a woman can be a politician and can run for [the] presidency," she told BuzzFeed. "I have a dream. I want one day to see a big women's march as it was here in America."
Sobchak has also described herself as the "only candidate who supports the sexual minorities in Russia," saying that she would "vote for them to be married in a moment where most people want them again to go to prison just for doing this."
The "faux candidate" could potentially become a female political role model in Russia, according to Galeotti, and that could make a long-term difference.
She "can maybe give some alternative perspectives [and] raise some issues that might have resonance with the public," he said. "The more you create the appearance of democracy, the more you create a hunger for the real thing."