Texas authorities are investigating after what appeared to be Ku Klux Klan recruitment flyers were found on multiple lawns in Galveston County's third-largest city over Memorial Day weekend.
The flyers, which had been tossed in front of Texas City homes, were enclosed in plastic bags "with fishing weights and candy," police said.
At least two versions of the flyers were distributed, according to Houston's KHOU News. Some bore an image of a Confederate flag along with the words "Say No To Cultural Genocide," while others featured an image of a hooded Klan member with the phrase "Join The Best Or Die Like The Rest."
One of the residents who received the message told KTRK-TV he was horrified and broke down in tears when he saw it.
"That will bother anybody," Ray said. "I mean by me being black and [their] passing out KKK cards."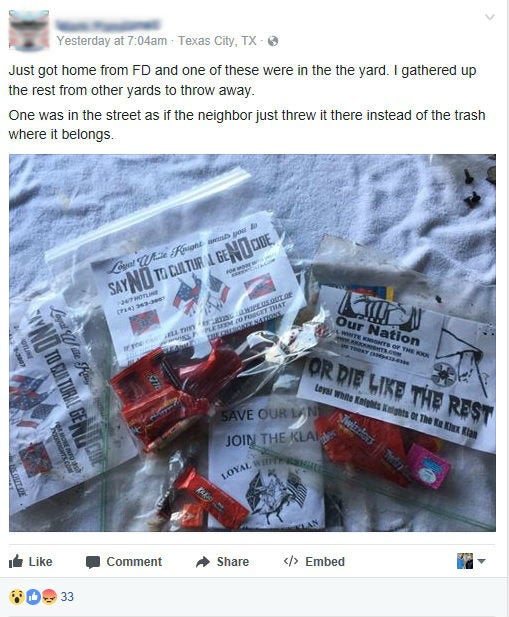 Texas City has a population of about 45,000, some 13,000 of whom are African-American.
Ray's neighbor, Marvel Bliss, told KPRC News that it makes him "physically sick" that people distributed hate propaganda in his neighborhood.
"These people were in my neighborhood and on my property where my children play," Bliss said. "I've been here four years and we've never had something like this happen."
A call to a phone number on the flyers went unanswered on Wednesday.
The Texas City Police Department said in a statement that they consider the incident "a criminal matter and will be seeking any criminal charges applicable." The flyers may have violated a city ordinance that requires a permit for soliciting.
According to the Anti-Defamation League, anti-Semitic flyers have been distributed at least four other times in southern Texas this year. The ADL reports a marked increase in anti-Semitic incidents throughout the country since January.
"This is a disturbing trend," ADL Associate Director Dena Marks said in April. "Clearly, ADL is needed more than ever, and we will redouble our efforts to fight anti-Semitism and all types of discrimination."
Texas City is also no stranger to suspected hate crimes. In January 1999, two African-American gay men ― 28-year-old Laaron Morris and 30-year-old Kevin Tryals ― were shot and found dead along with Morris' burned-out vehicle. The crime remains unsolved.
Authorities said the flyer investigation is ongoing. Anyone with information is asked to contact Detective J. Winstead at 409-643-5838 or Mainland Communities Crime Stoppers at 409-945-8477.
David Lohr covers crime and missing persons. Tips? Feedback? Send an email or follow him on Twitter.
REAL LIFE. REAL NEWS. REAL VOICES.
Help us tell more of the stories that matter from voices that too often remain unheard.
BEFORE YOU GO
PHOTO GALLERY
A Day in the Life of the KKK