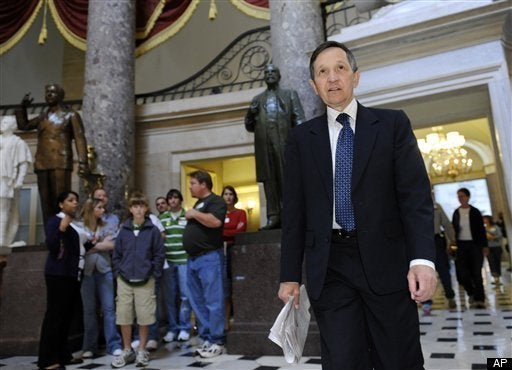 With the real possibility that a handful of lawmakers -- or even a single vote -- in the House of Representatives could end up deciding the fate of health care reform, advocates are suddenly targeting the chamber's most progressive holdout.
Rep. Dennis Kucinich (D-Ohio.) has firmly staked out his opposition to health care reform's passage, citing the timidity of the legislative language and, specifically, the unwillingness of lawmakers to seriously consider a single payer system.
For months, leadership had assumed his position was unalterable. But with an "all hands on deck" whip operation now in progress, Kucinich is getting a burst of attention.
In a meeting at the White House on Thursday, President Obama directly addressed the congressman's concerns by pointing out that the Senate bill does, in fact, include single-payer language. His reference (which Kucinich wrote down on paper) is a provision in the bill that Sen. Bernie Sander (I-VT) introduced, which would allow states to use federal money to set up a single payer system years down the road.
On Monday, Sanders told the Huffington Post that he had talked to Kucinich about the topic - albeit "a while back."
"He was coming from a slightly different angle on this," Sanders said. "But we did talk to Dennis and I've talked to [Rep.] Anthony Weiner and other" single-payer advocates.
Sanders said his provision is a significant step towards making the bill more to Kucinich's liking, but he didn't sound optimistic that either his personal lobbying or his legislative language would persuade Kucinich in the end. "Dennis looks at the world the way he looks at the world," Sanders said.
Under Sanders's proposal, states would have the option of using the federal funding they receive for health care services (including the new subsidies in the bill) on policies for providing universal care. There are certain restrictions. For starters, a state could only use 90 percent of the federal funds it received, and it could only spend that money on a universal system starting in 2017 - both stipulations of the Congressional Budget Office. Sanders is still working on a reconciliation fix to move the start date forward three years (perhaps by allowing blocs of states to start before others) in addition to increasing the funding threshold. But the goal, he stressed, remains providing a foundation for single-payer to grow in practice and popularity.
"One state is finally going to do it, they are going to do it well, and it will catch on," he said.
Kucinich didn't immediately respond to a request for comment. The congressman has previously insisted that the law allowing insurance companies to sue states that adopt single-payer systems must be changed. And on this front, Sanders admits, his provision has a "weakness."
Still, in the days ahead the pitch will be made to the congressman and other skeptical progressives that this bill is far from conservative. On Sunday, Chris Bower at OpenLeft put out a nine-point list of concessions that liberal lawmakers were able to secure from the party's more centrist members. Sanders, likewise, pointed to the money going to prevention and wellness initiatives, as well as the expansion of coverage through community health care centers, as uniquely important progressive achievements.
"Look, I'm not here to tell you this is a great bill," the senator said. "What I will tell you is we fought very hard for some things that don't get a lot of attention but are very important."

REAL LIFE. REAL NEWS. REAL VOICES.
Help us tell more of the stories that matter from voices that too often remain unheard.